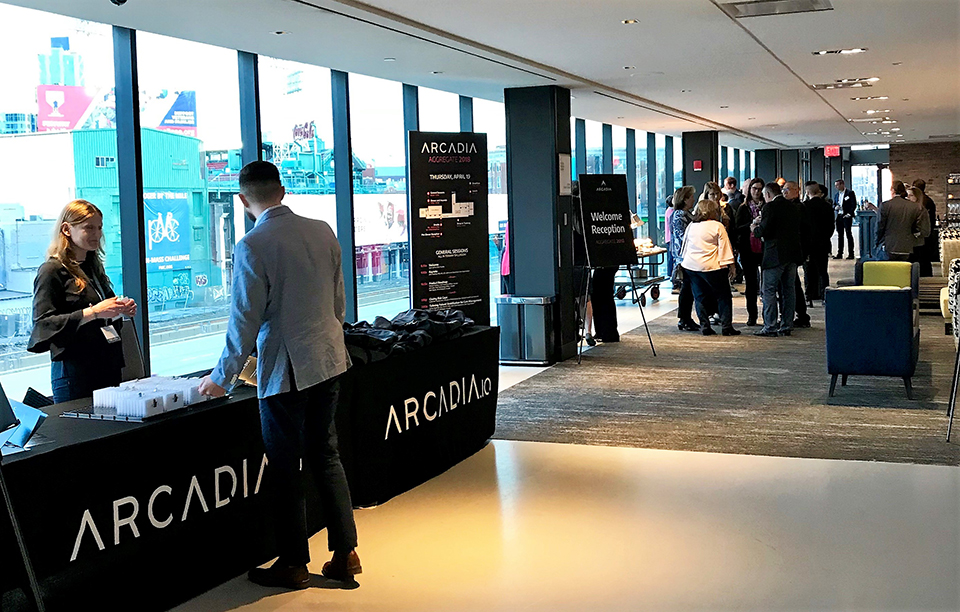 Energy! Inspiration! Cutting edge healthcare technology! Spirited conversations! New ideas! That gives you just a taste of the zeitgeist of our industry conference Arcadia Aggregate2018 – an opportunity for our customers to join us in a series of talks, presentations, and panel discussions focused on sharing ideas and leveraging technology to succeed in value based contracts.
More than 100 leaders from healthcare organizations across the country joined thought leaders, analysts, and Arcadians last week.  The following is a moderately arbitrary rendering of some of the many highlights of the experience.
"You – our customers – are population health pioneers!"
Arcadia CEO Sean Carroll welcomed the audience.
In his welcome address, our chief executive officer Sean Carroll asserted that our customers are "population health pioneers" who are constantly pushing the operational and technical envelope to succeed.  Sean sees the future as one where disparate organizations continue to innovate collaboratively.
"Our customers span the spectrum from groups of healthcare providers and ACOs to insurers presenting lots of opportunities for hybrid vigor," said Sean, continuing.  "Innovate with us as we will with you – the vendor-customer relationship will evolve like DNA-splicing to power us forward."
Sean reiterated Arcadia's focus on purpose-driven product development. "Our customers need the certainty of tangible outcomes in Quality measures, PMPM targets and coding to guarantee that we are all on track."  Sean also reminded us of the need to ensure that "the patients are the ultimate beneficiaries of population health," exhorting our customer audience to "make us better!"
"Personnel is policy"
Leslie Norwalk, JD, strategic counsel to Epstein Becker Green and former acting administrator for CMS in the Bush administration, delivered a keynote address.
If anyone is well-positioned to comment on federal healthcare policy priorities, it would be Leslie Norwalk, who explained that "personnel is policy" – the idea that it is the people who shape and define the policies.
Leslie described how our new Secretary of Health and Human Services Alex Azar has four priorities for the U.S. healthcare system:
Decrease cost
Continue the value based transformation of healthcare
Address the opioid crisis
Decrease drug prices
She focused much of her talk on the inexorable rise in healthcare costs, noting that the current total expenditure of $3.7 trillion is projected to rise to $5.6 trillion in 2025. "Medicare and Medicaid take up 27% of the entire federal budget."  Leslie brought up some key points that "highlight the vulnerability of the system as we march into the future":
11,000 Americans enter Medicare daily
Within the Medicare system, the ratio of workers to patients in 1965 was 4 to 1. In 2017, it was 3 to 1.  In 2050, it is projected to be 2 to 1.
30% 0f Medicare spending is on the 5% of patients who die each year.
14% of patients with more than 6 medical conditions account for 62% of all Medicare spending, highlighting the need for greater attention to chronic conditions
One of our customers asked Leslie why the Medicare Payment Advisory Commision (MedPAC) appears to be backing off on risk-based contracting.  Leslie replied, "most doctors can't handle risk – unless they have a partner like Arcadia."  She concluded by affirming that "risk is necessary to control utilization and spending excesses".  We couldn't agree more!
"The healthcare enterprise of the future will win on data"
Arcadia chief analytics officer Michael Gleeson (chief analytics officer), chief technology officer Jonathan Cook (chief technology officer), and Nick Stepro (vice president of product management) shared our product roadmap.
I think it's fair to say that the product update was a major highlight at the conference.  The progress we have made in building our connectors better and faster in a year is amazing, as is the impressive breadth of new products being rolled out this year and planned for 2019 and 2020.
Michael showcased the ever-higher marks Arcadia earns from market analysts including KLAS, Chilmark, Gartner, and IDC.
Our team explained that data connectivity is the fuel healthcare organizations need to run and improve the functioning of capabilities like care management, risk adjustment, gap closure, quality improvement, coding, and utilization/medical expense management.  To that end, said Michael, part of our task is to "reduce friction in information flow."
Nick highlighted just a few of the ways we have improved our product to better "support a wide array of users including executives and administrators, analysts and data gurus, and the care team" – among others, a small-footprint desktop application at the point of care that is responsive to the EHR, referral optimization tools, workflow analysis, and an innovative contract analysis and reporting platform.
Jonathan reviewed our rollout of a new blazing-fast Big Data platform and our faster, better connector technology.
"Data quality = provider trust"
Catherine Turbett, executive director of national performance operations for Steward Health Care Network, spoke about her organization's work on closing care gaps.
Catherine described the growing national SHCN network with 1100 employed and 2300 affiliated doctors on 80+ EHRs.  She explained the SHCN strategy and decision to aggregate all the data rather than attempt to purchase one unified EHR.   Using Arcadia Analytics as a platform, SHCN is able to:
Aggregate data
Quantify opportunities
Act on the data at the point of care
Continuously measure performance
She described the value of the Arcadia tool in "inferring" conditions from disparate data that tee up appropriate clinical visits and correct coding, and explained that SHCN is "done with paper."  Codes are now suggested to providers electronically, and providers are supported with in-house coders.
She concluded her excellent talk by saying "Data Quality = Provider Trust."  We couldn't agree more!
"The sickest patients are not necessarily the most impactable"
Nick Stepro interviewed Dr. Sarika Aggarwal, chief medical officer, Beth Israel Deaconess Care Organization about tailoring patient stratification for care management.
Nick and Dr. Aggarwal had a wide-ranging and useful discussion around strategies for using data to improve risk stratification.  Dr. Aggarwal noted that the sickest patients are not necessarily the most "impactable".  Significant data analysis like that used to create the Arcadia Impact Score is needed to identify patients who can benefit from care management resources.
For Dr. Aggarwal, success looks like decreasing cost, increasing medication adherence, decreasing ER visits and decreasing ambulatory sensitive admissions.  This requires different approaches for care coordination, chronic condition management, rising risk, and prevention and wellness.
Nick asked her a question about ROI and care management.  She suggested that positive returns come from better management of care transitions, palliative care, and the rising risk population.  For very sick patients, care management may not offer a specific return but does improve quality of life.
In my opinion, the art and science of risk stratifying patients and calculating a financial ROI has come a long way, but still has a long way to go.  We will continue to share best practices and learn from each other.
Dr. Richard Bohmer (author of the book Designing Care and former Harvard Business School professor) and I facilitated an open discussion on Medicaid and risk.
Dr. Bohmer opened by contrasting some of the differences between the U.S. and U.K. healthcare systems – namely, that the U.K. spends more money supporting social programs that integrate with the healthcare system.  Dr. Bohmer and I then led a wide-ranging discussion with our customers about challenges and innovations they may be seeing in the Medicaid space.
There was significant discussion about the outsized role behavioral health issues play in the Medicaid population.  We also discussed approaches to the opioid crisis.  Perhaps next year we will convene a panel specifically on our customers' approaches to behavioral health and the opioid crisis.
Of note, most of our customers live in Medicaid "expansion" states, and all had concerns about the financial challenges of low Medicaid budgets.  Many specifically had concerns about taking on Medicaid capitated global risk budgets.  Maybe we will add a session next year on our customers' approaches to Medicaid.
The Medicaid population with significant socioeconomic and behavioral health challenges remains in my opinion the thorniest to improve as we need to engage the existing healthcare system more fully with our social institutions.
I also had the pleasure of moderating a panel on managing network growth with Peter Kelly, MBA, executive director of CareMount ACO and Ryan West, MHSA vice president and chief operating officer for population health at AMITA Health.
In this stimulating and wide-ranging discussion, Peter and Ryan contrasted the challenges for network growth in a large private multi-specialty physician-owned organization (CareMount) with a large clinically integrated network that includes multiple hospitals (AMITA).  They discussed the implications of different payor mixes, and the challenge of trying to maximize fee for service opportunities at the same time as dealing with value based care.
Our CTO, Jonathan Cook, moderated a technology panel of experts with Rick Moore, CIO of NCQA, Tonguc Yaman, CHIO of SOMOS Community Care, and Gabe Orthous, value-based care analytics strategist at Himformatics.
 Jonathan opened with remarks on how value based care has caused a greater need for technology and has driven the market to seek better data aggregation methods.  The panel discussed whether the healthcare market took data quality for granted, that is, until a healthcare organization was required to report out measures against a contract where every numerator counts.  The conversation quickly turned to the reality that there are many technology advancements but the market is still challenged with items such as inconsistent data capture (e.g., coding practices) which lead to greater upstream issues when trying to use that data.  "I come from a large financial network background, where we integrated many entities and captured millions of transactions in the financial sector.  If the data had been recorded and managed in the way I see us still doing it in healthcare, the entire financial industry would come to a crawl," said Tonguc.
Rick also noted, "even with the technology that exists today, we still have challenges of legacy policies that hold back advancement."  An example the panel discussed with the audience was the need for screen-printing charts for audits even though technology vendors nowadays can extract and analyze and provide all data that fills those user screens.  "The RADV audit is an example of millions of dollars wasted each year due to those writing policy not keeping up with technology's capabilities.  You should never have to manually pull a chart or screen-print to provide proof if you have an aggregation or analytics partner," said Jonathan.
In summary, Aggregate2018 offered our customers a broad palate of offerings regarding cutting edge technology in the U.S. healthcare market.  The conference allowed for a good deal of "hybrid vigor" whereby our customers could interact easily with each other and the Arcadia team, sharing ideas and suggesting new approaches to old problems.  We are already planning for Aggregate2019, so feel free to share your ideas with us.  A hearty thanks to all our customers who took the time and energy to help make this conference a huge success.