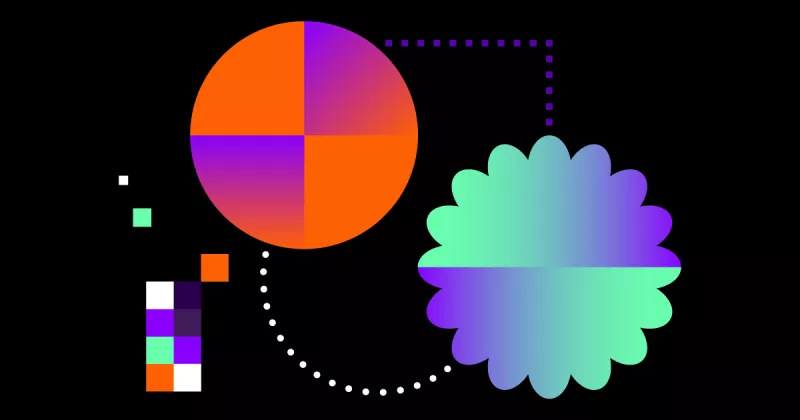 Guide
Ultimate guide to build vs. buy in healthcare analytics
There are many key considerations in the decision to build or buy a healthcare analytics platform. This guide helps you choose the best option for your organization.
Need something to bring to the board room?
Download this printable PDF for an overview of key talking points in the build vs. buy decision.
Chapter 1
What are healthcare analytics tools?
Healthcare analytics tools are irreplaceable software needed to extract insights from today's massive healthcare dataset. As healthcare data expands, the tools used to analyze and predict data must also improve. If not, common healthcare problems will remain unsolved.
Contextualizing data takes a reliable software solution. Currently, disparate EMR systems and bespoke reporting create incoherent data. Data quality issues also make it difficult for teams to identify patterns and surface new insights.
That's why a refined healthcare analytics platform is needed now more than ever to deliver better care through detailed dashboard reporting and reliable data distribution.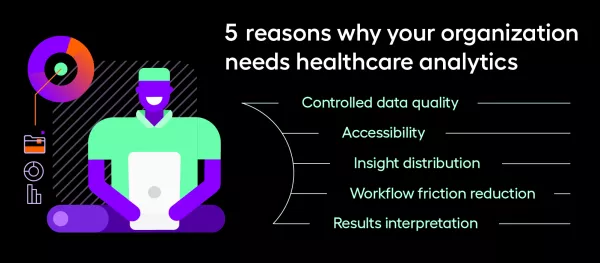 Chapter 2
Five considerations for a health IT platform
Healthcare has changed dramatically in the last few decades, and that pace won't slow down anytime soon. Technology helps an organization stay up to speed, but more importantly, it allows for future-proofing, the acceleration that can transform a system from meeting benchmarks to exceeding them.
Data analytics platforms allow healthcare networks to integrate and contextualize a sea of data from many sources. They also provide a holistic view of patients, so instead of floating data bytes, providers see a coherent history.
Great analytics are also a way to improve outreach (text messaging to a particular group in need of vaccines, for example), and it scales alongside a business. Growth is inevitable as healthcare networks expand to serve larger communities, and powerful technology will allow administrators and providers to share information easily and securely.
To stay competitive, there are five categories in healthcare data analytics that an organization should assess:
Chapter 3
Cost considerations for build vs. buy: healthcare analytics platform
Approximately 30% of the world's data volume is being generated by the healthcare industry — a single patient generates over 80 megabytes of data each year. This data holds incredible promise for improving the quality and cost of care, but making sense and full use of it places tremendous operational stress on Healthcare Organizations (HCOs). To take full advantage of their data assets, savvy HCOs are investing in data and analytics platforms that unlock use cases for success in both FFS and VBC payment models.
Consideration points for building vs. buying a healthcare data and analytics platform
Below are some of the decision vectors that go into building or buying a healthcare data analytics platform:

Chapter 4
What's included in a healthcare data platform for VBC?
Ryan Rubino discusses 5 high level components of a data platform, and some key considerations for each of these when you're planning your data strategy for value-based care:
Connectivity layer
Data lake
Analytics and enrichment
Data warehouse
Business intelligence, reporting, and application integration
Chapter 5
Build vs. buy in healthcare IT: The battle for buy-in
In healthcare data analytics, the build vs. buy debate can carve a rift in the boardroom. When it comes time to construct your own platform from scratch or purchase something ready-made — or decide on a solution somewhere in-between — there are arguments for and against both sides.
The functionality that's most important to a CIO is different than the top priorities of a VP of Population Health, so the ideal solution combines proficient technology with empathy, an easy interface, and continuously refined data. To find the perfect fit, healthcare systems have their work cut out for them.
Often, cost is the final deciding factor, but there are as many facets to consider as there are stakeholders. We'll run through the key concerns each decision-maker brings to the table, and how you can approach a solution that works for everyone involved:

Chapter 6
Does the complexity of healthcare analytics require a partner?
We've never been in a more powerful place to solve some of healthcare's biggest challenges, improve health equity, or lower the cost of healthcare and it's all thanks to data. But that data isn't anything on its own. It has to be analyzed and applied to provide any benefits. That's why every healthcare organization has to aggregate, integrate, and analyze all of the patient data that is streaming in from multiple different sources in order to serve their patients and communities more effectively. How to go about this effort is known as the "build vs. buy" debate. Organizations weigh the benefits and costs of building their own platforms or outsourcing the work to a third party vendor.
So what is the right answer? Looking at the healthcare data evolution and where we are today, the costs of building and buying, and the intangible benefits of vendor partnerships can help guide organizations through the decision.
Chapter 7
Build or buy? Data analytics decision-making guide
In the face of a complicated decision, it's easy to wish for a map. If you're staring down all the possibilities of building vs. buying a data analytics solution — you're in luck.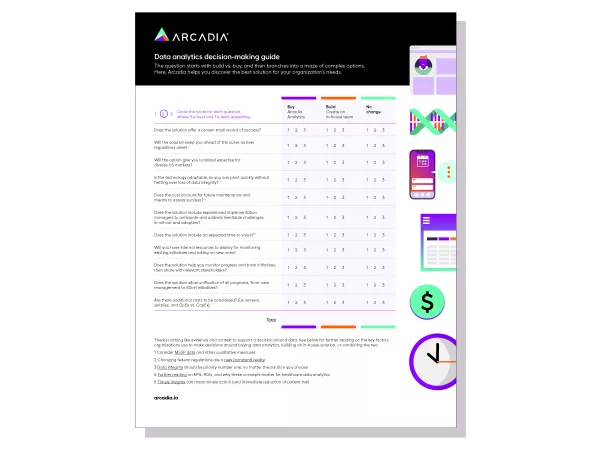 This shareable, downloadable decision-making guide helps you sort through the confusion around build vs. buy, whether it's in-house staffing costs or time-to-value. Download this resource and share it with your organization's power players, so you can begin the journey towards data-driven insights and optimized outcomes.

Chapter 8
A discussion of Build vs. Buy: The biggest decision in healthcare IT today
It's a big decision — The build vs. buy debate in health IT often creates rifts in board rooms across health systems. But as we barrel toward the realized promise of digital transformation in healthcare, it's important to unify our strategy for the benefit of our patients, our providers, and our bottom lines.
Let's bridge the gap between leadership and take a look at how decision-makers in healthcare, data, and IT are approaching the build vs. buy debate.  Michael Meucci, CEO at Arcadia, and Scott Samways, Vice President Information Technology & Health Informatics at BILH, will discuss key cost considerations, board room points of contention, and the actual technology stack needed to be successful when putting data to work for healthcare.
Need something to bring to the board room?
Download this printable PDF for an overview of key talking points in the build vs. buy decision.
Build or buy, Arcadia delivers
Arcadia helps healthcare organizations bridge the gap between build vs. buy with an analytics platform that helps you succeed out of the box, but is flexible enough for your team to put your data to work in new and unique ways. Schedule a time to see it in action.