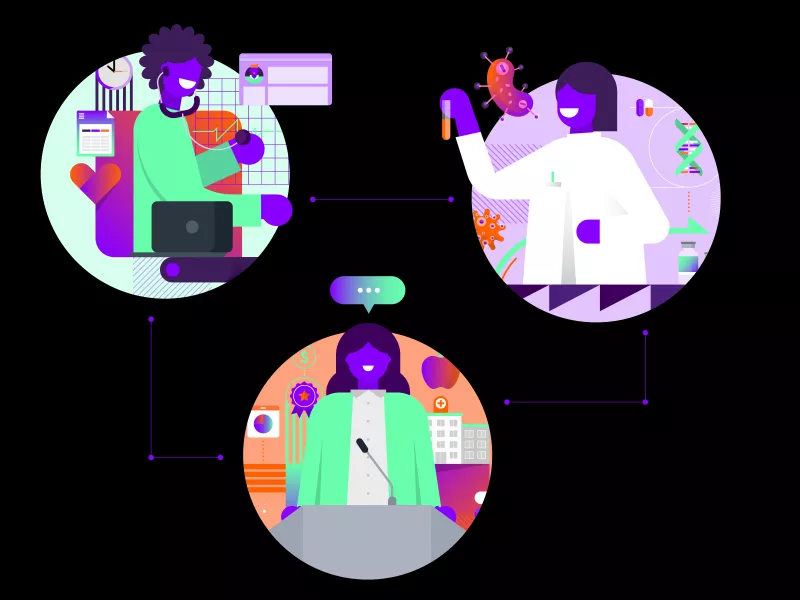 Guide
The ultimate guide to value-based care
We've assembled everything you need to know about value-based care — all in one place.

Chapter 1
What is value-based care (VBC) and why does it matter?
Value-based care is an innovative provider-payment reimbursement model. It's based on incentivizing providers to administer high quality healthcare, while lowering its costs.

Chapter 2
What is the history of value-based care?
The value-based care payment model was first developed by the American Academy of Pediatrics in 1967. Named The Patient Centered Medical Home (PCMH), it was created for sick children who were seeing lots of disconnected specialists and required care coordination. As time went on, PCMH's core principles evolved. It resurfaced and became popular again in the late 2000s.
HMOs, another form of value-based care, have been around since the 1930s. But they didn't take off until 1973 when President Nixon signed the HMO Act. This mandated that employers with at least 25 employees must provide an HMO insurance option. As a result, many people signed up and HMOs skyrocketed in popularity.
Chapter 3
The ABCs of VBC: A dive into the acronyms of value-based care
Many people agree that today's healthcare industry needs a new approach. At the moment, value-based care is a promising solution. Value-based care is a healthcare delivery model in which providers are paid based on patient health outcomes. It measures health outcomes against the cost of delivering the outcomes.
Experts say value-based care benefits patients with lower costs and better outcomes, providers with better patient experiences and increased efficiency, payers with stronger cost controls and lower risk, suppliers with alignment of costs with outcomes, and society with reduced healthcare spending and better health.
In order to reduce costs, value-based care focuses on preventative care to keep healthy people healthy, which is cheaper than caring for already sick people. It requires healthcare organizations to take on more risk from payers like Medicare, Medicare and private insurance companies than they have in past delivery models.
Chapter 4
Making the leap to value: An overview of VBC for healthcare providers
Value-based care (VBC), a healthcare payment model, puts a heavy emphasis on the overall health of a patient rather than what they may be presenting at a face-to-face office visit. It focuses on providing high-quality, cost-effective care to patients. This model is different from your standard fee-for-service reimbursement model that encourages providers to prioritize quantity of service over quality. This oftentimes results in higher costs and less personalized care for patients.
For healthcare providers, it's important to identify what preventive services a patient needs long-term, with a heavy emphasis on the overall health of a patient. Under a value-based care contract, providers are reimbursed based on quality outcomes. One way is to encourage coordinated care using EMR (electronic medical record) data. Before seeing patients in the office, they can check EMRs for discrete data fields to document quality measures and see where gaps in care are. After identifying gaps, they can provide powerful insights and quality outcomes for your entire population.
Chapter 5
What payment models fall under value-based care?
There are three main payment models that fall under value-based care (VBC):
Shared Savings
Shared Risk
Capitation
Value-Based Care Model #1: Shared Savings
The first is a shared savings model. This is the model that most ACOs (Accountable Care Organizations) fall into.
Throughout the year, shared savings looks like your typical fee-for-service model. But, at the end of the year, a reconciliation takes place. If a provider's healthcare expenses fall below a certain benchmark, this results in savings. These savings are then shared between the payer and the provider.
Chapter 6
What is the future of value-based care and alternative healthcare payment models?
Value-based care (VBC) is successful when the overall health of a population improves. While still up-and-coming in today's healthcare world, VBC and other alternative payment models gain traction each year. According to Primary Care Collaborative, in just five years, there has been a seven-fold growth in the number of states and territories implementing value-based reimbursement (VBR) programs.
Further, according to CMS, the estimated number of Medicare enrollees covered by participating Medicare Advantage (MA) Value-Based Insurance Design (VBID) model plans will increase by more than 24% in 2023 compared to 2022.
More healthcare providers are accepting value-based care services as a viable alternative to traditional payment models like fee-for-service.
Chapter 7
How does value-based care and population health work together?
Value-based care and population health work hand in hand to identify patients who are at risk for complex illnesses and in need of preventative screenings. Population health case managers can use an EMR (electronic medical record) or data aggregation tool to identify who the sickest patients are and what care they need.
Since the goal is to improve patient outcomes, we can see if these patients need certain screenings or risk gaps closed. This could include A1Cs for diabetic retinopathy screening, or an annual wellness visit.
You can also identify your highest cost patients as targets for outreach. Healthcare organizations can set up weekly or monthly calls with patients to check in.
Chapter 8
5 key strategies to implement and improve value-based care
Value-based care (VBC) is a provider payment model based on incentivizing high-quality healthcare, rather than quantity of services. Overall, the goal is to improve the lives of patients while reducing cost of care. From a healthcare provider perspective, here are 5 key strategies to implement and improve value-based care:

Identify patients with the highest risk
Address patients who need care
Encourage annual wellness visits
Keep open communication with provider-relation reps
Be open-minded to succeed at value-based care
Get started with Value-Based Care
Let's talk about how Arcadia Analytics and Value-Based Services can help your organization succeed at risk-based contracts.