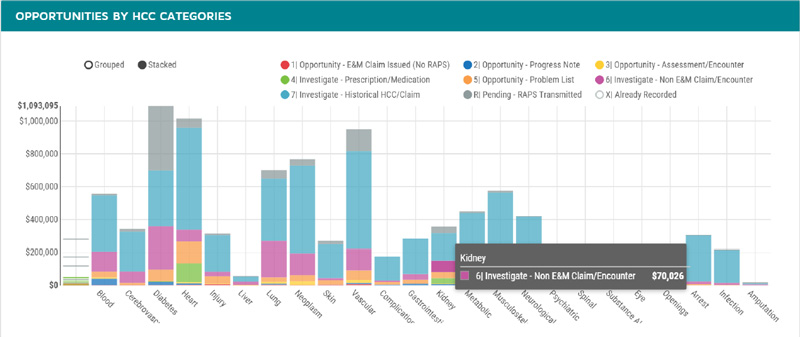 As any plan or provider with risk in the Medicare Advantage space knows, there's always a lot riding on the CMS Hierarchical Condition Category (HCC) Risk Adjustment algorithm. We recently reviewed tactics for minimizing data capture gaps to support more accurate risk reporting. Here, Arcadia data scientist Michael A. Simon reviews a major change to the HCC model.
The Center for Medicare & Medicaid Services (CMS) just announced big changes to the Hierarchical Condition Category (HCC) risk adjustment algorithm used to ensure providers are appropriately compensated for the risk of the patients for whom they provide care. CMS has revised the community population segmentation model to better model costs for members who are eligible for both Medicare and Medicaid. Plans and providers will face new complexities in caring for their Medicare Advantage populations – but may also have some new opportunities.
Community Population Segmentation Changes
For some time, the CMS-HCC algorithm has been calculated based on two separate populations, the institutional population, composed of individuals who have been institutionalized for longer than 90 days, and the community population, composed of individuals "living in their community", or who have been institutionalized for fewer than 90 days. This segmentation divided the entire Medicare Advantage (MA) population into two rather lopsided groups, with 90% in the community cohort and only 10% in the institution cohort.
Following on an increase in the number of MA plans supporting dual-eligible members, or persons with both Medicaid and Medicare membership, CMS requested an analysis of the performance of the CMS-HCC model on these groups. They discovered that the CMS-HCC model, while well-tuned for the population as a whole, performed poorly on community-based dual-eligibles, dramatically under-predicting costs for full-benefit dual-eligibles, and in particular for those with the highest and lowest risk scores. Costs for partial dual-eligible members, in contrast, were generally over-estimated.
CMS' response to these results, which they proposed in August 2015 and confirmed in April of this year, was the development of a revised community population segmentation.
In the new scheme, the community population has been divided into six separate sub-populations, based on whether an individual is full-, partial-, or non-dual eligible, and whether the individual's reason for inclusion in Medicare is due to age or disability.
No changes were proposed to the institution population.
Aside from some minor tweaks to how disease interactions are calculated, there were no major changes to mappings from diagnosis codes to HCC codes.
What does this mean to me?
How you experience this change depends on how you currently interact with CMS-HCC.
First, if you run a dual-eligible plan, it is likely that this change will improve both the precision of your risk calculations as well as your reimbursements. Arcadia works with several Medicaid MCOs and has noticed the poor performance of the CMS-HCC algorithm for dual-eligible populations, especially for the lower-risk groups.
Given an overall predictive ratio of 94.7% over all non-disabled full-benefit dual-eligibles, the typical member in that group was under-compensated by $566/year.
For the highest decile population in cost, the predictive ratio was closer to 86.8%, driving the estimated underpayment to $2,540 per member per year[1].
Second, if you are a payer with a Medicare Advantage product, or you are an organization at risk for a MA population, you may benefit from closely managing how you segment your own population. The new population segmentation takes into account disability, institutionalization, Medicare qualification, and Medicaid qualification. And, unlike the entirely prospective segmentation employed in the 2014 model, the new 2017 model will segment the population concurrently, or at the same time as the payment year. That means that changes to an individual's status in the present can impact their premium reimbursements right away. So, keeping an eye on Full Medicaid applicability and potential institutionalization status can have a huge impact on reimbursement in the present.
Third, these continuing refinements to the algorithm, in conjunction with greater vigilance on the part of CMS for synthetically inflated coding, signal the increased importance of clarity of and visibility into one's data. Gaps in proper documentation could already mean dramatic losses in appropriate revenue capture. Traditional efforts at chart audits, in addition to being unscalable, are proving increasingly vulnerable to a "look both ways" interpretation of the False Claims Act[2]. Comprehensive visibility into a population's clinical data is necessary in order to maintain effective documentation while avoiding coding bias.
Know your data, know your population
For most participants enrolled in Medicare Advantage programs, this change is just one more blip in the background, a technical change that should not have any bearing on their care. However, for those of us who keep a close eye on CMS-HCC, this change in stratification represents just one more reason to maintain vigilance over our data assets.
Success under the HCC model will continue to require a focus on thorough and comprehensive data integration, documentation, data quality, and risk intelligence. If you would like to understand more about the recent HCC changes – and the appropriate strategic moves for your organization – please contact us using the form below.
[1] Based on Full Benefit Dual-Eligible population, tenth decile mean cost estimate from RTI (2011) times change in predictive accuracy for tenth decile in cost from CMS Advance Notice 2017.
[2] For example, Swoben v. United Healthcare, and associated DOJ amicus brief (Ninth Circuit Court of Appeals, Case #13-56746)