Arcadia's Long-COVID Research Initiative
As many as 1 in 10 people may have symptoms of COVID-19 for months after their initial infection. To address this public health crisis, Arcadia is contributing our research data asset (comprising aggregated, de-identified records for more than 155 million patients) and our data science expertise to the COVID Patient Recovery Alliance (PRA). The PRA is a multi-sector collaboration supporting the energy and innovation of government and private-sector leaders as they care for patients with long-term health consequences from COVID-19 infection.
Key finding: Vaccination may reduce the odds of experiencing Long-COVID, even if the vaccine occurs after COVID-19 infection
Arcadia analyzed de-identified real world data on over 25 million patients in a search for potential drivers of Long-COVID. Our most recent finding is that vaccination against COVID-19 reduces the likelihood that patients will experience long-COVID symptoms in the event that they are infected. Our data also suggest that a single dose of a COVID-19 vaccine, even if received after the patient is diagnosed with COVID, still correlates with a reduced likelihood of presenting long-COVID symptoms.
One Dose — That's all it takes to reduce long-COVID symptoms. Patients who received at least one dose of any of the three COVID-19 vaccines (Pfizer-BioNTech, Moderna, and Johnson & Johnson) prior to a diagnosis were 7-10 times less likely to report two or more long-COVID symptoms compared to unvaccinated patients. 
4 Weeks — The amount of time a patient has after infection to significantly reduce long-COVID symptoms via vaccination. Unvaccinated patients who received their first COVID-19 vaccination after four weeks of SARS-CoV-2 infection were 4-6 times less likely to report multiple long-COVID symptoms. 
300% — The reduction of reported long-COVID symptoms even after receiving a vaccination up to 8 weeks after infection. Those who received their first dose 4-8 weeks after diagnosis were three times less likely to report multiple long-COVID symptoms compared to those who remained unvaccinated. 
Long-Term Protection — Vaccines work. The findings show that vaccination has a protective effect even when the first dose was administered up to 12 weeks after diagnosis.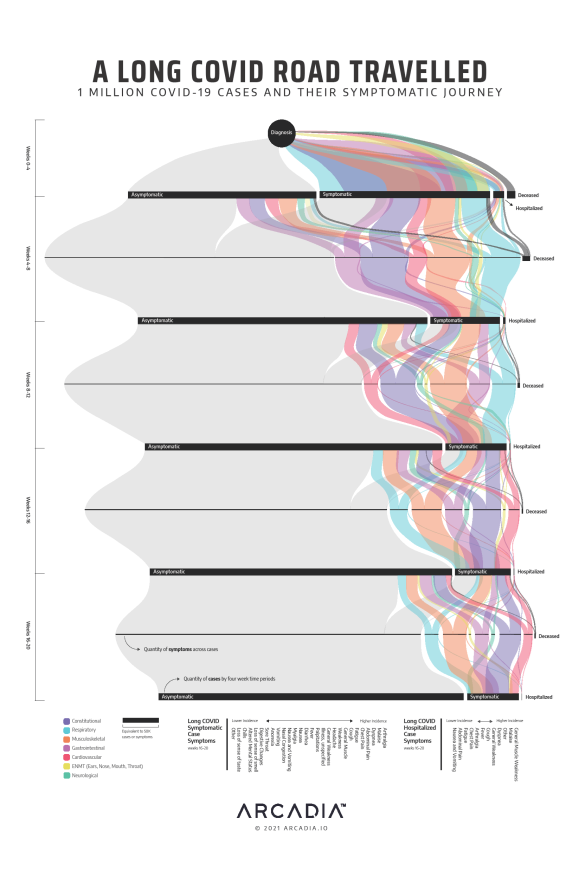 Get updates on our research
Arcadia and the PRA continue to collaborate on research initiatives. To receive periodic updates and more clinical and technical detail, you can get in touch below or follow us on LinkedIn.