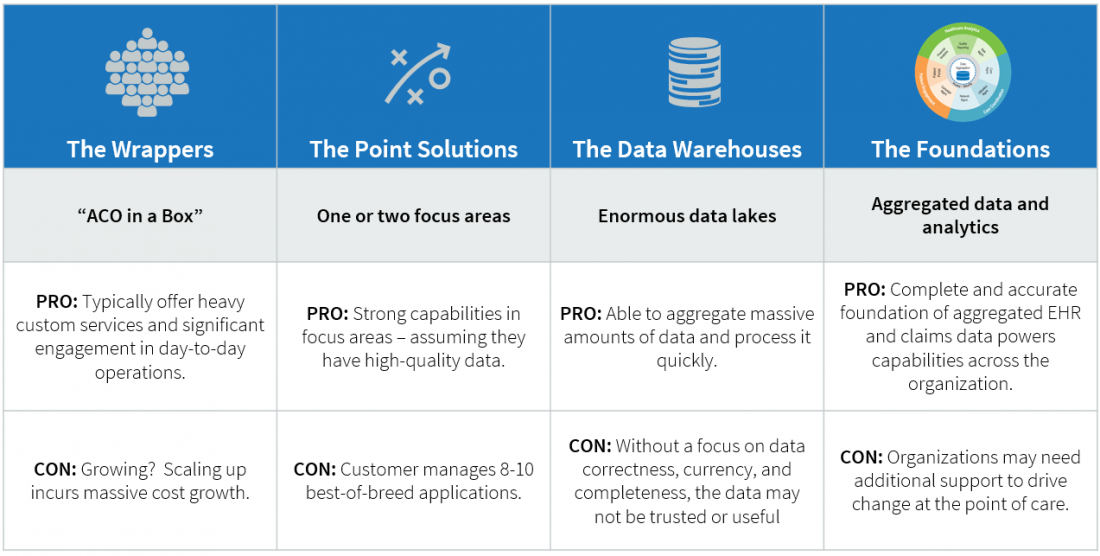 As mentioned in a recent HealthIT Analytics article, Electronic Health Record (EHR) vendors are increasingly offering population health tools, as their revenues from Meaningful Use-funded implementations stop and the turbulence of the replacement market continues. The presence of a new set of players in the already complex Population Health Management (PHM) market will continue to drive confusion among health systems and health plans looking for a partner.
My use of the word partner (vs. vendor) is intentional — immediate and long-term success in a population health program to drive value-based or shared risk contract success requires a true partner that understands and supports both the technology and services that your organization requires.
What do you actually need for population health?
Population health requires a system that includes a hub of trusted and secure data from EHRs and claims sources, spokes that deliver value in specific use cases, all driving the wheel of the core capabilities necessary for a value based care program.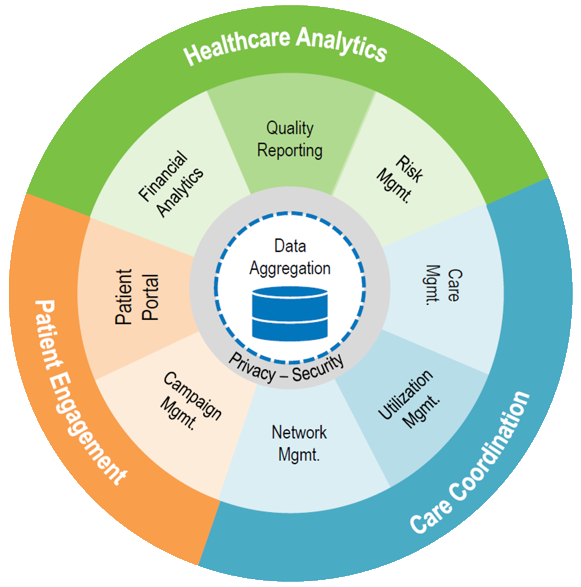 Four ways to categorize vendors
The population health vendor market can be broken down in the following way:
"The Wrappers" — partners that aim to be an "ACO-in-a-box" including underwriting of provider owned health plans, trying to solve population health challenges with custom analytics, consultant-heavy engagement and coordination, but often lacking strong spokes (use cases) and foundational (data aggregation) technologies
"The Point Solutions" – partners that focus one or a few spokes (often very well), but assuming the core data foundation is accurate and complete without fully validating it. That assumption is wrong, so the spokes alone can't deliver optimal ROI.
"The Data Warehouses" – partners that build data lakes, aggregating massive amounts of data, but without a focus on data correctness, currency and completeness. The data without a defined use case lacks value.
"Foundation" – partners that create a complete and accurate EHR and claims data foundation, building modules to deliver the spokes and utilizing MSO services capabilities to work with clients and deliver actionable and scalable analytics, engagement and care coordination.
The challenge with Wrappers is that they don't scale without incurring massive cost growth for their customers. Point Solutions often handle a single use case very well (if they can get the data) but struggle to provide comprehensive value to their customers unless the customer is willing to support and drive a best-of-breed strategy with 8-10 different point solution vendors. Data Warehouses are an important asset for any health system or plan, but their speed-to-value is often lacking without defined use cases, and might lack the high-quality and trusted data required to drive provider adoption.
As a Foundational partner for our clients, Arcadia focuses on building a timely, trusted data asset that include both deep EHR data and claims. The Arcadia Analytics platform focuses obsessively on the user experience with a web platform that presents all the tools required for a comprehensive population health management program, including quality improvement, medical expense management, patient outreach and care management, clinically enhanced risk adjustment, as well as ad hoc reporting and data access. Even with the richest data and the best technology platform, health systems and plans often need additional support to interpret their analytics, drive provider adoption, and managed new value-based contracts.
When all vendors sound the same, who do you trust?
All of the above is easy to say – but why should you trust me? The short answer is: you shouldn't. Healthcare is rife with big, unproven claims about magical technologies and quick fixes to one of the most fundamental challenges in America today.
In my next post, I'll share some trusted resources that organizations can use as they evaluate population health partners.