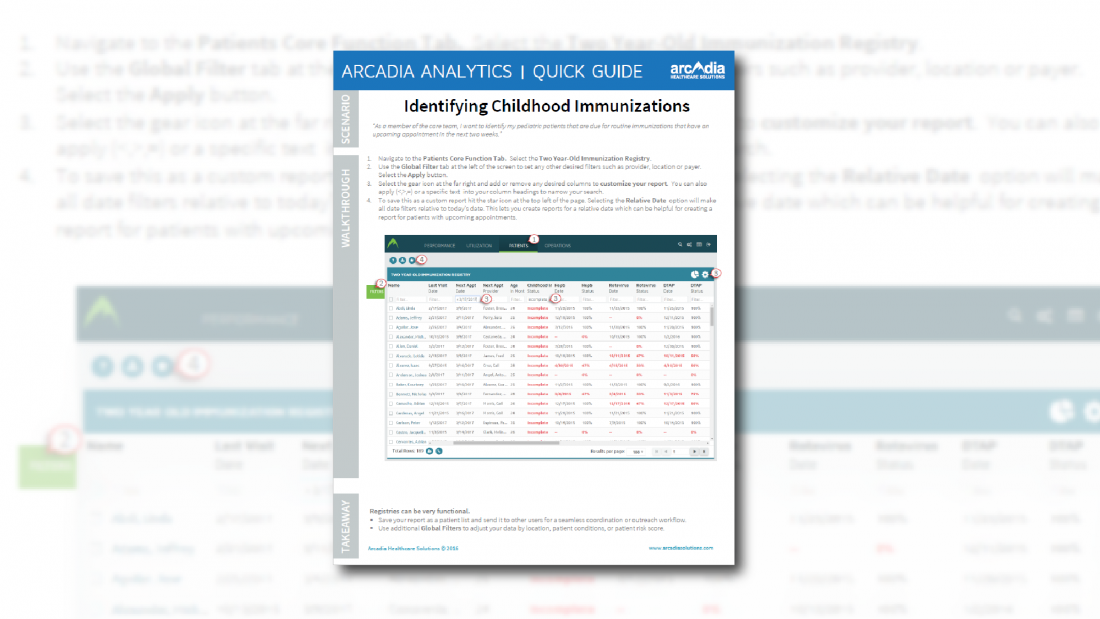 World Immunization Week April 24-30
World Immunization Week is an important health observance promoting the use of vaccines to protect people of all ages against disease. Immunization saves millions of lives and is widely recognized as one of the world's most successful and cost-effective health interventions.
Unfortunately, there are still 19.4 million unvaccinated and under-vaccinated children in the world, per an assessment from the World Health Organization (WHO).
Arcadia Analytics can help identify your patients in need of immunizations
Most quality programs include measures of immunization due to their importance in preventing life-threatening diseases.  "Vaccines remain the most important development in the history of medicine", says Arcadia chief medical officer Rich Parker, MD.  "However, in order for vaccines to be effective, they have to be given on the correct schedules which requires a certain degree of organization, both at the IT level and the societal level".
According to the WHO, vaccines prevent an estimated 2-3 million deaths each year.
A Quick Guide to Identifying Childhood Immunizations
In our latest Arcadia Analytics Quick Guide, our training team explains how the immunization registry in Arcadia Analytics can assist your practice in identifying children in need of vaccinations.
Arcadia Analytics can also be used to identify patients with an upcoming appointment, so you can provide vital services to patients that are already scheduled to visit your clinic.
Need further assistance with Arcadia Analytics?
Our training team is here to help!  Download a copy of this Quick Guide or send your training questions to askthetrainer@arcadia.io