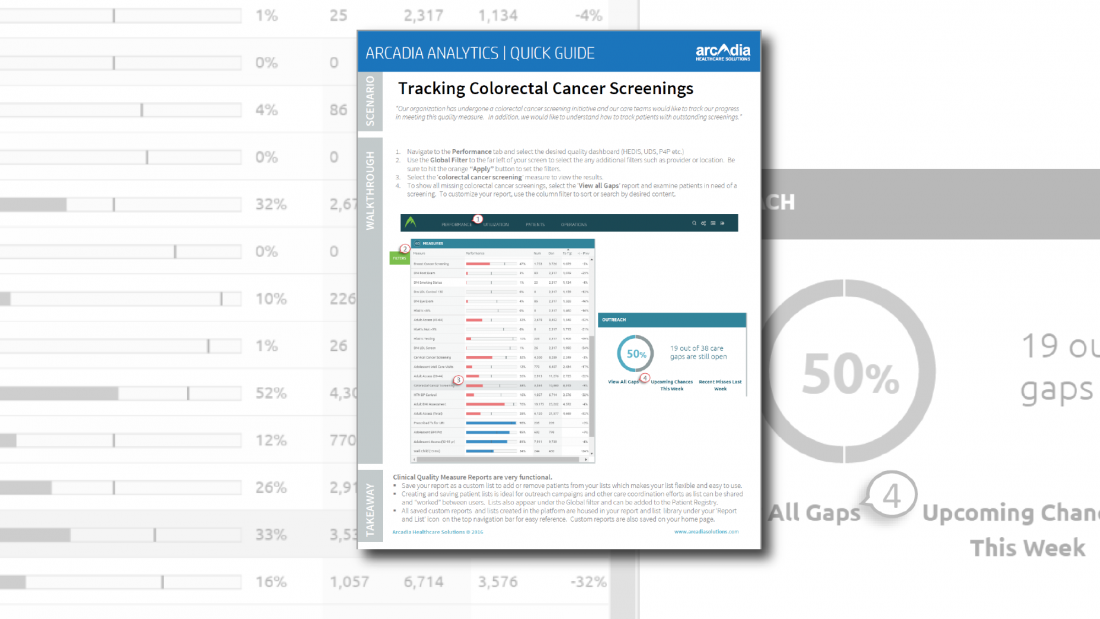 Colorectal cancer kills more than 50,000 people annually
Sadly, colorectal cancer is highly preventable but kills more than 50,000 people each year.  Colorectal cancer is the fourth most common cancer in the United States, and the second leading cause of death from cancer.
Colorectal cancer impacts both men and women, with risk increasing with age.  However, regular screenings support early detection and treatment.
Preventative screening for patients ages 50-75
March is Colorectal Cancer Awareness Month – a great reminder to make sure your practice has tools in place to identify patients need to be screened, especially those between the ages of 50 and 75.  It's also a good opportunity to make sure all members of the care team feel like they have the resources to support conversations with those patients about the importance of preventative colorectal care.
Arcadia Analytics can help identify and track patients
In the latest Quick Guide, our training team explains how Arcadia Analytics can help your practice identify patients that need a screening. Arcadia Analytics can also be used to monitor this important clinical quality measure across individual providers, and across your organization.
You can request the Quick Guide using the short form below.
Have questions about using Arcadia Analytics to support your clinical quality initiatives?  Contact askthetrainer@arcadasolutions.com.