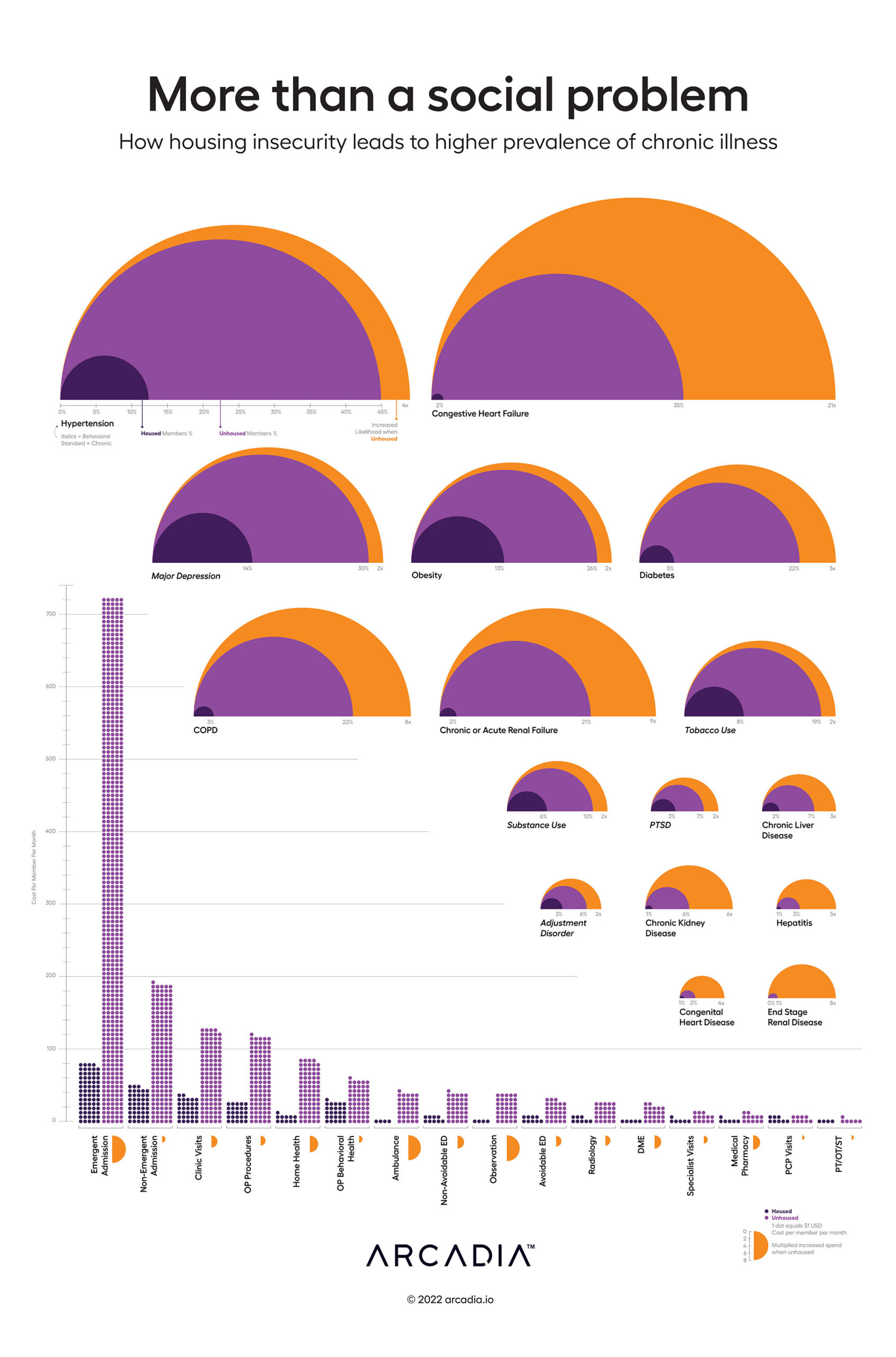 It's true. People who are housing insecure are often dealing with serious medical conditions. For instance, this graphic shows that people without proper housing are 21x more likely to have congestive heart failure and 4x more likely to have hypertension.
They also experience higher rates of chronic kidney disease and end-stage renal failure. These are serious medical conditions where prevalence is significantly higher for the homeless population.
With increased likelihood of serious medical conditions comes increased utilization and medical expense. Patients who are homeless are more likely to be admitted compared to patients who are not. On average, value-based organizations spend $700 per member per month (PMPM) on emergent admissions and $200 PMPM on non-emergent admissions for patients who are housing insecure.
Behavioral health conditions are italicized to differentiate them from the medical conditions included on the graphic. You'll see that those who are housing insecure suffer from major depression, substance abuse, and adjustment disorder at much higher rates than the housing secure. This points to a correlation between mental health and the need for adequate housing, and the need for better coordination across patient services.
The data is clear. The question is: how can we address this growing challenge in healthcare?
Authors
Jacob Hochberg (American, born 1987)
Arjun Gosain (Indian, born 1992)
Amanda Anderson-You(American, born 1988)
Details
2022D3.js, Excel, and Illustrator
Data sourced from Arcadia's Medicaid population using claims and clinical surveys
To request a high-resolution version of this data visualization — suitable for printing — please fill out this short form: