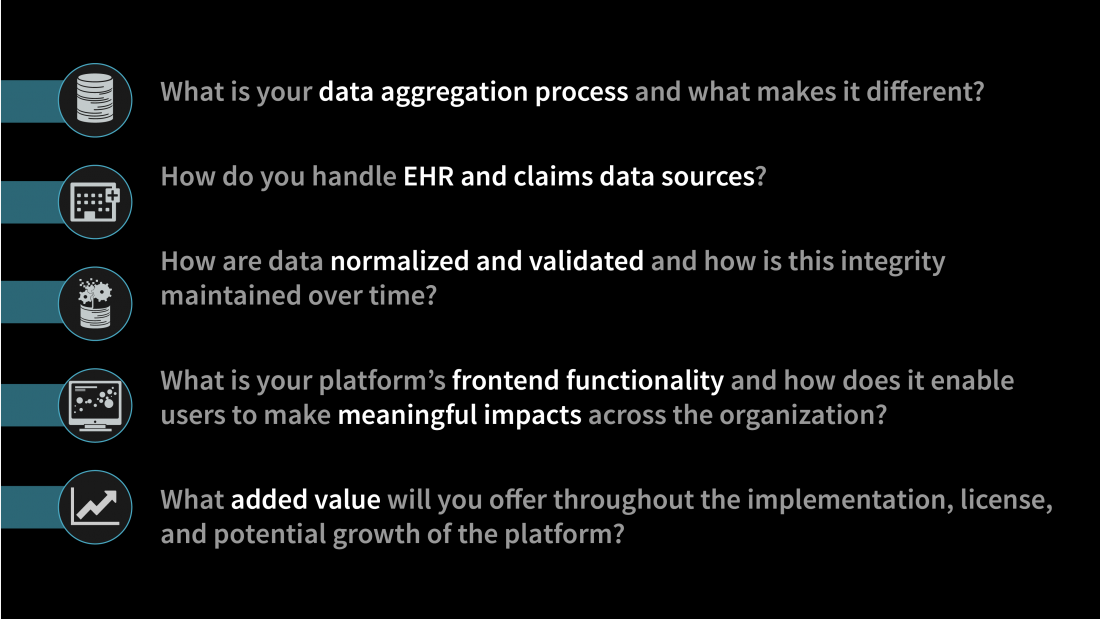 Healthcare organizations need the data aggregation and analytics capabilities of a population health management platform to succeed in value based care. But with many options available, buyers must determine which solution offers the functionality and interoperability that best fit their short- and long-term goals, technical architecture, and business workflows.
Accordingly, buyers are doing more than ever to better understand vendors and their solutions, turning to market analysts, third party consultants, conferences, and others for insight – and using the Request for Proposal (RFP) process to systematically evaluate products
The RFP process depends on asking the right questions. We've had the opportunity to see many RFPs firsthand, and have flagged 5 critical questions that make-or-break the success of the population health platform RFP process.
First, some quick background: What is an RFP?
In the RFP process, buyers identify vendors of interest to issue a questionnaire (the RFP), asking about the solution proposed, how it solves their business needs, pricing information, and more. RFPs can be short and informal (usually called Requests for Information) or lengthy, in-depth solicitations. Once vendors submit their responses, buyers review and narrow down the vendor pool to the most qualified finalists. Finalists are usually invited onsite for a demonstration of their platform. The buyers then make their final decision and award a contract to the winning vendor.
The RFP process is an excellent way for buyers to gain critical insight into a vendor, their solution, and its capabilities. RFPs directly challenge vendors to demonstrate how their solution aligns with the buyer's requirements, use cases, workflows, technical environment, and more.  This specificity is important – RFPs that follow a "generic" format ultimately offer buyers very little palpable insight into the vendor selection process – and means they risk investing in a subpar platform or a product that does not meet their needs.
Receiving a substantial influx of RFPs has helped Arcadia better understand the challenges buyers face in today's market – more importantly, we have a strong, informed grasp on what makes the RFP processes most successful and what buyers actually need when the RFP process is said and done. There are key considerations to ensure buyers get the most from the process, and it all comes down to crafting a targeted RFP that properly addresses critical functional areas of a population health platform and subsequent vendor partnership.
The 5 Questions Good RFPs Ask
The key to procuring a successful population health management platform lies in asking targeted questions to ensure the vendor's solution and product vision align with the buyer's needs, both now and as the buyer's population health management capabilities inevitably mature. Often, a buyer's RFP will focus on one area, such as the ability to aggregate data from disparate source systems, while ignoring other important considerations, such as the vendor's approach to maintaining data quality or the platform's front end usability. Buyers enjoy the most success from the procurement process if the RFP asks questions that cover certain functionalities critical to the success of a population health platform's deployment and adoption.
These five questions will help buyers better evaluate vendors to fulfill their population health platform needs:
1. What is your data aggregation process and what makes it different
There are many ways to pull data, but buyers should select the solution that captures both the breadth of data and the depth of data needed for effective value based care delivery. Most vendors rely on incomplete source system connectivity, such as file extracts or HL7 feeds, which leaves more data "on the table" outside of the platform. The ideal vendor can directly plug into the source system and grab as much data as possible – the idea being to cast a net that is both deep and wide to get the most fish. Similarly, a good vendor should be scalable, able to ingest additional data sources nimbly as the initiative grows and more source systems come into scope.
2. How do you handle EHR and claims data sources?
Vendors approach these two data sources differently, or some only approach one or the other. Most vendors can scrape extracts or flat files, but a properly normalized and unified clinical/claims data set brings more significant value because it covers a much larger portion of the care continuum. Find a vendor that is an expert in not only aggregating both clinical and claims data, but also in understanding both data types and adroit in helping the buyer determine how to best leverage this powerful, unified data asset. Along with physical health and claims data, healthcare organizations should also consider the longer-term value of additional data, such as dental, behavioral health, etc. when evaluating vendor data aggregation capabilities.
3. How are data normalized and validated and how is this integrity maintained over time?
Pulling all the data is the first step – ensuring data quality at the initial deployment and beyond is the second step. Data need to be maintained. Like a house or a car, without proper maintenance and upkeep, data will degrade and crumble over time. A good vendor is proactive in making sure your foundational data set is viewed as a "source of truth" by users before the platform is launched and remains credible and valued throughout the duration of the deployment. This buy-in is critical to promote user uptake and make data actionable. Some vendors take a hands-off approach to UAT and data quality, implementing a platform with little to no ongoing support and monitoring, which hampers the effectiveness of the platform. Partner with a vendor with aggressive UAT and data monitoring capabilities to ensure your data asset remains valuable.
4. What is your platform's frontend functionality and how does it enable users to make meaningful impacts across the organization?
A robust, high quality data asset is the key to population health – if it can be easily used. To make the most of the data, buyers should select a platform with an intuitive frontend with powerful reporting capabilities in a simple, familiar user interface, such as the modern "point and click" web experience. The more intuitive and user-friendly the frontend, the better the opportunities for user adoption and overall success of the platform.
Healthcare systems employ a variety of different employees with the potential to impact care, from C-level executives to care teams to payer administrators to business analysts and more. These users must be able to readily use the platform to glean insights relevant to their business objectives to successfully deliver care, manage costs and utilization, and more. A platform that helps users do their part on the frontlines, whatever their role may be, puts the data directly in the hands of those who can use them best in their workflows.
Find a platform that lets both tech-savvy business analysts and non-technical care team members alike unlock insights from the data asset for use in their day-to-day workflows. This is especially true for clinicians at the forefront of care delivery, as these users often have the most opportunities to meaningfully impact value based care.
5. What added value will the vendor offer throughout the implementation, license, and potential growth of the platform?
Buyers should select a vendor as a long-term partner.  A committed vendor offers more than just technology. As a partner, a vendor:
Forges strong relationships with the buyer and works side-by-side with users to ensure the platform is trusted and leveraged properly.
Supports and champions meaningful adoption of the platform throughout the buyer organization.
Provides training, support, platform uptake monitoring, and data quality validation in their pricing model as a commitment to the buyer.
Depending on the circumstances, some vendors may agree to align financial incentives with the buyer to demonstrate complete commitment, such as shared risk agreements or partnership investments.
Additionally, vendors can demonstrate value by proposing supplementary related services if requested, such as:
Ad-hoc analytics and reporting
Delegated contract management
Quality management services
As a final consideration, buyers should inquire about the vendor's data model and be wary of a "black box" solution. An open data model is an indicator a vendor is more willing to partner with a client to ensure the platform properly aligns with the buyer's needs.
Moving Forward
A population health platform is critical to success in value based care  and will serve as the foundation for success for years to come. Implementing the right platform in the right way is contingent upon finding the tool and related services that are the best fit for the organization. If done properly, the RFP process can be an excellent opportunity for buyers to educate themselves on the general scope of vendor offerings and to hone in on platform differentiators, allowing buyers to make better informed procurement decisions.
The key is to ensure the RFP provides buyer stakeholders with the information needed to set the organization up for success from the start. Be certain your RFP gets to the heart of value based care delivery: good, foundational data that are properly maintained in an easy-to-use platform supported by a committed vendor partner that aligns your success with their success.
Preparing an RFP?
You can find a helpful summary of information about Arcadia here.  If you'd like to connect with our team, please fill out the short form below and we'll be in touch right away.