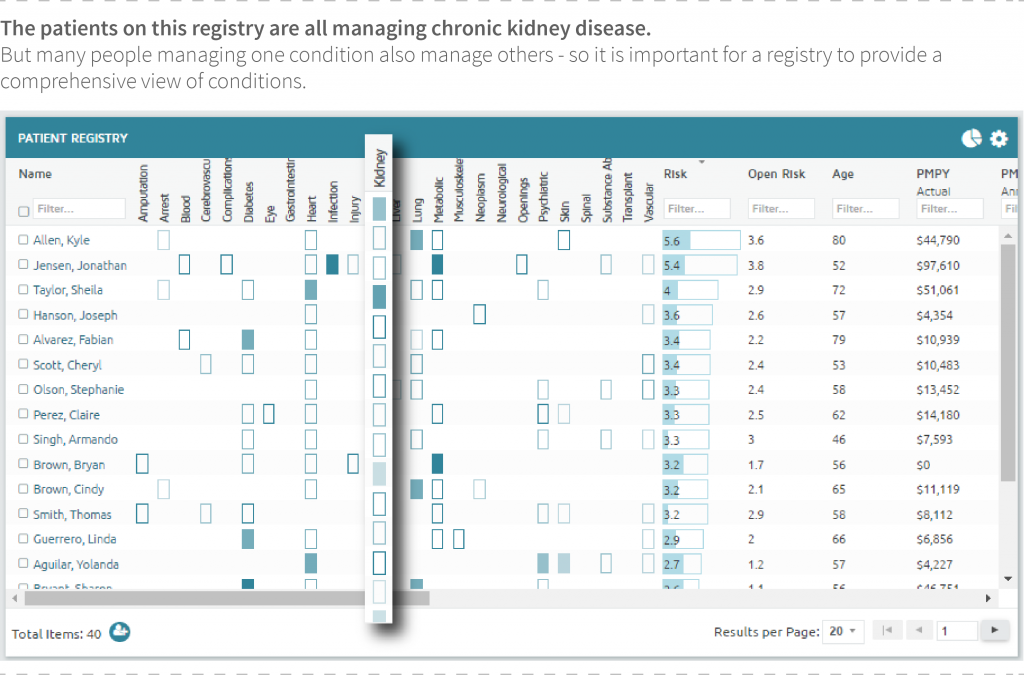 In a recent blog post, I talked about the benefits of capturing certain populations of patients in a registry and disease management program.  In the Medicare population, disease management programs are especially useful for patients with six major conditions:
Today I will focus on chronic kidney disease (CKD) – the risk factors and causes, the consequences to the patient, and methods for using a systems approach to diagnose CKD earlier to avoid downstream medical complications and costs.
Why is chronic kidney disease such an important condition to manage?
CKD takes a huge toll on individual patients, their families and the healthcare budget.  Every year, 87,000 patients die of kidney related causes.  We spend over $48 billion per year on CKD.
CKD is categorized as Stage I, II, III and IV as kidney function declines and the illness increases in seriousness.  The level of dysfunction is measured via a blood test of kidney function called creatinine.  As the creatinine level rises, the degree of kidney function worsens.
One of the problems with CKD is that the disease is "silent" and patients can remain asymptomatic until the kidney function has deteriorated to a point of no return.  The "point of no return" I will define as the need for dialysis, which is a life-changing and life-restricting event requiring visits to a dialysis center several times a week, or performing complex dialysis at home.
The only alternative to dialysis is kidney transplant, which is also life-changing. Once kidney function has deteriorated to Stage IV, life expectancy is also dramatically shortened.  The usual cause of death for CKD patients is of cardiac causes.  CKD promotes coronary artery disease for unclear reasons.
What causes chronic kidney disease?
The two main causes of CKD in the United States are diabetes and hypertension (high blood pressure).  Because both of these diseases are so prevalent, the downstream consequence of CKD is also sadly very common.  The progression of CKD can also be inadvertently hastened when patients take too many NSAIDS, such as Advil or Aleve, or eat the wrong type of diet, such as a high protein diet or take the wrong types of antibiotics.  The dye used in some radiology tests can also harm the kidneys.
How can providers find at risk patients?
Now for the good news!   As mentioned above, CKD can be diagnosed with a simple blood test of the creatinine.  A practice can identify patients who may be at risk for CKD because they have:
diabetes, or
high blood pressure, or
slightly elevated creatinine levels
These patients can be entered into a CKD registry or disease management program.  Once a patient is entered in to such a program, an IT-powered algorithm can help ensure that these patients get tested at least annually.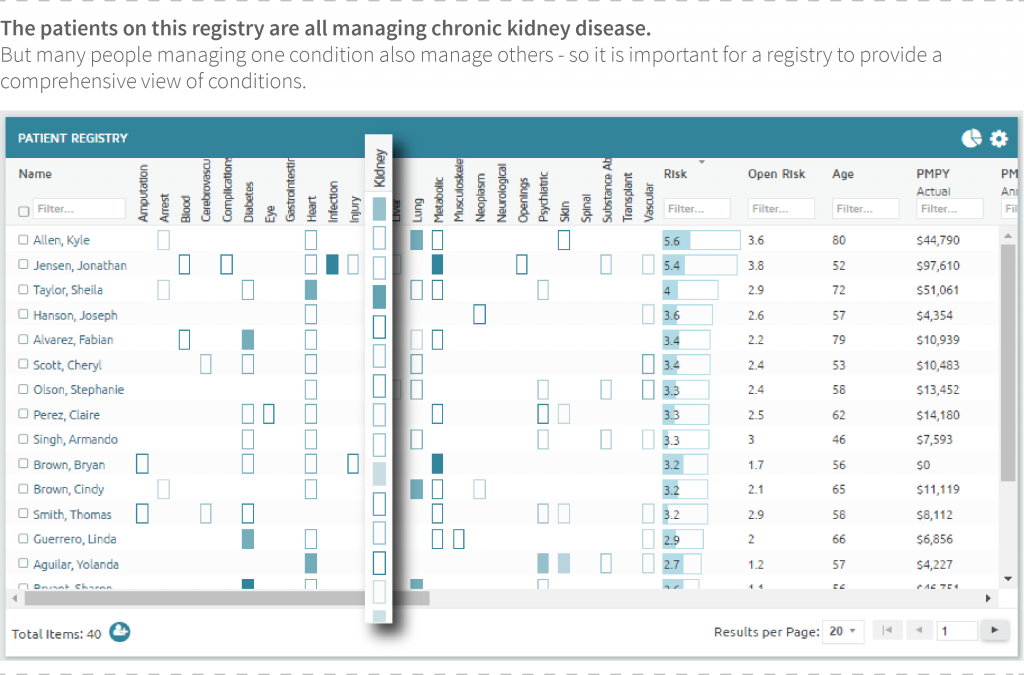 Because CKD usually progresses slowly over many years, patients with rising creatinine values are flagged and referred back to their PCP.  If the CKD is progressing to Stages III or IV, the PCP may then refer the patient to a nephrologist (kidney specialist) for closer monitoring and treatment.  CKD patients often benefit from taken a class of drugs called ACE inhibitors.
Disease management programs in value-based care
Doctors don't know what they don't know!  It is impossible for an individual provider to keep close track of every patient at risk for CKD.  But, with the help of a strong IT-powered disease management program, the provider can allow the program to work for her and continue to identify and track patients at risk for or with CKD.
Though such programs benefit all patient populations, there is an added benefit for medical groups engaged in pay for value or global payment contracts.  Because the doctors and sometimes hospitals are paid for the total care of all the patients in their cohort, there is a financial advantage to keeping patients with mild CKD out of the later stages of CKD and thus reducing overall medical spending.
The importance of IT – and data
Again, doctors don't know what they don't know.  When patients with complex conditions are treated in many different inpatient and outpatient settings, it can become very difficult for an individual physician to track the services a patient has received and the medications that patient may be on.
In order for a disease management program to be effective, it must provide care managers and physicians with a comprehensive view of the care and needs of each patient.   Data aggregation can bring together EHRs and claims data sources to provide that comprehensive picture – and analytics on top of that aggregated data can find care gaps and present them to the care team.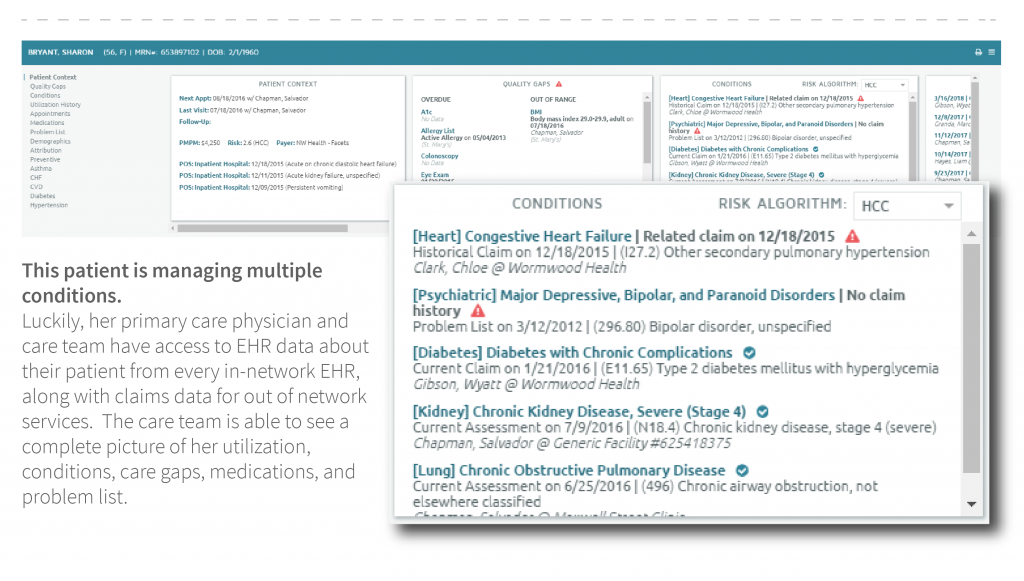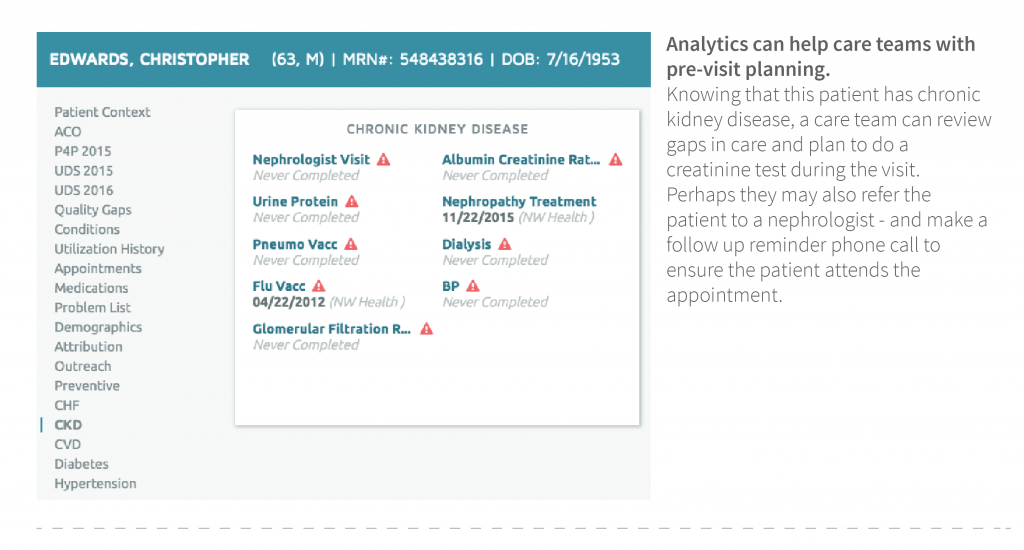 Again, the power of IT – aggregated data and good analytics – helps care teams provide superior care to a group of patients with chronic kidney disease.  In future blog posts, I will provide more detail about how some of the other disease management programs are structured.
Rich Parker, MD is the chief medical officer at Arcadia.