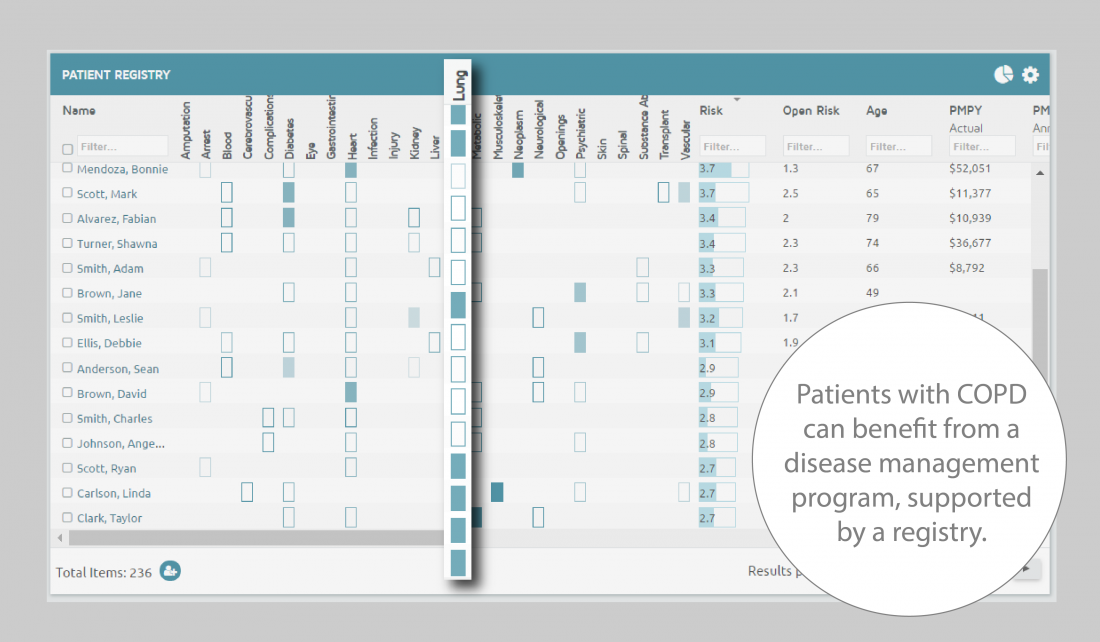 In today's Disease Management (DM) segment, I am focusing on Chronic Obstructive Pulmonary Disease (COPD), one of the six top diseases or entities to manage with a DM Program in the Medicare (over age 65) population:
chronic obstructive pulmonary disease (COPD)
Burden of illness and rationale for a COPD Disease Management program
COPD affects over 15 million Americans and is the third highest cause of death, responsible for killing over 120,000 patients annually.  Almost all cases of COPD are caused by cigarette smoking.  Because of its high prevalence, chronicity affecting patients for many years, and high morbidity and mortality, COPD is an excellent disease for a high-functioning DM program to manage.
Confirming the diagnosis of COPD correctly allows for appropriate management of patient symptoms and co-morbidities, such as vascular disease and other respiratory conditions such as bronchitis and pneumonia.  Correct management of patients with COPD reduces symptoms, as well as reducing the severity and frequency of exacerbations.  Correct management also improves patients' quality of life, exercise capacity, and prolongs survival.
As with all effective DM programs, a high functioning COPD program takes work away from the doctor and adds a safety net under the patients to prevent important gaps in care.
How does a COPD DM program work?
As in all DM programs, step 1 is correctly identifying patients with COPD.  This process can be accomplished via a combination of analyzing claims coded for COPD and looking for evidence of spirometry (a standard breathing test) with a below normal result.  The usual DM process of vetting algorithmically derived lists of likely patients with COPD with the provider's knowledge of the patients ultimately helps produce the most accurate list or registry of COPD patients.
Once the registry is established, each individual patient is bumped up against a list of required or advised measures, including:
spirometry testing
influenza and pneumococcal vaccine
correct use of inhalers
understanding of warning signs for exacerbation
correct use of supplemental oxygen if indicated
smoking cessation counseling if indicated
The registry also helps to assure that patients with COPD are evaluated at least twice yearly by their provider team.  It is important to note that DM programs are best run by nurses or other staff trained in quality measures, to ensure that all patients on the registry are receiving all required elements of care.  More complex patients may be referred for specialist pulmonology care as needed.
Provider education
A high functioning DM program usually links provider education with patient outreach.  At times, doctors and other providers lose touch with the latest advances in medicine, and some targeted educational sessions with providers about their own patients taught by a local engaged pulmonologist can enhance the outcome of the program.  In these locally run sessions, providers can also provide important feedback to the specialist and/or Medical Director running the program about the overall content and functioning of the COPD DM program.
Summary
COPD takes a tremendous toll on patients and their families.  But, when this disease is well managed, the quality of life goes up and the medical utilization goes down.  A well run DM program — as always dependent on high quality claims and EHR data — can facilitate the best possible care of this vulnerable population.