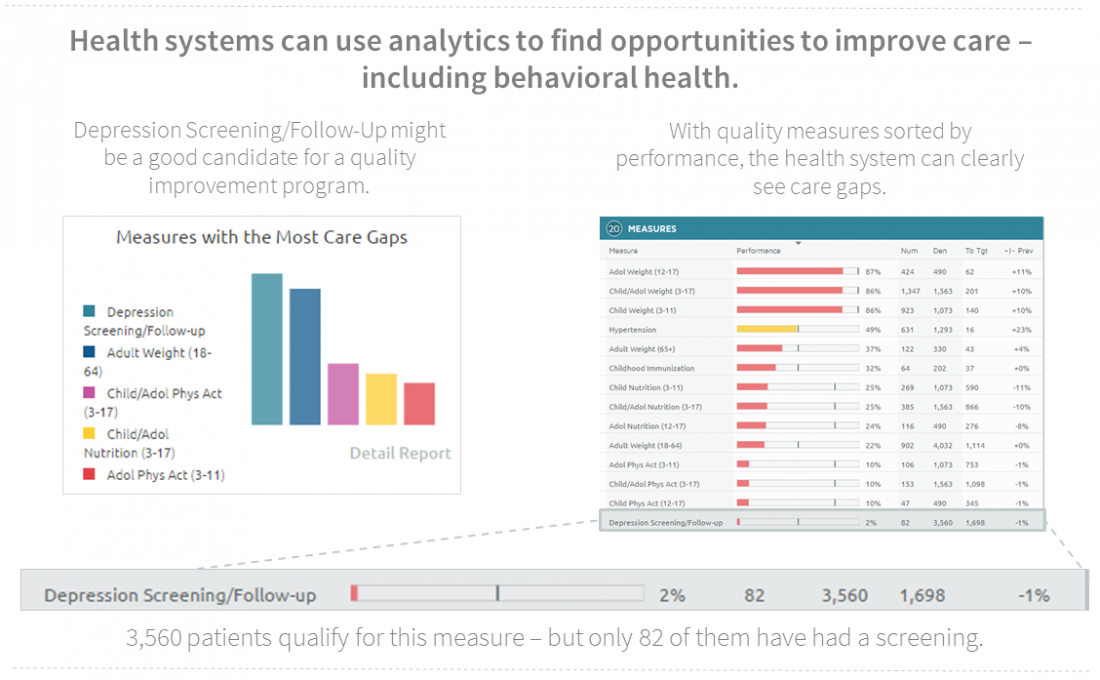 This is the sixth and final piece in a series of discussions of disease management.  It is probably fitting that the discussion of disease management for behavioral health (BH) is left for last, because that is often what happens to patients who have BH issues.
Unfortunately, in the United States, behavioral health or mental health, as it is sometimes called, has been in large part split off from what we might call physical health.  Of course, mental processes and illnesses are taking place in our brains and bodies just as physical illnesses are taking place in our bodies and brains.  But for reasons way beyond the scope of this short piece, they have been artificially separated.  Or to use the terminology of the insurance world – "carved out"!  We can no more "carve out" mental illnesses from the patient, than we can "carve out" cardiology.
Burden of illness and shortage of expert care
Depression and anxiety are the most common BH issues people experience, and the most commonly presented to primary care practitioners.  Often patients may not realize that they are depressed or anxious, and therefore present to the office with an array of physical symptoms.
Astute clinicians are well trained to recognize anxiety and/or depression presenting as fatigue, headache, pain, abdominal or other symptoms.  Well trained clinicians are equipped to diagnose and treat depression and anxiety.  But, patients with more severe depression or anxiety need more services than the average PCP can provide.
In most geographies, there are shortages of psychiatrists, psychologists, social workers and nurse care managers to provide adequate coverage and treatment for these patients.  As a consequence, many patients with depression and/or anxiety go inadequately treated resulting in prolonged suffering, and increased utilization of doctor and emergency department visits.
Though I am focusing primarily on depression and anxiety, because they are by far the most common BH maladies, patients with bipolar disorder, schizophrenia, personality disorders and other diagnoses also often go without coordinated or comprehensive care.  Also, included within the scope of BH issues are substance abuse and alcoholism that require more specialized skills to treat.
Comorbidities and the added economic burden
Patients with physical illnesses such as cancer or heart disease often develop anxiety and/or depression.  These so-called "comorbidities" greatly increase medical utilization and the risk of dying.  For example, adults with coronary artery disease and depression or anxiety have $5,700 higher direct annual medical costs than those without anxiety and depression.
It is also estimated that patients with depression have at least double the lifetime cost of care as compared to patients without depression.  The average adult under age 65 consumes about $8000 of medical costs per year, the average adult over age 65 consumes about $10,000 of costs per year, and any patient with serious mental illness consumes about $50,000 of medical costs per year.
Timely care relies on a robust patient registry
As in the other disease management conditions I have presented, step one requires the creation of a patient registry.  With BH, this process is complicated by the need for patient confidentiality.  With great care and attention paid to patient confidentiality, systems can be set up to use both claims and Electronic Health Record (EHR) data accurately in order to create a registry of patients with significant BH issues.
Once the registry is created, outreach and care for these patients is provided by a mix of community health workers, care managers, social workers, psychologists and psychiatrists.  One solution that appears to work very well involves the embedding of social workers who can do therapy and make timely referrals within primary care practices.
Many studies have demonstrated that the expense of providing timely BH care to patients is more than made up for in decreased morbidity and overall healthcare utilization.  As our healthcare system transitions from a fee-for-service system to a global payment or capitated or value-based system, the incentives grow for healthcare organizations to provide timely and comprehensive BH care.
Using IT platforms to effectively manage the patient registry
As with the other disease management (DM) categories I have previously discussed, the foundation of these programs is a robust registry created through powerful IT platforms that can harness data from both claims and the EHR.  It is the marriage of IT with clinical knowledge and leadership that allows for a successful DM program, and BH is no exception to that rule.
Looking ahead: comprehensive behavioral health care
As the shipwrecked sailor said, "Water everywhere, but not a drop to drink!"  Sometimes the healthcare system feels this way too.  We are spending 18% of the gross domestic product on health care, but we cannot find a mental health provider anywhere.  I am cautiously optimistic that the inexorable trend away from fee-for-service to global payment arrangements will provide the necessary fuel for healthcare organizations to recognize the financial benefits to providing comprehensive BH care, which should be the right of every patient to receive.
A progressive clinical approach tied to powerful IT allows for the creation of stronger systems of BH care that can provide patients with the care they need and deserve.
Read about other conditions in the disease management series
Disease management for behavioral health is one of six programs to focus on for a Medicare population.  You can read about the other five conditions in my articles in this series: