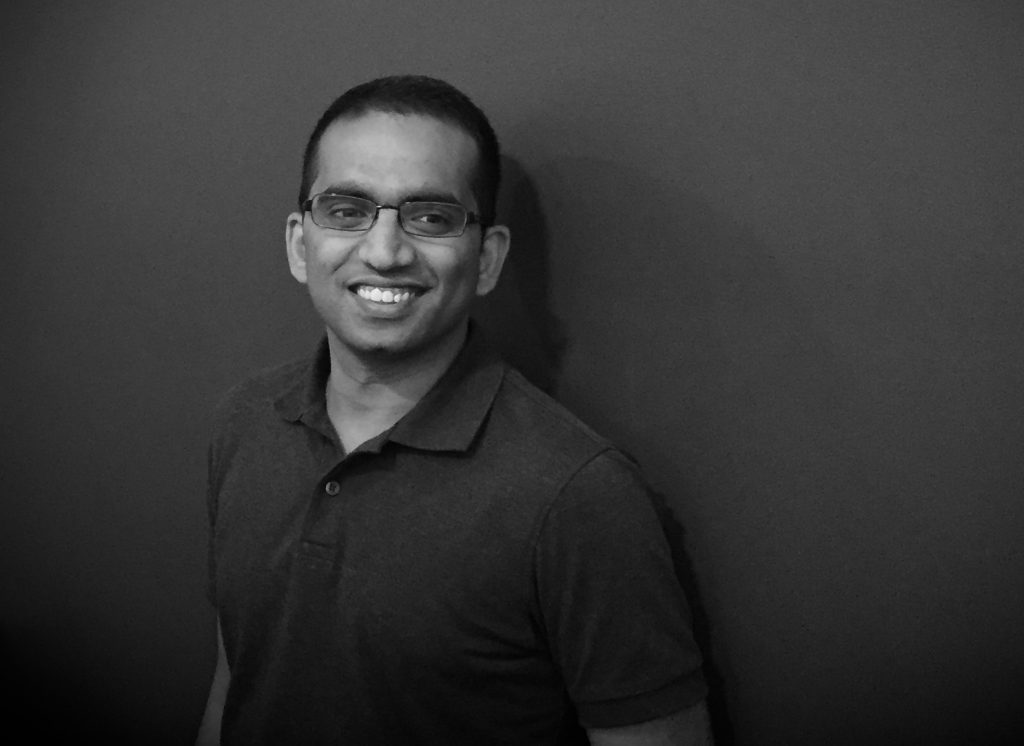 "Tomorrow marks my 3 week anniversary with Arcadia and my first reaction is – Woohoo!!"
– Sreekar Matam
One of our favorite company traditions is the email new Arcadians are encouraged to send out to everyone, introducing themselves.  Arcadians might share their professional backgrounds, their hobbies, photos of their families (or dogs!), or talk about their skills and goals.  We all read eagerly, because we genuinely want to get to know our newest colleagues.  When Sreekar Matam joined us this spring as a senior data engineer, we loved that he wrote, "Tomorrow marks my 3 week anniversary with Arcadia and my first reaction is – Woohoo!!" Here, he talks about his experience starting at Arcadia – and we'll follow up with him in a year to see how things are going.  If Sreekar's enthusiasm inspires you, please check out our openings on our careers page.   
Hi Sreekar!  So how long have you been here now, and what are you working on?
I've been here for 13 days!  As of now, I am working as part of our Analytics and Reporting team; we do ad hoc reporting for Arcadia's analytics clients to help them get additional insight into their data.
We break our work down into development 'sprints', and I'm assigned to a couple of those sprints right now.   I am currently automating all of the manual reporting tasks we do for one of our clients, so that we can do that work more quickly.
What do you like about your team?
Everyone is very friendly – I was actually just invited to take a break and play table tennis!   It is pretty informal here.  I look forward to sharing ideas at our scrum meetings.   Everyone on my team is really nice.  I don't feel like it's ever a problem that I am asking questions, because my whole team is very helpful.
That's awesome.  What made you come to Arcadia?
I worked as a tech lead at a consulting firm, but I was looking for a change in scenery.  I heard about Arcadia, and read some good reviews on Glassdoor.   And then I saw the Data Gallery – that was so cool, and it made me really want to interview here.
What was your experience when you met us?
I was expecting something a little bit more formal.  I had never worked at a company like Arcadia – we had 350,000 people at my previous company, and my client had 10,000 people.   The work culture was quite formal and rigid, so that's what I was used to.  I did not expect Arcadia to be this flexible – it's been a culture shock, but a good one!
What are you looking forward to in your first year here?
I think I need to get through this first sprint before I think about my first year!  But that said, I like the work I do.  I am hoping to make a bigger footprint here.  I'm not exactly sure how yet; as I look around people seem to be doing a lot of different things.  But they have one thing in common – they all really seem to be enjoying their work.
I agree!  Thinking about opportunities here…what kind of healthcare IT problem would you want to solve? 
I used to specialize in finding small bits of information that were missing – the gaps that could throw off a report but that were really difficult to identify and track down.  For example: if you are reporting on 100 million claims, are a couple of rows missing?  And if so, where are they?   I like debugging data to see where or why something is missing – and if something is missing, why?  I love figuring that out!
Previously, I worked completely in the property and casualty insurance domain.  As someone coming into healthcare, the sheer number of healthcare terms that are new is incredible.  You go to the hospital, you get treated – you never realize how much is behind the scenes.  I know there is a lot to learn, but I'm really excited about that.  The bigger the scope, the more you learn.
What are you most excited about?
Datathon!   I read about it and know a fair bit about it – but I haven't participated in one.  I read about it in Omar Nema's Meet an Arcadian profile and now I can't wait.  I told my friend about Datathon – he was so excited he told me to refer him!
The Arcadia Healthcare Datathon is our attempt to merge the energy and innovation of a hackathon with our love of data, and of making data insightful and beautiful.  Last year, the ideas that came out of our Datathon event inspired many of the final data visualization pieces you can see in our 2016 Data Gallery.  We cannot wait to see what ideas Arcadians – including Sreekar! – come up with this year.