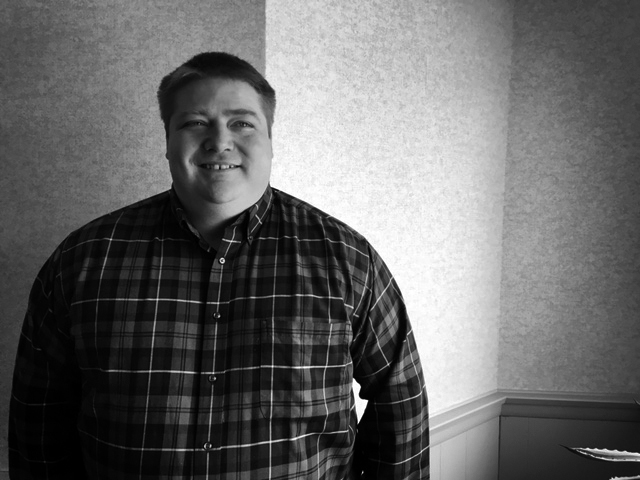 "I enjoy the freedom and autonomy we're afforded to solve problems for people. I also like the fact that someone's rank or title doesn't necessarily matter as much as how knowledgeable and how dependable they are."  
– Tom Dierickx 
Arcadia provides direct support for managed care contracts covering over 70,000 members – we do everything from financial analysis to complex case management.  From our business analysts to our nurses, all of our managed care teams rely on the high quality reporting and tools provided by a dedicated team of IT experts in our Chicagoland office.  Tom Dierickx, our director of IT programming and analysis, took a few minutes to share his formula for successful IT-business collaboration.   Tom is actively seeking "multidimensional and dynamic" IT professionals to join his team, so if his story inspires you, please check out our technical openings on our careers page.
 How long have you been with Arcadia, and what do you do here?
I started way back in June 2002 and, on paper, have served as a Database Administrator within our Managed Care line of business for many years.   In reality, though, I was a DBA, data analyst, database developer, website developer, application developer, and any other job title one can imagine with the words "data" or "developer" in them!  I briefly left Arcadia to go work for a global manufacturing company, hoping to specialize in business intelligence projects full time, but quickly got bored – the environment was slow-paced, and IT and business users were generally detached from each other. I need lots of variety and like to make a difference with my skills, so I returned to Arcadia as a Data Scientist to focus on interesting analytics and data mining questions.
As Arcadia grew rapidly, we needed senior technical experience within IT to focus on scaling up the organization, so my role and focus changed to be the Director of IT Programming & Analysis. I hope to be with Arcadia for a long time and anything data-related is generally interesting to me. I like to say I'm interested in all things data and all things programming, but I have the most fun when I get to play in the area where these two domains intersect.
 What's it like to be a database analyst/programmer on your team? 
Not like anywhere else, which is surprising for newer people to quickly discover. Some people enjoy it, and some people perhaps don't. We're a small team in a small company that handles a large workload with large variety of requests. This necessitates a special type of IT person who is multidimensional and dynamic.  People who do well are curious and inquisitive types who love learning as much as they can about our business and operations and enjoy directly working with staff and client managers.  But people who prefer to work at a safe distance from end users generally do not last long, especially when under pressure.
I have a very basic formula that I like to stress to the team:
(Analytical Skills)

+ (Technical Skills)

+ (Business Knowledge)

+ (Direct Involvement with Business, Users, and Clients)

________________________

= (Total Value)
To me, technical skills are just prerequisites for success. The stronger the better, of course, but, mere prerequisites nonetheless. We like active minds that enjoy solving real business problems for real users and real clients.
Your team handles a constantly-changing array of technical requests, often with challenging deadlines – what keeps everyone motivated?
The vast majority of our team is innately curious and analytical.  We have a good mix of people: some naturally lean more towards data analysis, some more towards back end database programming, a couple towards front end programming, and a couple others that enjoy infrastructure.   But everyone enjoys solving problems, and everyone takes pride in learning and understanding the questions that real users are trying to get answered. We're also very open and honest, and we enjoy knowledge-sharing and, generally, improving things.
It's only natural that we're excited to be part of Arcadia's future.  We want to help fellow Arcadians in their own personal quests for answers to questions and challenges before them, and we are always working towards ensuring all of our clients' information needs are met, contractual obligations are met, and expectations fully exceeded. It's an impossibly tall order, of course, but it's what motivates and drives us each and every day.
What awesome thing has your team done recently?
There are many – it's hard to choose just one.  With a small team of only 10 people, we have collectively completed nearly 600 requests since the start of 2016.  This is remarkable – and we do a lot more every single day that never even makes it into a formal request to be counted.  But while we place high importance and all take a sense of pride in completing documented requests as best as we can in a timely manner, there's much more to us.
So, instead of sharing only one example, I will highlight the fact that 90% of our team has recently worked directly on a project or initiative and/or freely shared knowledge with Arcadians in other lines of business – and that kind of collaboration is pretty awesome to me!  Many of our team members have been actively involved in enterprise infrastructure projects.   We have shared knowledge and ideas back and forth with the Analytics line of business, working with Product, Engineering, QA, and other teams.   We also recently collaborated across multiple lines of business and teams within lines of business to support a client with complex needs.  To me, this is really awesome.
I like seeing everybody on our team willing to help others beyond our own four walls and having an engaging attitude with all Arcadians.  I just wish we had more capacity to actually help more.
What do you like about the culture at Arcadia?
I enjoy the freedom and autonomy we're afforded to solve problems for people. I also like the fact that someone's rank or title doesn't necessarily matter as much as how knowledgeable and how dependable they are.  To me, this is really important because it creates a more "authentic" and genuine environment. We're all pretty lucky to get to work on many of the things that interest us each day.   Because we're so small, we're always incredibly busy just trying to keep up with all the things we wish we could answer or do to help others.  This means that there's really no time for people to waste on dead-end projects that serve disingenuous and selfish political interests.  Instead, we all just desire to be better, more efficient, and more aligned, from top to bottom across the entire organization, to best serve our many clients' needs.
What are you looking forward to as our company grows?
Selfishly, I'd like to someday get to spend more time doing data analytics project work with other smart Arcadians from across different areas, departments, and even lines of business, and be less and less of a day-to-day IT manager.  As our team evolves and grows in tenure, I continue to push others to expand their knowledge and carve out their own solutions.  One day, I won't be so needed in a maintenance and support role, and will instead serve more as a senior technical advisor.  I  could drop in to help teams think through a design issue or proposed solution, and spend much more time on ad hoc data analysis than pure programming tasks or automated process development and support requests.
When this happens, it will only be because there has been similar professional growth across my team.  So, I also look forward to building the skills in my team that will enable each person to take on more responsibility and work with more autonomy.  We have awesome people, and it is rewarding to support their growth.
What kinds of opportunities are there for learning and growth within your department?
Every minute of every day! Truly, the entire universe of all things healthcare IT is certainly within scope.  There's an endless supply of report-level, data-related questions and requests.  Our Managed Care line of business performs claims processing and utilization review on behalf of our HMO clients, as well as similar reporting for our ACO clients.  So, questions span the full range of claims, eligibility, providers, utilization, and financials that surround that work. We cover the full spectrum of IT – infrastructure, development and support of internal (and even some external) business applications, development and support of automated processes and extracts, and data analysis and reporting. Every day there are new problems to solve, new questions to answer, and new custom processes to build.
It's the ideal place to be if you want variety and a fast-paced environment. Learning is not a perk – it's a necessity.  In our line of business and on our team, we value the ability to stitch together fragments of information from different people and sources, to paint a picture in your mind of what's needed, and to develop something that actually satisfies our business users.
What advice would you have for someone interested in joining your team?
Be prepared to work hard, learn hard, and play hard. We're a small team of mostly experienced professionals who really value ideas, creativity, outspoken honesty and candor, sarcastic humor, and solid technical skills – but we also really value follow-through.   It is important to be highly dependable, responsive, and respectful to all requestors – even when it's hard. We don't like smart, lazy people, so be prepared to work hard.
It doesn't matter what degree you have or what college you went to. What matters is what you can actually do and what can you handle, largely independently. We all tend to work on our own assignments and projects, but still genuinely enjoy each other's company and thoughts and ideas. So, expect to be given ownership over several things and to enjoy improving them, but also expect struggles that make you stronger. This will require you being comfortable admitting to people that you don't know everything, initiating questions and meetings all on your own, and driving conversations with both non-technical staff as well as technical peers.
Everyone on our team needs to be open to suggestions, as there's always room for improvement.  We also need to be able to work with partial information and accept that requirements are fluid and ever changing. If you're a highly rigid or literal person, you will struggle.   However, if you genuinely want to partner with business users to make a difference in healthcare, and you are driven by the challenge of solving their business needs, you will have the opportunity to flourish.