Healthcare's post-pandemic reality is a strained and exhausted system. It's facing an uphill battle to provide high quality care as more and more challenges arise including inflation and a winter "tripledemic" of COVID-19, flu, and RSV that threatens to overwhelm hospitals and burnt out physicians.
In the recent Arcadia webinar, Challenges in Healthcare Today: Strategies to improve outcomes in uncertain times, Arcadia Senior Account Executives, Jessi Cardello and Jake Tinkham tackle four common challenges — rising costs and tighter margins, patient leakage, labor shortages, and physician burnout and offer some ways organizations can control them.
Their solutions can alleviate some of the stress healthcare organizations are under to deliver care in cost effective ways.
Challenge 1: Rising business costs and tighter margins for healthcare organizations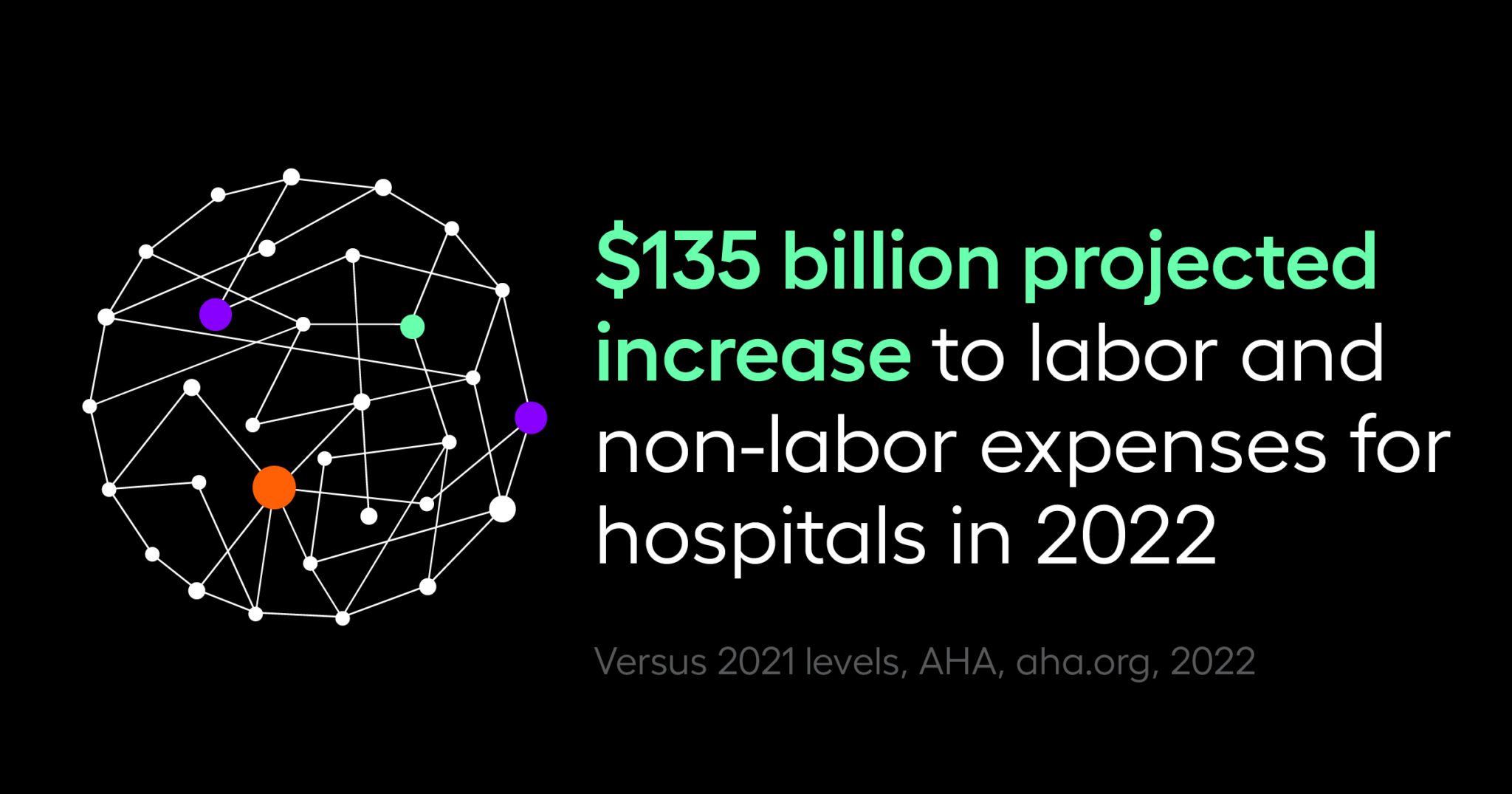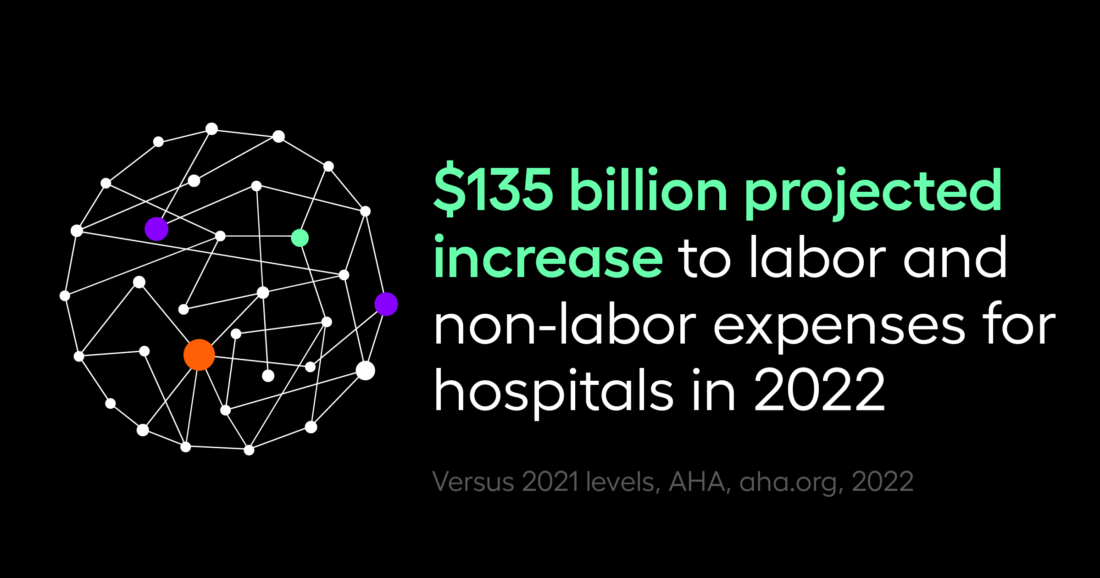 According to the American Hospital Association (AHA), labor and non-labor expenses are projected to increase by $135 billion in 2022 over 2021. In addition, it reports 53% of hospitals project negative margins through 2022.
"While the pandemic may be ended from a society point of view, being able to go out, it really hasn't ended at all from a cost perspective," explained Tinkham.
Tinkham says that the trend is that the cost rebound post-pandemic is greater than the cost drop that occurred when patients paused seeking care.
"There's still the cost from the rebound, from all these patients coming in, that weren't seeking care that should have; they're coming back, they're much sicker," he said. "They're much more complex patients, which increases care. And on top of that, we're seeing a spike with inflation."
Solution: Better healthcare analytics
To combat rising costs, healthcare organizations need to leverage the massive amounts of data they've collected. Many organizations have so much data, they feel an "analysis paralysis." It's not an instant fix, but analyzing this data can help them play the long game when it comes to identifying ways to reduce costs.
Cardello recommends putting patients into categories to prioritize the right actions for health systems and drive outcomes. They need to employ data to find those complex patients with increased comorbidities to ensure they get the treatment that they need and help healthy patients remain healthy, so that they don't cause an undue burden on the system.
"You identify high risk, high cost patients that have comorbidities that need care management. Then you have a quarter of folks that are rising risk, the data will show you the trends of folks that are on that trajectory, probably getting more expensive care," she said. "And then you have this wedge of patients that are not sick, they're not rising risk."
Cardello believes the last group are the patients to put resources into, to make sure that they're engaged in taking care of their own health.
"That's the long term game for our health systems that will ultimately help manage those costs," she added.
Tinkham recommends engaging in initiatives to find strategies and mitigation plans to address issues that are much lower cost.
"It's got to come from the whole network utilizing that data to see where those cost drivers are, and being able to work within your network and find those areas of success. You're not going to be able to solve every one, but find the initiatives that are low hanging fruit to lower some of those costs in the interim," he said.
To get out of the analysis paralysis, healthcare organizations should start by looking at basic quality metrics. Cardello notes that it's easy to see who's very engaged, who's going to their primary care physician every year, and who's getting their blood work done, just from the annual well visit metrics.
Tinkham points out that it's important to start with a unified data platform.
"Data is all over the place, it can be very, very siloed. Some of the more successful ERP systems that you see out there do have more of a single source of truth," he said.
Challenge 2: Patient leakage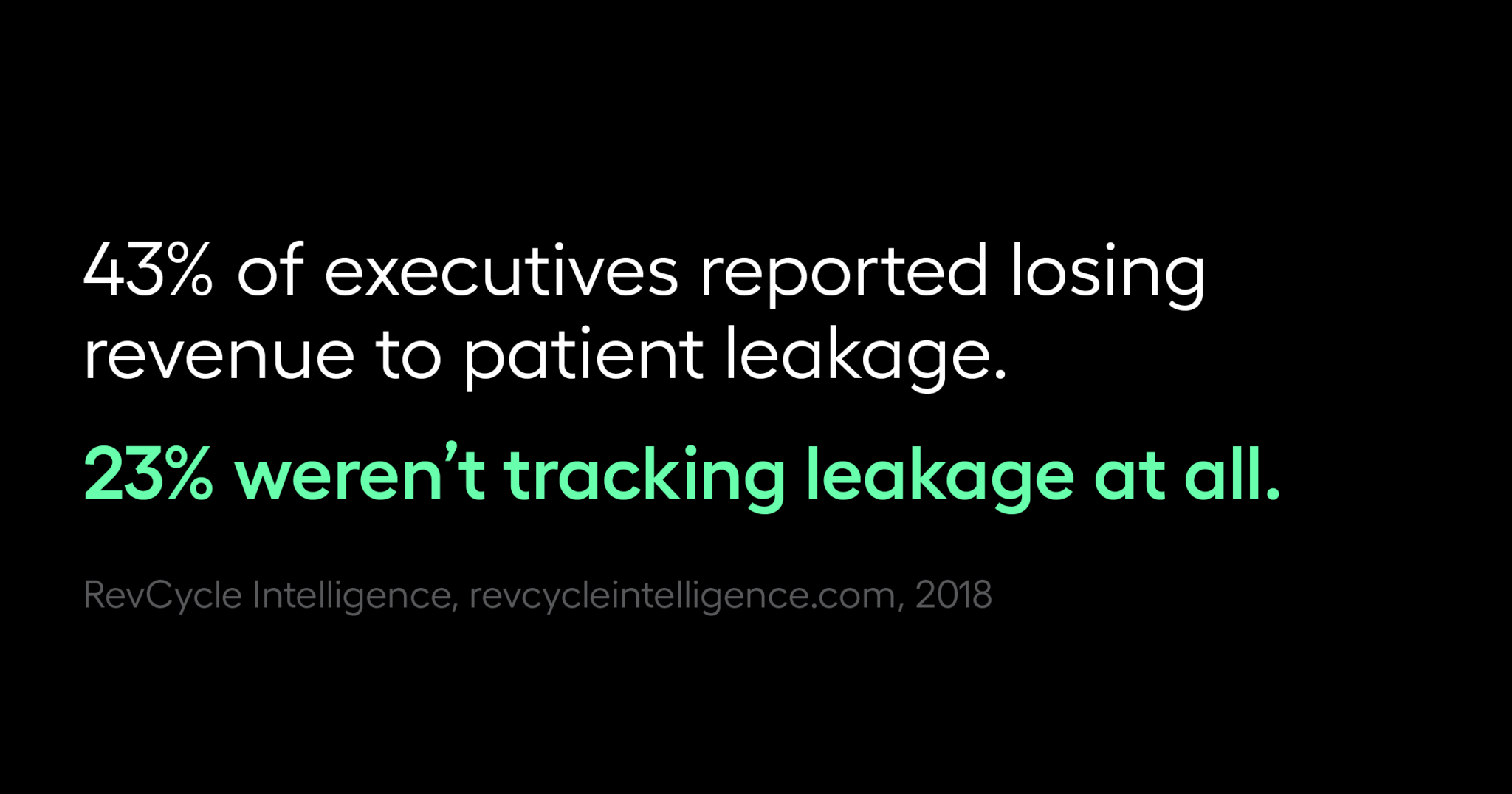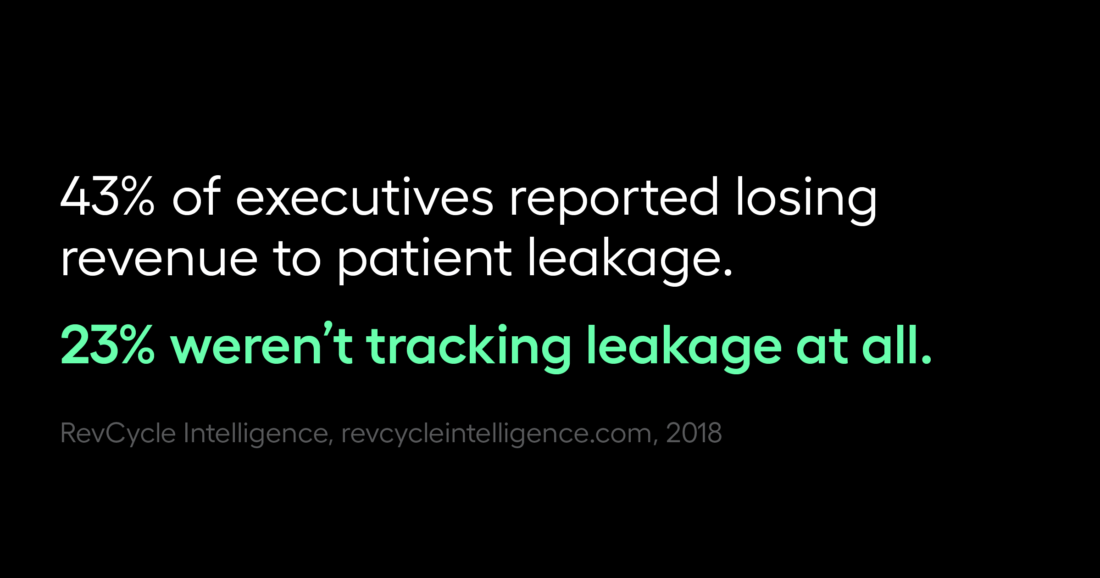 In 2018, RevCycle Intelligence revealed that 43% of executives reported losing revenue to patient leakage and 23% weren't tracking leakage at all. Some leakage, such as a significant number of patients moving during the pandemic, is unavoidable, but patient experience is a big reason for leakage that could be mitigated.
In today's world, healthcare organizations are not just competing with the experiences of other healthcare organizations. Much like we choose retail stores or restaurants to frequent based on our experiences, we choose our healthcare providers based on the experience we have with them.
Solution: Better patient experiences
Cardello has a very strong passion for good design of the patient experience. Improved patient engagement and their experience with telemedicine, the ER, a primary care provider (PCP) visit, a patient portal, how easy it is to communicate with a PCP, can be positively impacted by really good design. The data points organizations in the right direction, giving context clues of what's working and what's not.
"Whether it's visually, through something like a patient portal, or when I'm walking into my doctor's office, that interaction, when I'm done with my annual visit — the convenience of having a blood lab next door — that's all part of the patient experience, it's part of design."
Data can tell organizations how many people are getting their blood drawn after their wellness visits and why.
"Is it because the hospitals are 10 miles away, or because the labs are within the same building?" Cardello asked.
In addition to experience, data and technology can tell healthcare organizations which patients are more likely to leave.
"We actually have algorithms out there that can track numbers and say, hey, actually, this patient is 10 times more likely to leave your network," said Tinkham.
Having that information allows organizations to communicate with them before they leak out of the network.
Challenge 3: Staffing shortages in healthcare networks and hospitals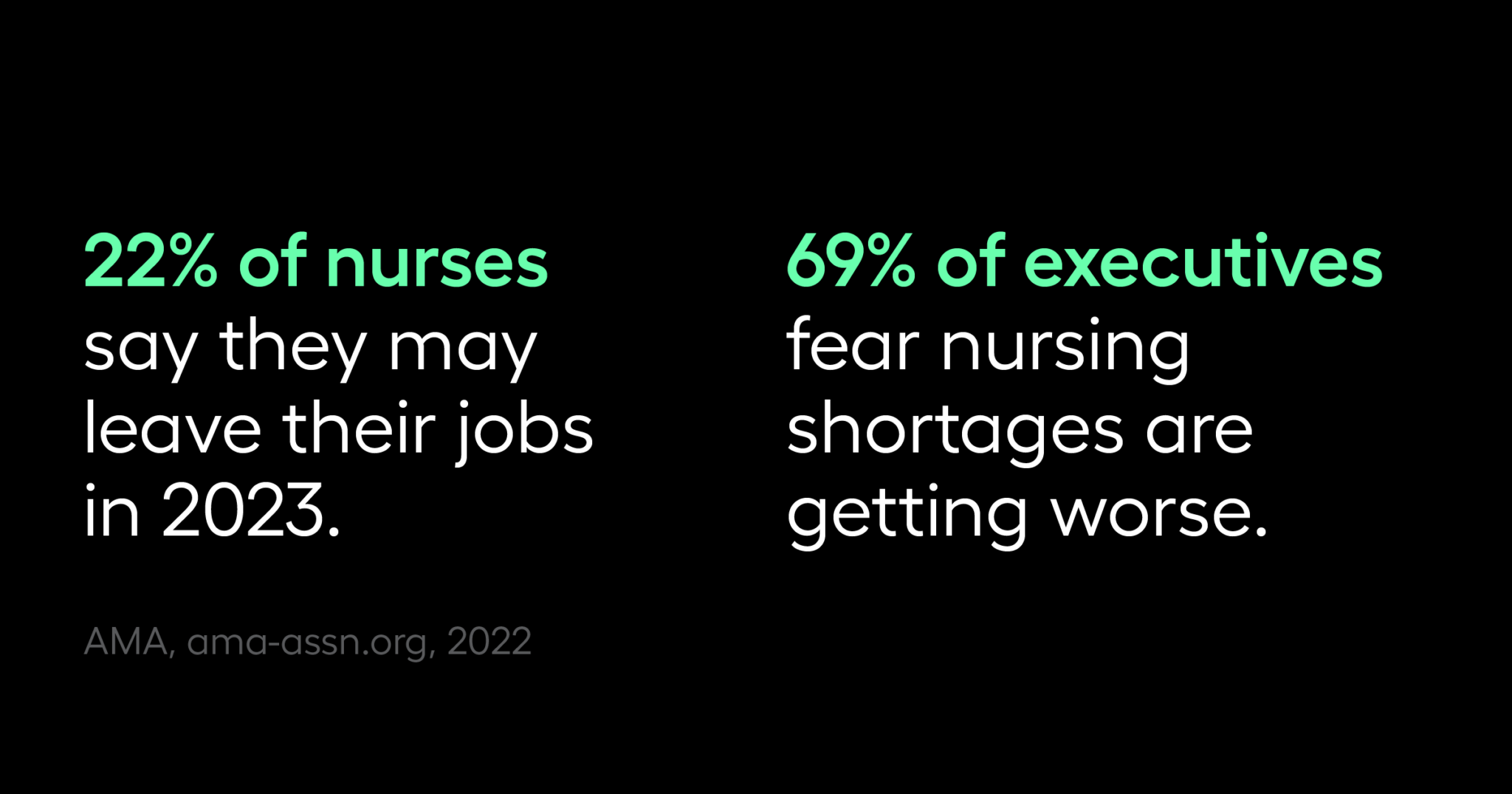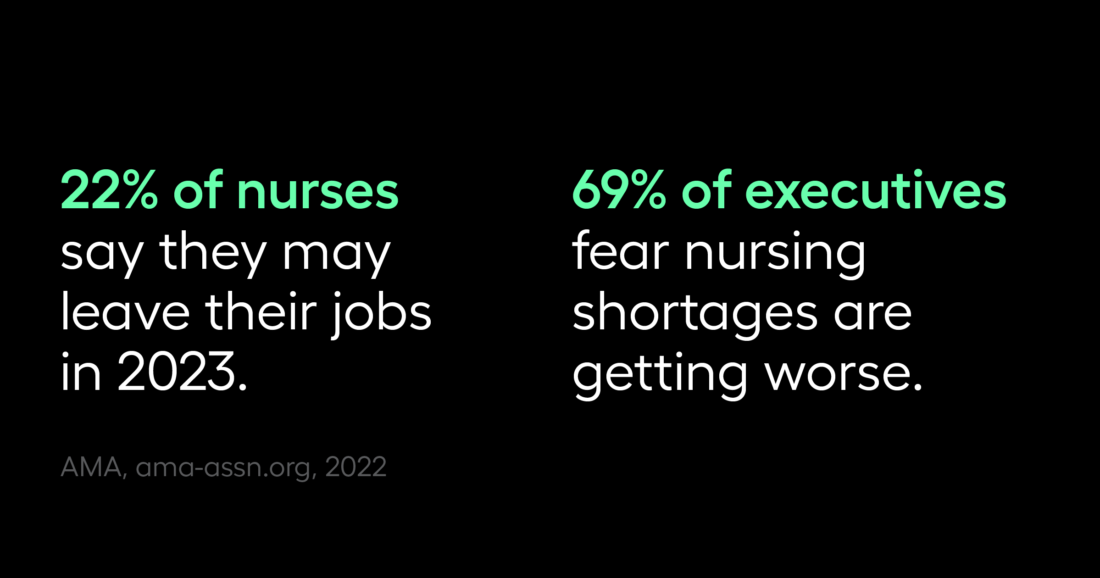 Physicians and nurses are dealing with a lot of issues from their compensation to the stress they experience on a daily basis to desire for remote work opportunities that are leading them to walk away from their jobs. The situation will likely get worse before it gets better. Nearly a quarter of nurses (22%), indicated to the American Medical Association that they may leave their jobs in 2023.
"[Healthcare organizations] are battling with provider retention and recruiting efforts to make sure that their network is well staffed so that they can create sort of a very cohesive closed loop process for their patients," Cardello said.
The solution requires health systems to find creative ways to mitigate the stress their providers are under. Using technology to incorporate remote work is one solution.
Solution: Remote work options for healthcare workers
"I know a mid-level provider who told me that he only goes in once a week and then he works remotely just doing a lot of the orders literally on his couch," shared Tinkham. "I think when it comes to the remote working — providers, they're human beings, they have friends and family that during this pandemic have all been working remotely. And sometimes they think we'd like that, too. I think with technology, I think there is a way to find that and harness the technology to help."
Tinkham says another focus should be to lean into social determinants of health analytics to help the higher rates of behavioral health issues communities are experiencing.
"Nurses are really in the trenches with patients. And from a society standpoint, I think there's a lot of behavioral health issues that have always been around. The pandemic expedited all of it, and nurses are in front of those patients that are going through a lot right now, which adds to the stress," he noted.
By increasing utilization of social determinants of health analytics to reduce the rates of behavioral health emergencies, healthcare organizations can reduce the stress on their nurses.
Challenge 4: Physician burnout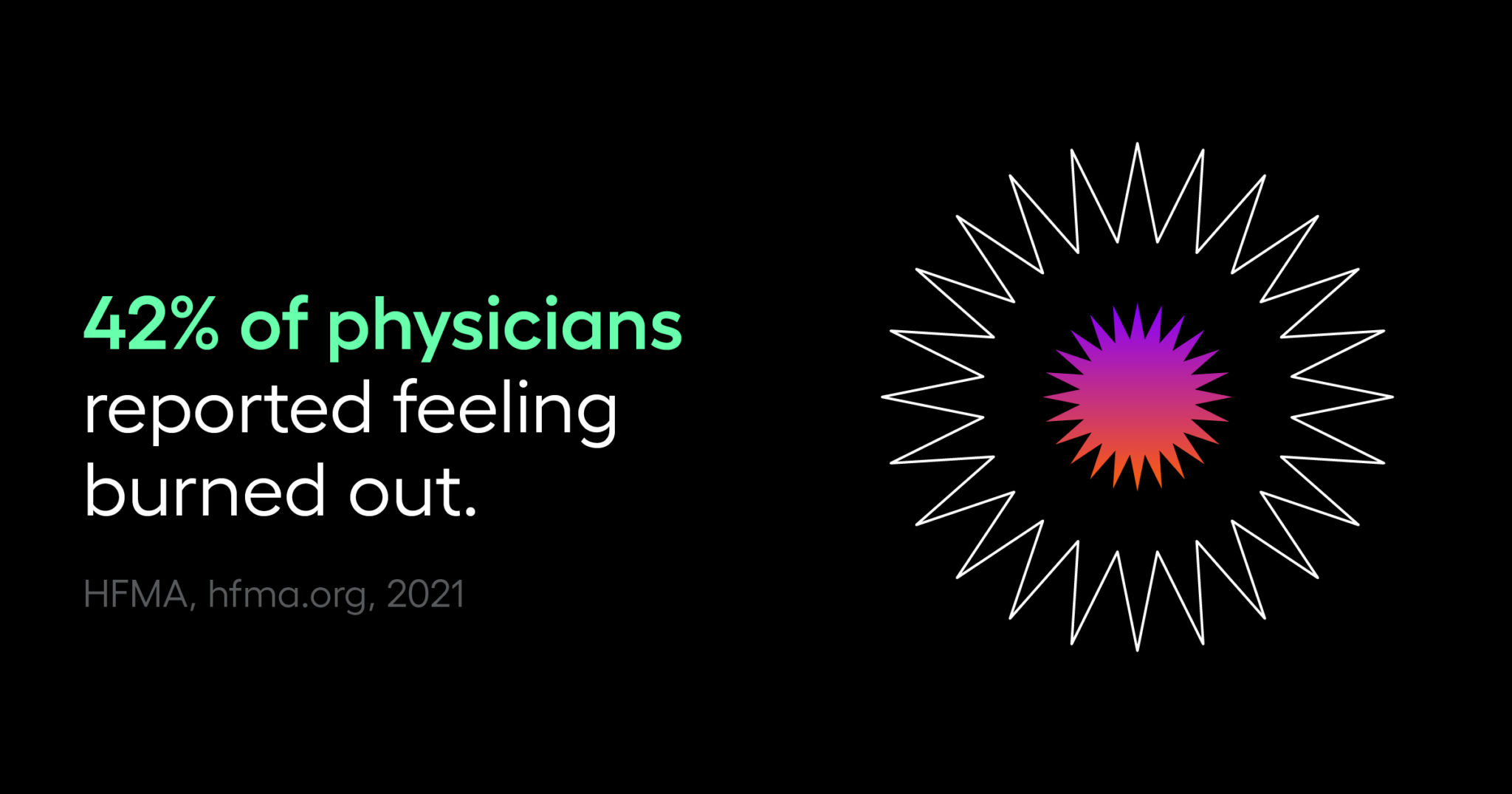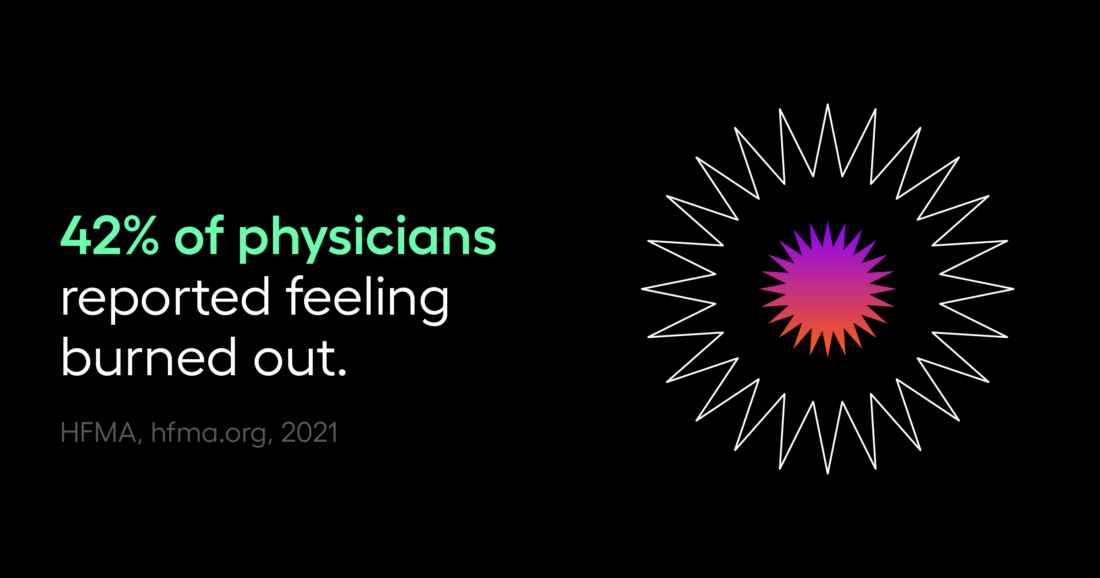 According to the Healthcare Financial Management Association, 42% of physicians reported feeling burned out in 2021. But maybe more surprisingly, four out five of them said these feelings began before the pandemic and say it's because they have "too many bureaucratic tasks."
"The administrators at hospitals and health systems are really struggling, there's people that are doing multiple jobs, and we all know, when you're stretched too thin, you're unable to really master any of those certain areas," said Cardello.
Tinkham says when healthcare organizations say they are trying to hire more, they aren't necessarily talking about physicians, but rather medical assistants. These medical assistants could use data-driven approaches to care to cut physician workloads.
Solution: Data-driven approaches and new models of care delivery
"Harness that data, having some medical assistants as well as nurses have a kind of that full circle of staff support for those physicians, is something that I've seen that healthcare systems can leverage to help with that," explained Tinkham.
In addition, finding different ways to engage and implementing new models of care delivery that crack the traditional model of healthcare delivery. Technology facilitates ways providers can build creative new experiences for patients beyond the parameters of traditional office visits.
"A client of mine shared that to relieve the burden of their urgent care that was just going nonstop, they spun up a nursing hotline. And they were blown away by the amount of calls that they got within their network to help support these patients that didn't want to go to the ER or were hesitant to go to the urgent care and knew that they could get care differently," said Cardello.
Hotlines and embracing telemedicine or messaging communications with providers are important and easy to implement because they already exist.
"We need to be more creative to solve these really simple problems that can help us in the long term because right now we're really busy solving the really, really hard problems with sick patients that their journey of healthcare is super complex," said Cardello. "But we have a huge population of people that if we get them on the right track, we can avoid some of this burnout, so I'm a big proponent for telemedicine. It exists today. We don't have to invent anything new, we just need to get it out there."
The Common Thread: Technology is the tool to help solve these problems
From data analytics to unified platforms to enhanced patient experiences, technology plays a role in reducing the burden on healthcare organizations. Successfully solving some of these challenges leads to outcomes where patients are receiving the right level of care and are informed about the care they need. This means healthier patients and less provider burnout.
Watch the full webinar and reach out to Arcadia to start brainstorming solutions together.