It's true: people who are housing insecure are often dealing with serious medical and behavioral health conditions. This graphic makes it clear that unhoused populations experience not only a significantly higher prevalence of chronic illness, but also an increase in costs of care.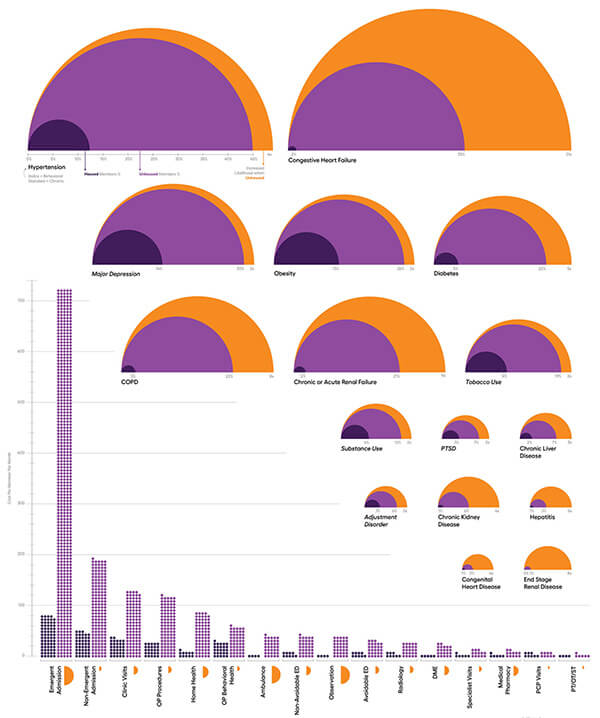 Jacob Hochberg on housing insecurity and health
There's a handwritten sign that keeps popping up near my house. It says, "Purchase Diabetes Test Strips." It got me thinking. There's likely an underground market for these test strips. If someone receives these through their insurance for free and they can't afford rent, they could probably sell them — and likely would sell them.
I started to ask myself: does housing insecurity lead to poor health, or is chronic illness a cause of housing insecurity? It's probably a combination. There are some people, for example, who may be bankrupted by their medical conditions and become homeless. They're so sick, they can't work. Because they can't work, they can't access good health insurance or afford healthcare.
On the flipside, lack of housing creates poor living conditions. These conditions could cause or aggravate chronic illness. Exposure to the elements, poor hygiene, lack of access to healthcare services, and self-medication through drugs and alcohol. All factors at play in an individual's health.
The graphic above makes one thing clear: housing insecurity is a problem healthcare needs to tackle. Unhoused populations experience not only a significantly higher prevalence of chronic illness, but also an increase in costs of care. It's a huge burden on individuals, the healthcare system, and society at large. It's worth investing in solutions.
It's going to take coordination between housing and healthcare. Solving one without the other is unlikely to work. Data can make that happen.
—Jacob Hochberg, Executive Director, Customer Insights
NEWS YOU CAN USE
Let's put data to work to solve emerging challenges in healthcare
21.3M households risk a forced move. It's not just the homeless who are housing insecure. Moving 3 or more times in 1 year is associated with negative health outcomes. [HEALTH.GOV]
19M households put >50% of income toward housing. These households also experience increased use of acute care services, postponement of needed care, and lack of a regular site for preventive care. [JABFM.ORG]
FROM ARCADIA
Our latest insights into social determinants of health
DATA SPOTLIGHT
The SDoH dashboard identifies actionable members in a population with social and environmental concerns, aiming to improve outcomes and achieve health equity. Analyze utilization, spending, demographics, zip codes, condition prevalence, and language concerns.
SIGN UP
Subscribe for more snackable insights
Every month we share new perspectives into how data drives innovation in healthcare. Subscribe for more content like this.