Arcadia's ACO customers enrolled in the Medicare Shared Savings Program (MSSP) had another record year, generating an average of $10.7 million in average savings per customer, and once again, outperforming market benchmarks.
So, what sets these ACOs apart?
We've identified three areas of opportunity for ACOs that have helped our customers succeed in a changing marketplace:
Transitional Care Management (TCM)
End of Life Care
Percentage of Members with Annual Wellness Visits (AWVs)
In this article, we'll dive into the third area of potential improvement — AWVs.
What are Annual Wellness Visits?
In 2011, Medicare introduced AWVs, which were bolstered by the Affordable Care Act of 2010. AWV's were made available to all eligible beneficiaries without deductibles or co-payments. On the surface, an AWV may appear to be the same as a traditional health exam or annual checkup, yet it differs in that it may be performed without specifying a protocol.
While issues may arise during an AWV, the primary intention is not to address acute conditions or chronic diseases. Rather, the AWV must meet criteria that focus mainly on:
Personalized preventive care and screenings
Assessing health risks, factors, and function
Educating patients
Providing a written care plan
Deepening the doctor-patient relationship
Why should I care about AWVs?
If you manage an ACO, adopting a strategy to increase these patient-centric preventative and wellness visits can go a long way to improving your position in the marketplace and generating additional shared savings. From a budget perspective, AWVs are highly cost-effective and a relatively easy and straightforward way to boost revenues. As importantly, AWV's can help close quality and risk gaps within your patient population.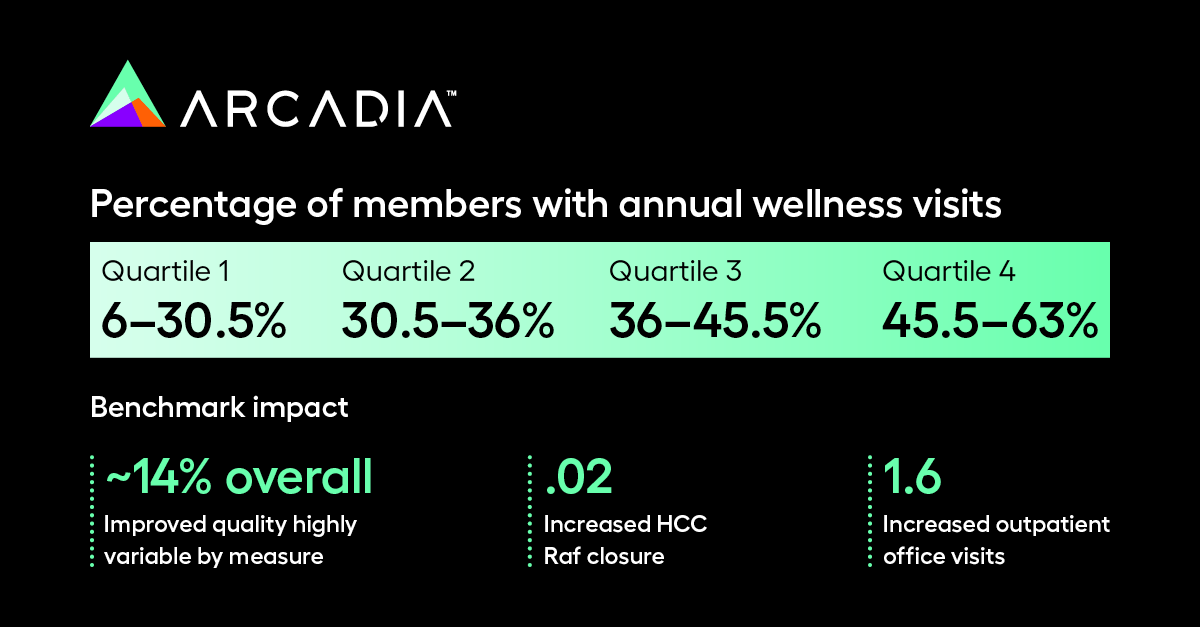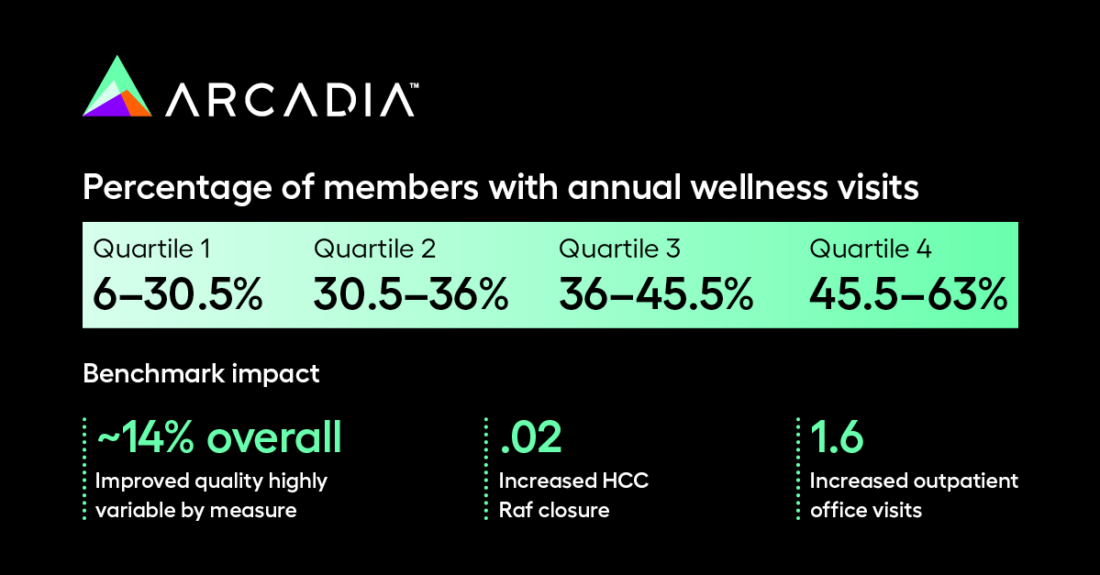 Unfortunately, many ACOs have not taken full advantage of this component. While the overall goal of the AWV component to MSSP is well-intentioned, adoption has been slower than expected. This has led to a lack of data that would prove (or disprove) the effect on patient outcomes and health care spending. However, there is some research that indicates the preventive care assessments from AWVs lead to better patient outcomes and faster diagnoses of medical issues before they worsen. Nevertheless, some ACOs have struggled to schedule and complete regular AWVs at volume with their patients.
The good news is that there are proven tactics and actions your ACO can deploy to strengthen your AWV program and get patients in the door for facetime with their PCP. This can also help build loyalty so they keep coming back— helping to increase revenues consistently so you can keep growing your organization.
Boost your AWV results with these "accelerators"
First, all stakeholders in your ACO need to understand the value of AWV's in improving quality of care while unlocking the potential for revenue and growth. Once your team understands the opportunity and is committed to increasing the rate of eligible beneficiaries that receive AWVs, the entire organization can work toward tearing down barriers to scheduling and promptly conducting these preventive care sessions.
In a recent article published by The American Journal of Accountable Care, a large Medicare ACO was spotlighted for having deployed tactics that helped substantially increase AWV rates within just 12 months. Here are a few of these tactics they used and some additional "accelerators" that can act as catalysts for your re-energized AWV program.
Streamline AWV execution: There are several tactics you can deploy to increase AWV efficiency. These include:
Educate your patients. It's vital that your patient clearly understand the purpose of their visit, so provide written materials — such as a frequently asked questions document or patient guide — to facilitate patient cooperation.
Get patient data beforehand. AWVs require the completion of a health risk assessment (HRA) questionnaire, so it's a good idea to send that before the visit and, ideally, populated in a patient portal.
Train your PCPs and staff. It's just as critical for your entire team to have a solid understanding of AWVs, including best practices so they can be conducted effectively. Providing training and a framework for execution is vital. Also, offer opportunities for feedback from your people so that your processes can continue to improve and evolve.
Four key actions to help you seize the AWV opportunity
Once you have a solid and streamlined process for your AWV program, a few important activities will be your pillars to success:
Identify the right member to prioritize to get into your network for AWVs
Identify providers not meeting your targets for AWV volume
Close quality measures and hierarchical condition categories (HCC) gaps with patients
Increase the volume of AWVs through a structured outreach program
What will be most useful to your organization in achieving results with each of these actions are investments in two areas — data and technology.
1. Identify the right patients to prioritize
When it comes to identifying good prospects for your AWV program, ACOs have plenty of good options.
Services such as C-SNAP from CMS offer visibility into the eligibility and claim status of Medicare beneficiaries. An electronic health record tracking database of ACO members can also help track recent visits and eligible patients for prompt scheduling.
Arcadia offers solutions to help with patient identification and prioritization. Front-end registries allow you to prioritize members for AWVs based on who has the highest number of gaps.
2. Identify providers that are not meeting AWV targets
There are software programs and platforms that can help provide data insights and patient dashboards to help your organization's leadership allocate resources and money to patient facilities with the greatest AWV potential.
Our data and analytics solutions can help track and compare provider performance and identify those needing to be reminded of their targets or incentivized through a bonus or compensation program tied to their AWV volume.
3. Close patient gaps
Your ACO must have processes in place to make it easier for your provider to close any gaps during AWVs. Arcadia Analytics offers solutions that can help in this area. When a patient comes in, your staff can use a pre-visit planning report to prepare for the visit prior to a patient's arrival. Through Arcadia's desktop module, gaps are presented to the provider at the point of care to maximize closure.
Our Risk Profiler tools leverage historical data in claims and EHR systems to find suspected risks. This technology can help provide a structured approach to risk assessment and documentation during an AWV. It uses aggregated EHR and claims data to make identifying and closing risk documentation gaps faster and easier.
These tools and data analytics can help ensure before they walk in the door that they have the required quality measures or HCC conditions needing to be closed while the patient is onsite.
4. Increase AWV volume with an outreach program
Any patient outreach program requires a set of proven tools to boost the number of AWVs you have scheduled. Typically, outreach programs focus on emails, texts, or automated phone calls to a targeted patient population based on data.
Many ACOs don't have dedicated marketing resources to deploy an outreach program. That's why it's best to use a purpose-driven solution that's easy for your staff to use and tailored to the needs of ACOs. For instance, Arcadia Engage makes it easy to trigger these patient communications in bulk using automation and customizable templates, along with other useful features.
Annual wellness visits are good for everyone
Hopefully, your ACO has not been as slow to adopt and execute a high-volume AWV program as other organizations. Building volume with AWVs ensures your patients get the preventive care check they need, along with the possibility of identifying minor health issues before they become major medical conditions.
From an ACO and PCP perspective, AWVs will help your organization and your providers build patient loyalty, deepen doctor-patient relationships, increase revenues, and facilitate growth.
For more information
We hope the three areas highlighted in this blog series will be helpful to your ACO. To get access to all three articles in this series, subscribe to get notified when these are published. In the meantime, download the 7 Critical Capabilities of an ACO white paper, or book a consultation with an Arcadia expert to learn more about improving your MSSP scores.