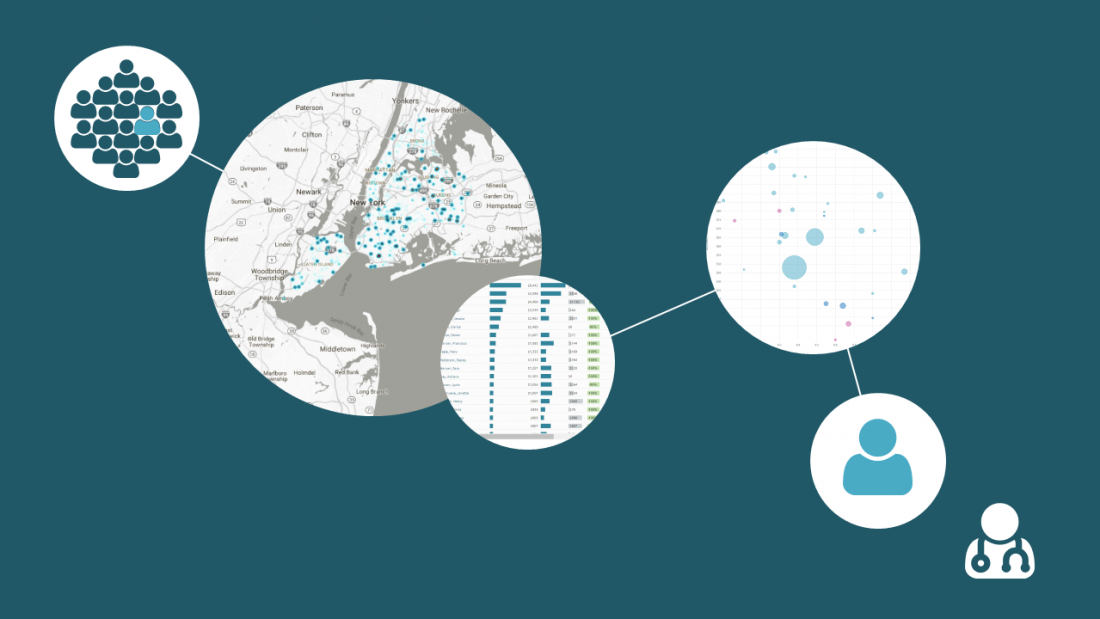 More than a decade ago I had the opportunity to create a comprehensive data warehouse for an organization which owned and operated multiple outpatient clinics.  One of the goals of the project was to incorporate as many different data sources into a single unified reporting platform i.e. claims, human resources, accounting, scheduling, Coumadin clinics, billing, etc.  The single most important analysis I created from the project was to determine that the more patients the organization saw, the more money they lost.  This "true" cost analysis allowed the medical practice to understand the drivers of expenses associated with each patients' care – the total cost of care – and create a path to profit.
The problem with PMPM: averages mask actionable information
It is all too common in our industry to refer to the "cost" of managing a population as the sum of reimbursement from medical and pharmaceutical claims.  Population level costs reflect a per member, per month (PMPM) total.  This is an average, created by dividing all the members' total paid amounts by the total member months.  Nothing could be farther from the truth or more spurious to an understanding of financial expenditure.
The amount of money hospitals and providers spend to deliver care to their patient population may be higher or lower than the sum of contractually set allowed amounts or payments.  It is nearly impossible to impact profitability and margin without having cost information available at a line level.  To manage a population, organizations need a detailed understanding of "true" cost at a patient level and the reasons for any variation.
New payment models are promising – but are payments sufficient?
The ACA has driven a movement away from traditional payment towards newer, alternative models.  There has been little analysis by organizations into the sufficiency of these payments, but rather a hope that the remuneration covers the cost of care.  The new compensation models are no better than the traditional fee-for-service model at accurately capturing the direct and indirect expenses of delivering the services.  Therefore, the real costs of providing care often remain hidden.  Very few providers – or even hospital leadership – can precisely identify what a particular admission, test, or procedure costs.  Even fewer can pinpoint the variability in resources required to deliver that care at the individual patient level.
Much of the additional focus from legislation, CMS and private payers is on an increasing emphasis on quality.  New resources and workflows are often applied to the task of achieving higher quality ratings.  But the application of these additional expenses is not a guarantee of better results, increased value or sustainable profit margin.  Assessments of efficiency of the redesign can only be made when the true cost of care data (the financial cost of the resource inputs) is tied to information about the outputs (the type and quantity of services provided).
Financial analysis needs more than generalized measures
Generalized information sources or metrics, such as relative value units (RVUs) compared to provider and staff salary or staffing costs compared to bed days, are not accurate enough to inform the types of operational effectiveness needed.  Medicare bases payments on the diagnosis related group (DRG), which is still an estimate of resources that would be used to care for the patients.  That estimate may be substantially different than the resources that are available or utilized within a hospital to care for the patients.  The DRG is a payment unit, not a reflection of cost.  However, costing analysis can be undertaken to determine the true cost of delivering a DRG within and health system and the variations by patient.
The advancement of EMRs, digital imaging machines, bar code scanning and other healthcare technologies have created a wealth of hidden cost-tracking information.  Costing efforts can begin as simply as determining the true cost of a procedure, or progress through advanced efforts such as annual patient level costing.  Once an organization decides the scope of their costing project, a wealth of previously untapped, electronic sources of data can be mined.
Total cost analysis is different from supply chain or spend management
It is important to note that this costing effort is related to, but distinct from supply chain or spend management (SCM).  Many providers outsource purchasing to Group Purchasing Organizations.  Nevertheless, they still need to perform a large amount of auditing and verification work to manage the SCM.  These efforts are supportive of, but not synonymous with determining patient cost.
For example, SCM analysis may ask, "Did the system receive the contracted level of products at an accurate price across all POs?"  Or the analyst may try to determine whether there are opportunities to combine or standardize suppliers and products to receive better pricing.  These questions, and others, are necessary to achieve the lowest purchasing cost, but products are not the only determinant in the total cost of care.
Moving forward with true cost of care analysis
How can a healthcare system start to incorporate the concept of true cost into its culture and practice of population management?
Determine the scope of your first costing initiative. You may start with 3-5 high volume procedures within a specific department.
Arm yourself with information. Collect, count and monitor all costs associated with your selected cost unit.   Don't overlook non-traditional sources such as EMR log files, medical equipment records and other digital tracking.
Use this cost information when designing care treatment plans and evaluating their effectiveness.
Establish a culture that values sustainable productivity and rewards innovation in workflows.
Costing information will need to be managed and refreshed.  Engaging project champions from all parts of the organization can help ensure the accuracy of the data and create positive, long-term financial outcomes.