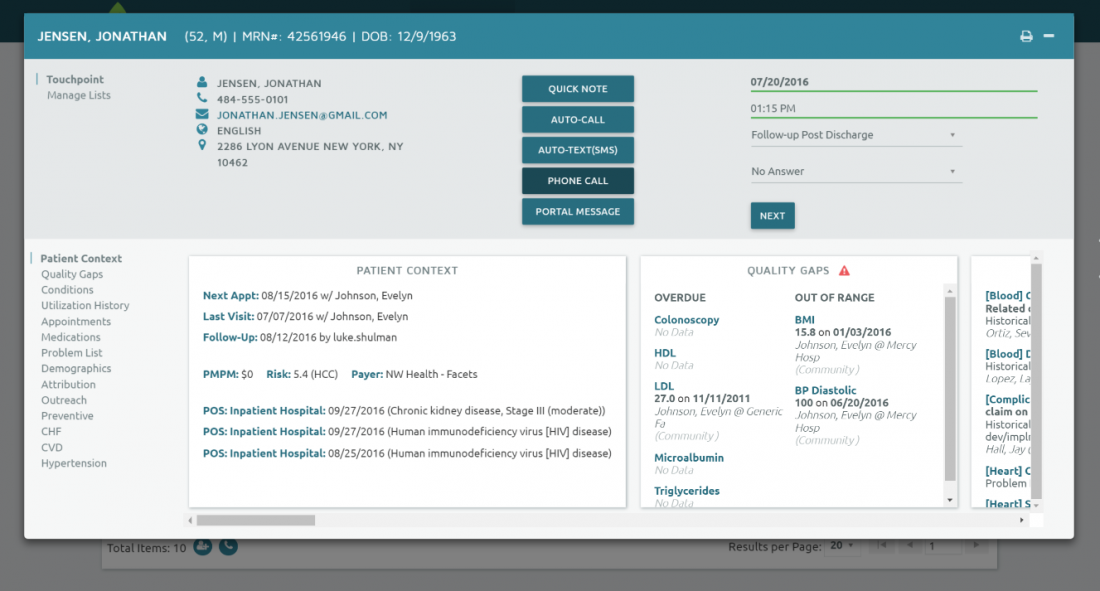 Overview: Caring for Your Care Team
Establishing and maintaining provider satisfaction can be an expensive and time intensive activity that requires ongoing diligence. As healthcare continues to evolve and new models of care are introduced, the escalating burnout rate for providers continues to climb with an estimated 46% of physicians reporting burnout in 2012[i]. A recent study indicates the escalation of burnout rising to over 50% with the highest rates incurred by front line providers such as primary care. [ii] Burnout significantly impacts providers and surrounding care team members by overwhelming feelings of low personal accomplishment, cynicism and loss of interest and enthusiasm in work.
Moving away from the traditional physician-centric model of care delivery can offer meaningful benefits to the provider, the care team and most importantly; the patient. In 2013, the Annals of Family Medicine published an article highlighting innovative strategies for facilitating joy in practice and alleviating provider burnout, a topic highly regarded at the IHI's Annual Summit on Improving Patient Care in the Office Practice and the Community. In fact, since Dr. Berwick's introduction of the highly coveted Triple Aim, many have advocated added a fourth dimension to include care and nurturing of the provider.[iii] At Arcadia, we provide real-time tools and reports to enable providers to share the care of the patient using a team-based approach that can facilitate the return of joy in practice.
The Value of a Care Team Powered by Analytics
There are many care delivery innovations[iv] that enable team-based care, however, success of these strategies are contingent on the availability of data to make informed care decisions and execute them in a meaningful way that empowers the care team and activates the patient. An investment in a high functioning analytics platform can provide tools for providers that maximize the efficiency and efficacy of the delivery of care while empowering the entire care team. Prioritizing the value of team based care can yield many benefits to both the care team and the patient, but putting strategies into action can often feel like a daunting task. Fueling your care team with vital information from an analytics platform can alleviate provider burnout. Consider an investment in analytics in conjunction with the following strategies:
Involve the Right Members: Examine your care team and determine what roles can be shared and what roles can be taken on with provider oversight. Providing access to every member of the care team to an analytics platform will provide necessary information for a more thoughtful and organized visit. An analytics platform that has role-based permissions can also allow members of the support team to assist in the visit planning preparation process saving valuable time.
Streamline the Visit: There are many strategies to help streamline the visit thereby saving the provider precious time. Pre-visit planning and pre-appointment laboratory testing can optimize the visit time while increasing patient and staff satisfaction. An analytics platform that provides care teams with real-time information for pre-visit planning can save time and empower the care teams to offer meaningful information to the provider.
Know Your Patients: The ability to identify specific patient populations and provide outreach outside of the visit is a valuable and time consuming strategy. An analytics platform that can stratify your population by condition, risk or preventative gaps can improve the delivery of care and significantly improve the satisfaction of providers.
Activate Your Care Teams: While co-locating teams can be an effective strategy for improving communication, your analytics platform should also support your care coordination efforts. The ability to create and share patient lists such as a diabetes outreach report, will enable your teams to implement an actionable workflows that will support the work of the provider.
Whatever strategies you choose, be sure your analytics platform can support the activities of the entire care team. Making the shift from a provider-centric environment to a shared care team approach can energize the entire team, elevate patient care and optimize the health of the entire organization.
References
[i] Shanafelt TD, Boone S, Tan L, et al. Burnout and satisfaction with work-life balance among US physicians relative to the general US population. Arch Intern Med. 2012;172:1377-1385.
[ii] Peckham C. Internist Compensation Report. Medscape. April 21, 2015.
[iii] Bodheimer T, Sinsky, C. From Triple to Quadruple Aim: Care of the Patient Requires Care of the Provider. Ann Fam Med. 2014, 12; 573-576.
[iv] Linzer M, Levine R, Meltzer D, et al. 10 bold steps to prevent burnout in general internal medicine. Jour Gen Intern Med. 2014; 29; 18-20.