We've never been in a more powerful place to solve some of healthcare's biggest challenges, improve health equity, or lower the cost of healthcare and it's all thanks to data. But that data isn't anything on its own. It has to be analyzed and applied to provide any benefits. That's why every healthcare organization has to aggregate, integrate, and analyze all of the patient data that is streaming in from multiple different sources in order to serve their patients and communities more effectively.
How to go about this effort is known as the "build vs. buy" debate. Organizations weigh the benefits and costs of building their own platforms or buying (outsourcing the work to a third party vendor). Scott Samways, VP Information Technology & Health Informatics at Beth Israel Lahey Health and Michael Meucci, Chief Operating Officer at Arcadia recently discussed the debate on the Arcadia webinar, Build vs. Buy, The Biggest Decision in Healthcare Today.
So what is the right answer? Looking at the healthcare data evolution and where we are today, the costs of building and buying, and the intangible benefits of vendor partnerships can help guide organizations through the decision.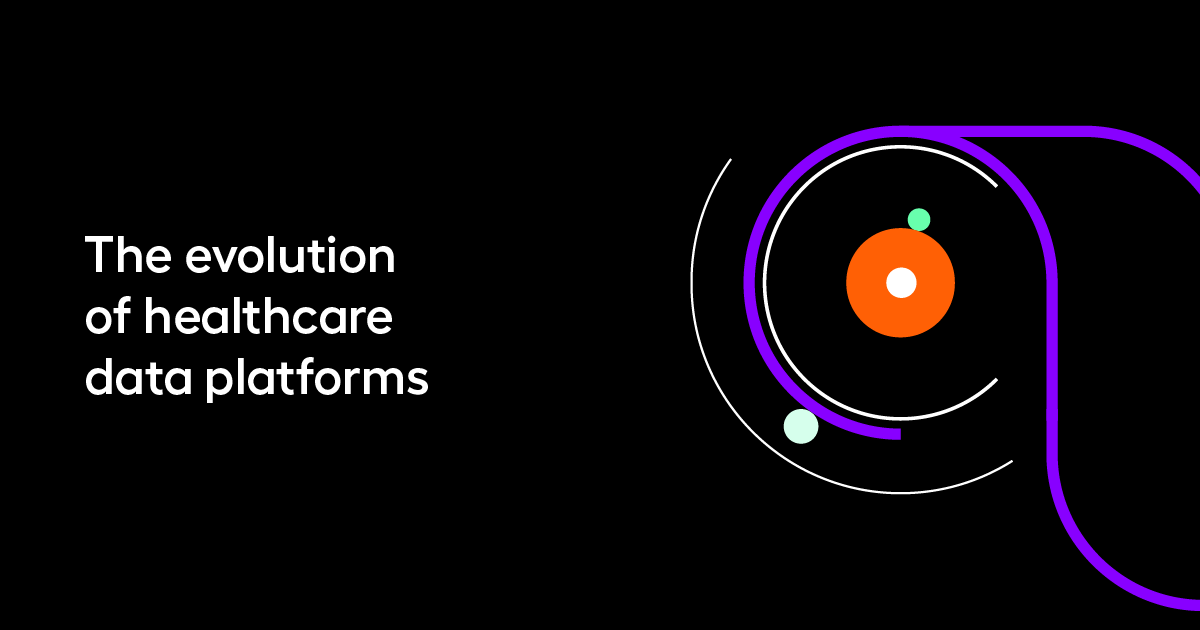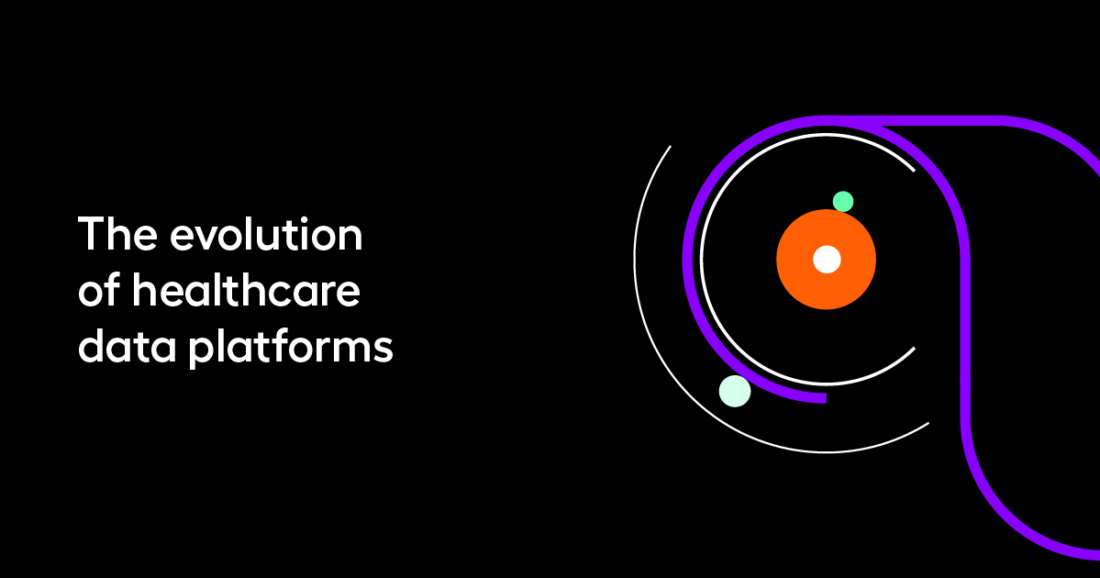 The evolution of healthcare data platforms
A decade ago many healthcare organizations began to realize the need for collecting and using patient data to inform decisions and driver performance. But actually putting that need into practice was highly challenging. Data was limited to one or two sources, it was months old and for the most part, it wasn't being analyzed.
"In the early days, it was a novel idea to try and put together clinical data from various systems, but the capability to do it was challenging," said Samways. "I think the important thing to note about it was that there was no intelligence behind the data coming together. It was just being put in a spot. You know, our ability to leverage it was pretty limited."
From those early days, the amount of data available and required has grown significantly. The ability to leverage the data has evolved and as a result, the data is much more impactful.
"The need for the data has grown, both whether it's for our own sort of quality programs or needs from our payers where they're looking at different types of clinical data, outcomes, and measures," explained Samways. "The latest evolution for us is that they are looking at things around care management, care retention, and health equity."
Organizations like Samways' are trying to solve these big topics by having data in a place where it's accessible, normalized, and updated in as near real time as possible. They've gone beyond just looking at quality measures to analyzing the impacts of social determinants of health. And, while unique just a decade ago, today, every health system is investing in data analysts and data science.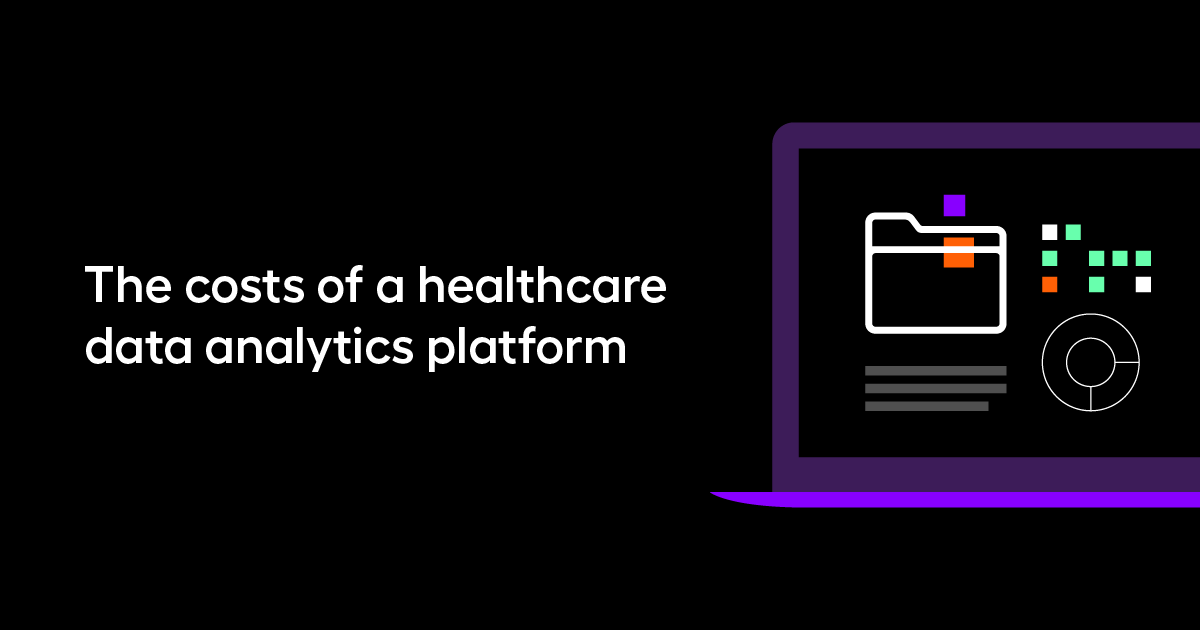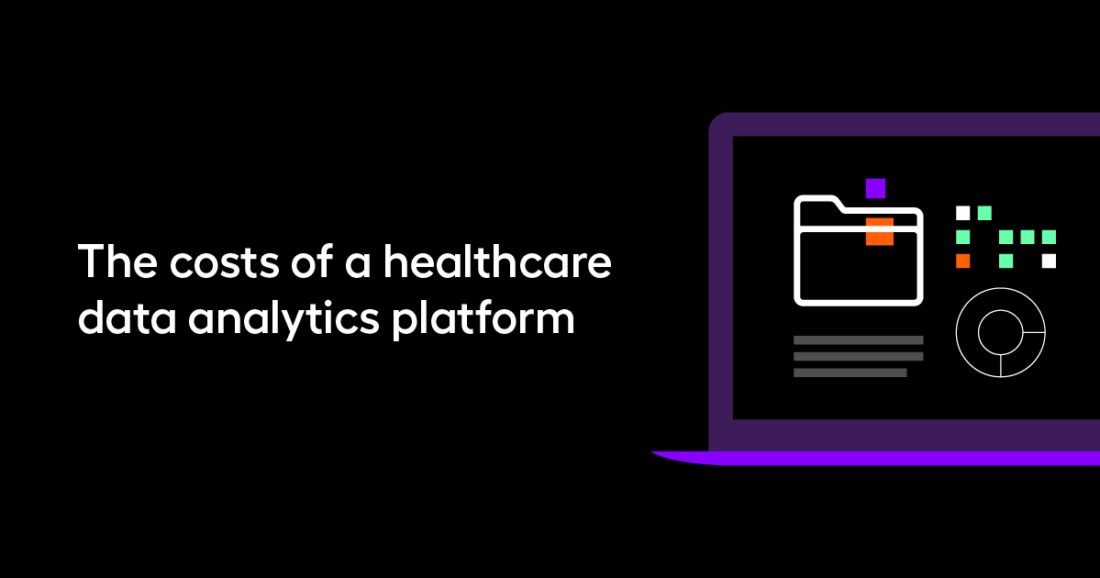 The costs of a healthcare data analytics platform
While, just one consideration, cost is one of the biggest factors healthcare systems use to determine their approach to data analysis solutions. In addition to the initial platform build, they look at four main cost areas: time to value, operating expenses, hiring and staff, and technology maintenance.
In late 2020, McKinsey published "The Math of ACOS", which included analysis of the expenses associated with building a data and analytics solution in-house. The authors wrote, "In our experience, an ACO that decides to build its own data and analytics solutions in-house will on average invest around $24 million for upfront development, amortized over eight years for $3 million per year, plus $6 million in annual costs (for example, using data scientists and analysts to generate insights from the data), for a total of $9 million per year."
Meucci argues that it's not really a build vs. buy question, but a buy, buy, buy vs. buy question because building a solution is stitching together a bunch of different solutions instead of buying them all packaged into a platform.
"When you think about all of the components required, you've got ETL — no one's building an ETL platform — you've got data storage and you're likely partnering with a database management platform, you've got the analytics layer, which you'll need a BI tool," he said. "And then there's all the other components you need — system monitoring, security tools and auditing tools; a master patient x to create the concept of a person and measure concepts or risk concepts."
As the McKinsey authors pointed out, "It is important to be strategic about what to build versus what to buy. Many of the needed capabilities, such as analytics, have been developed and can be leveraged off-the-shelf through partnerships, vendor arrangements, and the like. Accessing these services can lessen the burden of high fixed costs to aid hospitals when they first decide to participate in an ACO."
Beyond the hardware and software components, staffing needs for healthcare analytics are a cost consideration. Samways estimates an increase of three to four times his current staff to have the right people who are well versed in the interfaces if he were to build instead of buy.
Time to value means healthcare systems need to think about how much time they will spend choosing the right vendors, initiating contracts and creating the infrastructure and whether that time would be better spent leveraging expertise and resources of others to use data purposefully.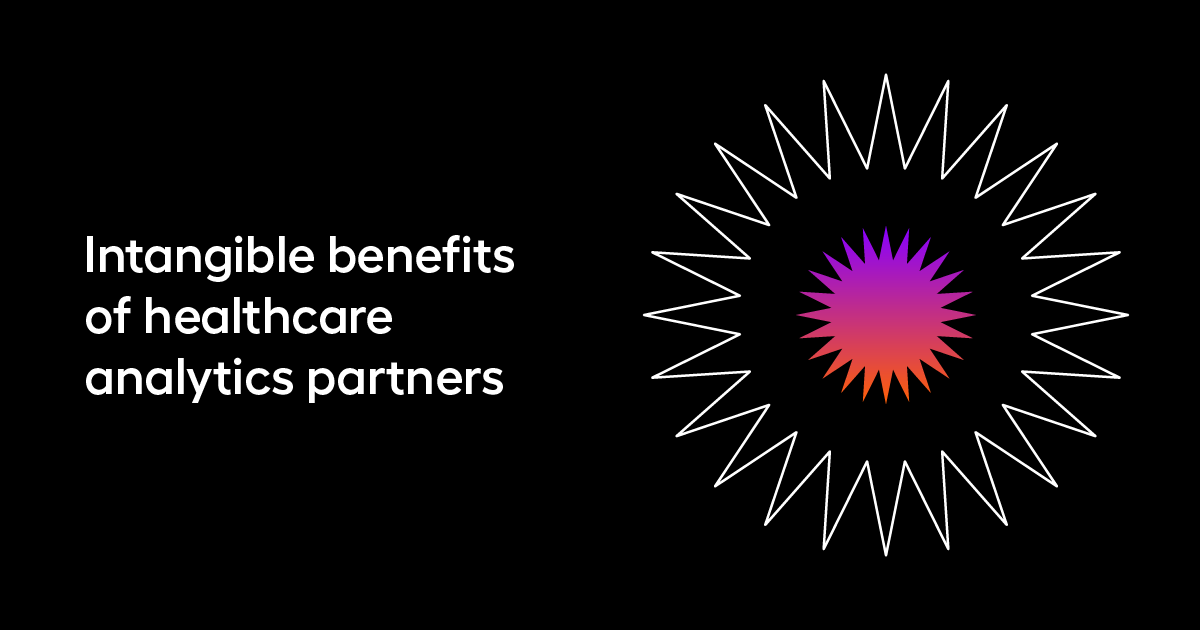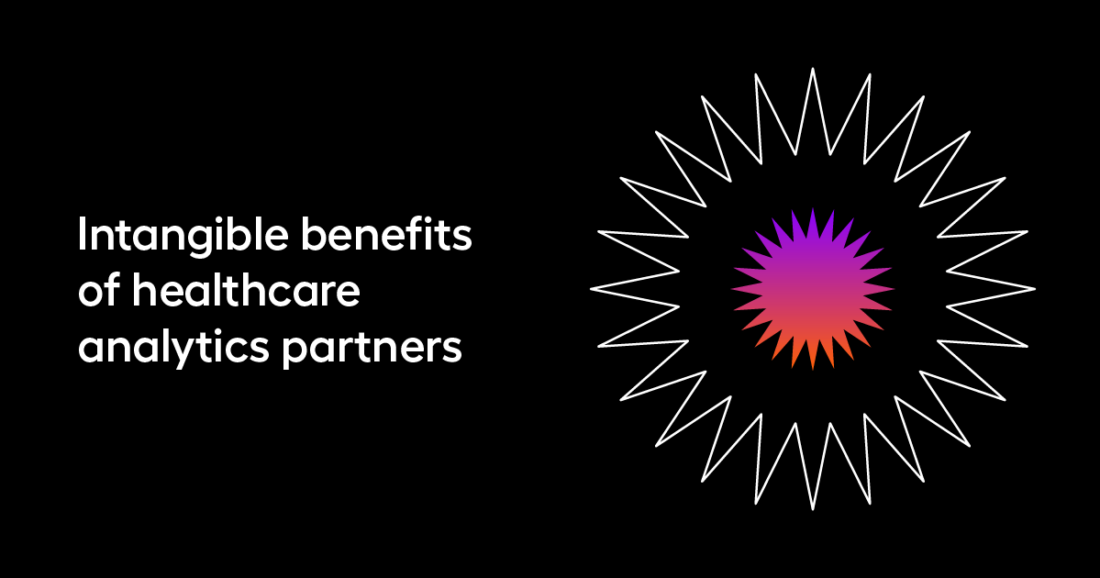 Intangible benefits of healthcare analytics partners
When considering build vs. buy, healthcare systems generally think about the technical components associated with data systems — the data aggregation, analysis, and reporting — first. But buying means entering into a partnership and partnering with the right vendor can bring about additional benefits.
One example is passing off infrastructure management: "As a team that's responsible for managing a data platform, to have a vendor that's taking care of all that, that's worried about sizing, worried about responsiveness and even the speed, that is just a huge piece of it," said Samways. "We're not worried about having to have that level of support security, you know, if something's going wrong, the absolute fire drills that happen when one piece of it is not operating as it should."
Another example: Collaboration and flexibility. Healthcare systems need to be nimble when new initiatives come up. Having a partner that can work with you to solve new challenges as things change or create new approaches is valuable.
"Arcadia has become sort of a staffing force multiplier, your expertise in different areas and being able to bring that to bear on the different parts of our organization, whether you're partnering with our care management team and trying to look at some of the roles available with our different populations and where we can make some gains for care management, or our referral management team and understanding what are our referral patterns and where we do well or where do we have access issues," said Samways.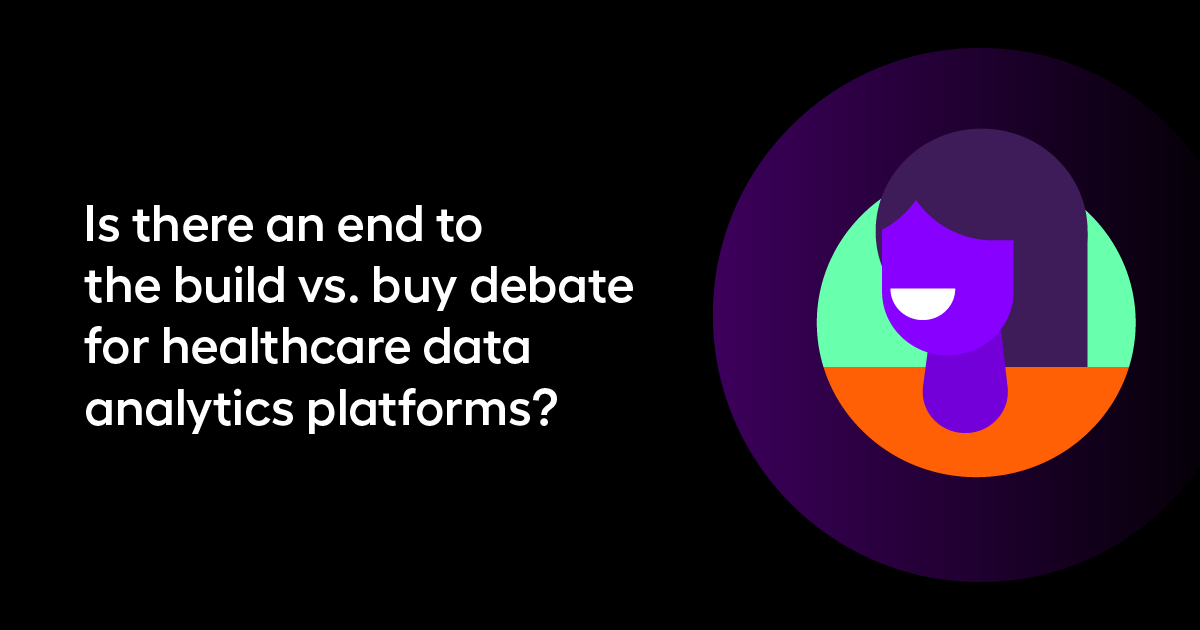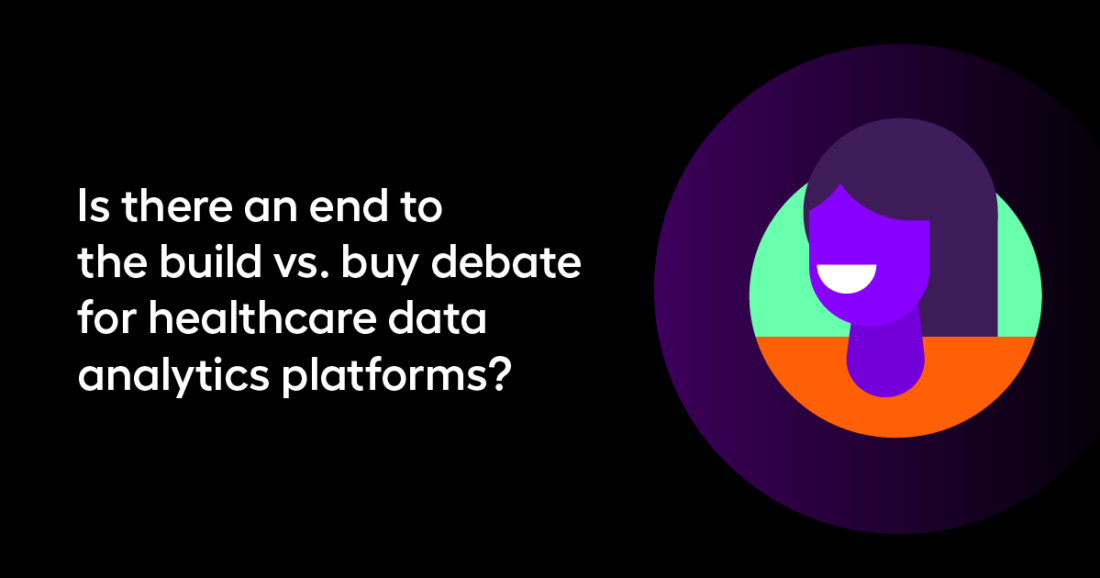 Is there an end to the build vs. buy debate for healthcare data analytics platforms?
While healthcare systems make build vs. buy decisions every day, the debate never really ends. Every time a part of the organization wants to do something new, the debate returns as to how to go about it. Once a strong platform is in place, however, the debate often concludes quickly because it usually contains many of the components required for the new effort.
After a decade in this space, Samways says he has learned a few lessons about just how complex data really is and the implications of that when it comes to build vs. buy.
"Ten years ago, I thought the data was complicated and looking back now, I realize that I had no idea just the depth and the layers that are involved with this, never mind the things that have to be layered on top of them," he explained. "It's very challenging to be able to do what the systems expect of us now and be as nimble and as responsive as they want. It would be very hard if we had to tell them each time we need six months or a year to build this first and then we'll get it to you."
Watch the full webinar and reach out to Arcadia for more resources to help you decide if you should build or buy.