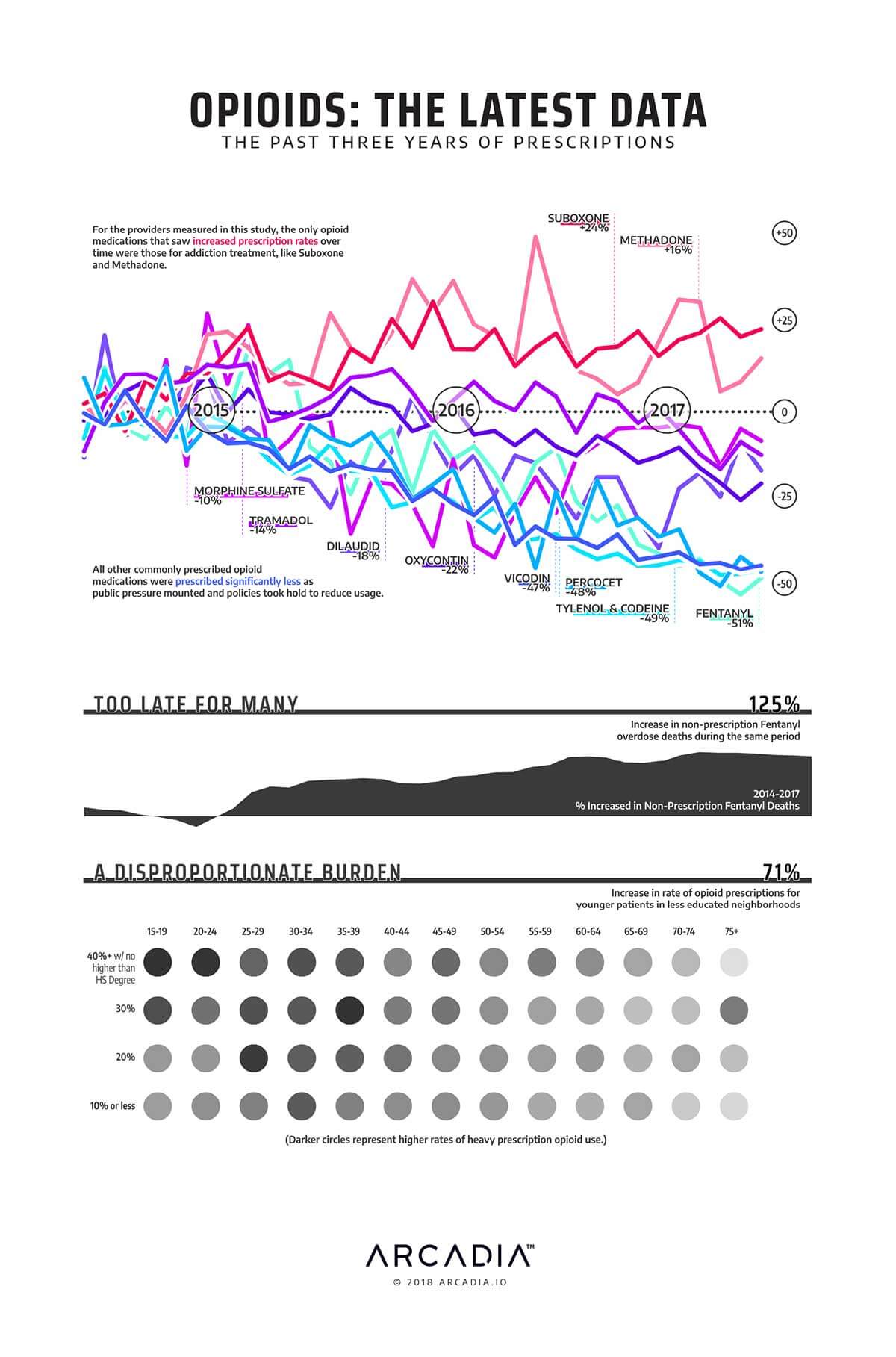 115 deaths daily. This staggering statistic results from the misuse of and addiction to opioids in the United States, and has been termed a national crisis and epidemic in the state of Massachusetts.
In this piece, the artists tell conflicting but compelling story of recent trends in opioid prescriptions from 2014 through 2017 in Massachusetts. Analyzing millions of pharmacy claims from across the state, one can see significant downward pressure in the volume of opioids prescribed. Common pain killers like Vicodin, Oxycontin, and Percocet are down 25–50% in the past 3 years. In fact, the only opioid categories that have seen increases are those to treat addiction — Suboxone and Methadone.
But this is not the whole story.
As availability of prescription drugs has been pinched, both access to and demand of street opioids has increased dramatically. The state of Massachusetts has reported steady increases in the rate of non-prescription fentanyl overdoses since 2014. Use of heroin and other non-prescription drugs are also up.
Towards the bottom, a dot matrix chart highlights the burden of impact on less-educated, younger populations. Leveraging socio-economic data about the hundreds of thousands of patients from the American Community Surveys (ACS), we see that younger patients living in less-educated neighborhoods are disproportionately impacted by the epidemic.
Authors
Nick Stepro
Pranav Parchure
Details
SQL, Excel, with Illustrator
Data sourced from Massachusetts prescription claims in Arcadia Benchmark Database, as well as public data from the State of Massachusetts and the US Census American Community Survey (ACS)
To request a high-resolution version of this data visualization — suitable for printing — please fill out this short form: