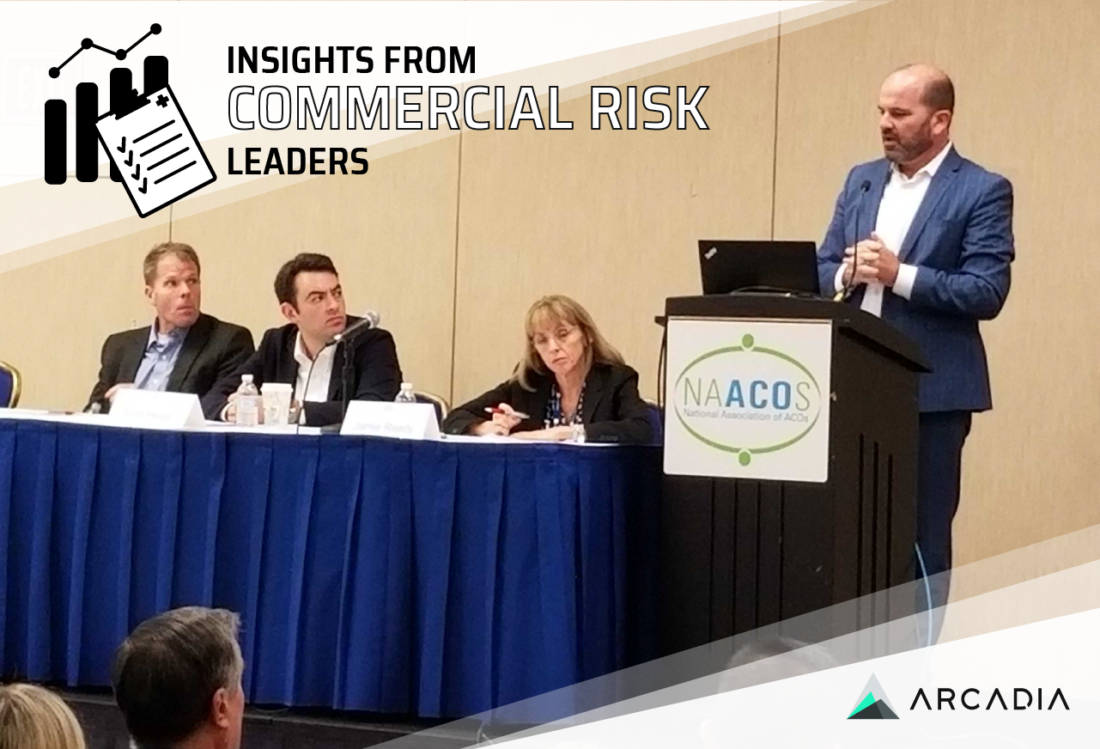 Healthcare leaders from around the country gathered in Washington, DC last week for the fall conference of the National Association of Accountable Care Organizations (NAACOS). One frequent topic of conversation? The opportunities ACOs have to collaborate with health plans for the at-risk care of commercial populations.
NAACOS board member Jamie Reedy, MPH is the chief of population health at Summit Medical Group in New Jersey and an expert on negotiating commercial risk contracts. She led one of our favorite panel discussions at NAACOS, highlighting insights from leaders on both sides of the negotiating table.
Scott Heiser, Senior Manager — Health Care and Medical Expense Strategy at Blue Cross Blue Shield of North Carolina
Luke Hansen, MD, MHS, VP/CMO, Population Health at AMITA Health
Greg Kuzma, SVP and Chief Healthcare Economics Officer at Privia Health
While the panelists come from a variety of organizations — ranging from a Blue to a CIN to a large multispecialty physician-led provider group — they all manage large commercial populations. And they all emphasize the importance of supporting providers at the front lines to drive outcomes under commercial risk-based contracts — with resources ranging from the effective use of care teams to incentive programs that make sense for physicians.
Top takeaways from commercial risk adjustment leaders
Here are some of our top takeaways from the discussion about supporting physicians through the transition to commercial risk:
Transfer risk at an appropriate speed for providers
Create well-aligned physician incentive payment models
Have a well-communicated strategy to address each part of the value equation
Wrap the provider in support from care teams and other organizational resources
1. Transfer risk adjustment at an appropriate speed for healthcare providers
Blue Cross Blue Shield of North Carolina (BCBSNC) was faced with rising health spending and an affordability crisis for consumers. To deliver healthcare with greater affordability, higher quality, and an exceptional experience, said Heiser, they started moving rapidly toward value-based contracting. BCBSNC launched a primary care-focused shared savings model with two-sided risk and worked to build a network of accountable care organizations within the state.
BCBSNC needed to ensure that providers could move with them through this transition, stressed Heiser. They offered a menu of options to help provider groups navigate the financial transition and take on risk at an appropriate speed.
AMITA Health offers similar flexibility across its clinically integrated network of 4400 employed and independent providers. Their ACO/CIN enters and manages risk-based contracts with payers, but providers can choose the degree to which they participate and the intensity of the risk they take on.
2. Create well-aligned physician incentive payment models
Kuzma spoke about Privia Health's work in identifying and mitigating potential pitfalls for providers as they transition to a shared savings model. He stressed the importance of grounding payment models in a patient-first focus, aligning those compensation models with the values and practices of participating physicians.
Dr. Hansen agreed, urging attendees to make physicians responsible for the aspects of a risk-bearing contract that they could control or influence. "Make a distinction between performance risk and actuarial risk," he said. "The providers should assume the former, but not the latter.
He also stressed the importance of paying out incentives quickly.
"Timeliness of incentives matters," said Dr. Hansen. "In commercial ACOs we pay bonuses immediately to those who perform best. How often are your docs retired by the time those MSSP checks come through?"
3. Have a well-communicated strategy to address each part of the risk-based contract value equation
At Summit Medical Group in New Jersey, Dr. Reedy oversees performance on seven risk-based contracts. About 110,000 of Summit's patients are covered by commercial risk-based contracts. Dr. Reedy's team built strategies to address each part of the value equation: quality, disease burden capture, and cost.
Summit invests substantial effort in communicating the importance of value-based care and their strategies to every employee, from call center representatives to security guards to physicians. Their memorable communications approach creates broad organizational support for these value-care strategies and the providers who must meet performance targets under commercial risk contracts.
4. Wrap the provider in support from care management teams and other organizational resources
BCBSNC implemented a dedicated provider engagement team to help surface clinical insights for providers and help them succeed under the two-sided risk model, explained Heiser.
Similarly, the provider organizations represented on the plan recommend supporting providers with dedicated care teams. "ACOS that deliver team-based care are relieving physician burnout, not exasperating it," said Dr. Hansen.
Physician leadership is also crucial. At Summit, Dr. Reedy emphasized that the multispecialty group is physician-led. Kuzma spoke about the need for physician-led governance models and peer-to-peer performance coaching.
"Build trust with docs by having the tough conversations with them," counseled Dr. Hansen. "Things get worse, not better, if you don't."
Driving outcomes under commercial risk
The panelists and their organizations have seen some impressive achievements worth highlighting:
BCBSNC was able to launch Blue Premier, one of the nation's first shared savings models to include two-sided risk, and is planning to move all of its contracts to value-based models within the next five years. With more than 4 million members, BCBSNC's move to value will transform the North Carolina healthcare market.
Summit Medical Group's 900 physicians are thriving under a mix of fee-for-service, commercial, and Medicare risk, with about 25% of their 600,000 patients served under risk-based payment models.
AMITA Health has over 25 years of experience as a provider in partial-risk capitated commercial contracts.
Each of these achievements was the result of sustained effort on many fronts, including effective support for front-line providers.
---
Building the successful accountable care organization
Succeeding under commercial risk or any other risk-based payment model requires ACOs to build organizational capabilities in seven key areas. To assess your organization's readiness, download our white paper.