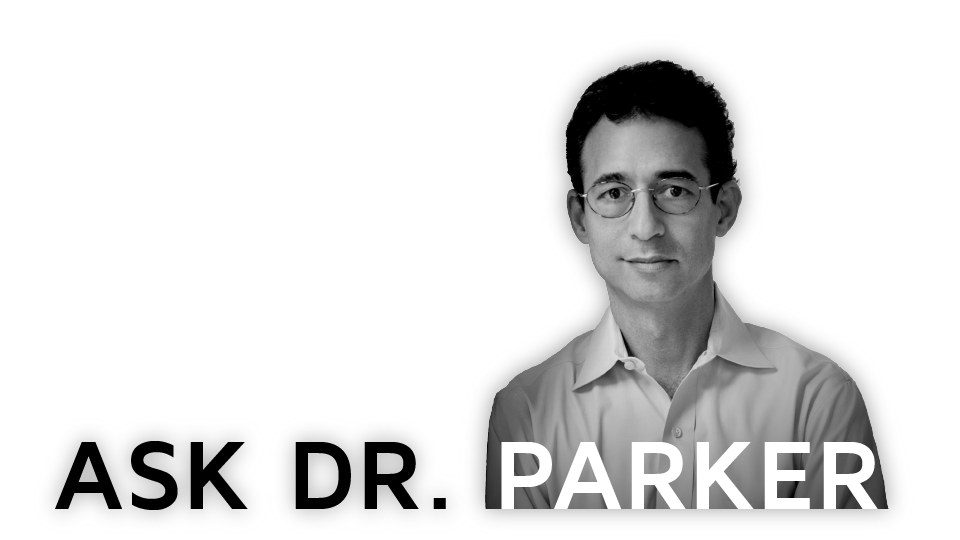 Do high-deductible plans really reduce healthcare costs?
Yes… but at the cost of restricting healthcare to those who need it the most and can afford it the least.
Since the passage of the Affordable Care Act in 2010, the number of Americans with health insurance steadily climbed to a peak of 90% in 2016, though that percent is now falling.  While the numbers do vary significantly by state, the number of Americans without health insurance fell from more than 48 million in 2010 to 28.6 million in 2016.
Sadly, many insured Americans are covered by high-deductible plans where the out-of-pocket expenses effectively block patients from seeking preventative or necessary care.  You'll hear the phrase "skin in the game" used when talking about reducing consumer-driven costs via high-deductible plans, but the reality is more likely that patients are forgoing the care they really need.

What is not widely understood is the basic concept that healthcare coverage does not equal health care.  That is because many people live on the edge economically and cannot afford the co-pays, deductibles and co-insurance payments required under their plans.  Let's look at the effects that these costs have on patients and families, and specifically delve into the growing phenomenon of high-deductible plans (HDP).
Some high-deductible plan (HDP) definitions
Let's start with some definitions.
Co-pay: A "co-pay" is the amount of money that must be paid at the time a medical service is rendered or a prescription is filled. For example, a co-pay for an office visit could be $25 or $50, or $50-$250 for an emergency department visit.
Deductible: The "deductible" is the amount of money that must be paid out of pocket starting on January 1 before health insurance kicks in. Most plans have an individual deductible and a family total deductible.  Once the family deductible is met, all family members will have medical expenses paid according to the plan's coverage, even if they have not met their own individual deductibles.
Co-insurance: "Co-insurance" is the percent of a medical service you are required to pay. Often coinsurance rates are around 20% of the cost.  This can be substantial if you are faced with 20% of a hospital bill.
Out-of-pocket maximum: It is also important to understand the concept of the Out-of-Pocket Maximum usually defined as the most you have to pay for covered services in the plan year. After you spend this amount on deductibles, co-payments, and co-insurance, the health plan pays 100% of the costs of covered benefits.
When your out-of-pocket maximum isn't the actual maximum
For a federal government-sponsored marketplace plan in 2018, the out-of-pocket limit for an individual is $7,350 and $14,700 for a family plan. In my own high-deductible family plan, the individual out-of-pocket maximum is $6450 for an individual and the family maximum is $12,900.

You might think once you have met the out-of-pocket maximum, you are now going to get everything covered.  But that is not necessarily true.  You are still on the hook for uncovered services, which are different in every plan.
People who are cash-constrained tend to pick the "skinniest" plans – those offering the lowest level of coverage and services – as they have overall lower premiums and out of pocket costs.  But, these are the very plans that have more services or medications not covered once the out of pocket maximum is met.
The rising popularity of HDP – and the hidden costs
Robin Cohen, a statistician at the National Center for Health Statistics, pointed out  that high-deductible health plans have become more popular. "In 2010, 25.3 percent of the insured under the age of 65 had high-deductible plans. By 2016, nearly 40 percent had them."  Dr. Cohen's paper "High-deductible Health Plans and Financial Barriers to Medical Care: Early Release of Estimates From the National Health Interview Survey, 2016" is a worthwhile read.
We can hypothesize that the majority of people opting for HDPs are attempting to keep monthly premium costs down.  In some (usually smaller) companies, the HDP may be the only plan offered.

Some healthcare experts have used the phrase "skin in the game" as a way of presumably encouraging patients to be more judicious in their consumption of healthcare resources.  Though this might be marginally effective around some discretionary care such as an optional MRI for a painful back, there is a darker side to this strategy – namely, that patients forego needed care because they can't afford it.  Let me share with you some of the evidence that this is happening on a large scale nationally.
JP Morgan Chase Institute: waiting for a tax refund to get care
A study by the JP Morgan Chase Institute analyzed healthcare spending behavior around the timing of tax refunds.  In a nutshell, three quarters of Americans receive tax refunds with the average amount around $3,000.  Healthcare spending spikes around the time of these refunds in February, March and April and returns to baseline in May and June.  "Consumers immediately increased their total out-of-pocket healthcare spending by 60 percent in the week after receiving a tax refund. Spending remained elevated for about 75 days, during which consumers spent 20 percent more out of pocket on healthcare than before the tax refund."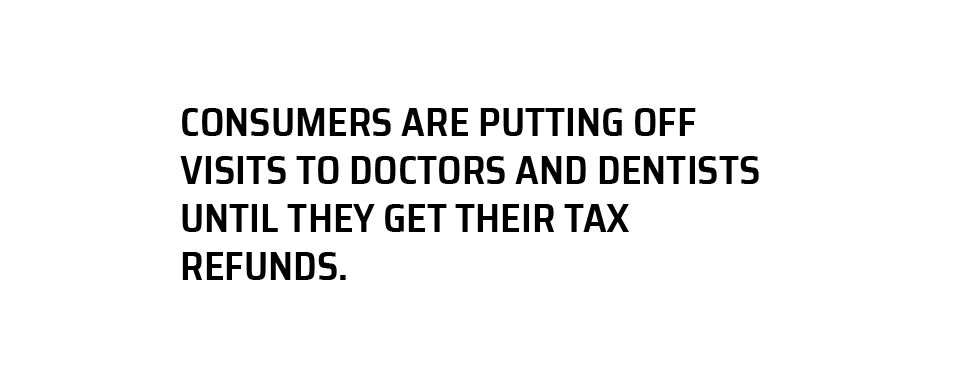 The study went on to show that, "In the week after the tax refund, out-of-pocket healthcare spending on debit cards increased by 83 percent, and electronic payments increased by 56 percent. There was no change to credit card spending. This suggests that liquidity from the tax refund drove the change in healthcare spending."
The study highlighted that, "The tax refund caused consumers to make visits to dentists' and doctors' offices and pay outstanding hospital bills which they had deferred," concluding that, "cash flow dynamics are a significant driver of out-of-pocket spending for healthcare. Even when consumers knew with near-certainty the size and source of a major cash infusion, they still waited until the infusion arrived before spending."
This study demonstrates the sad phenomenon of patients putting off healthcare until they have enough cash in pocket to pay for it.
But why is this happening?
When shopping for health insurance, people find that plans with lower premiums have higher deductibles, co-pays and co-insurance.  Of course this makes sense from an actuarial perspective, as the payor — whether federal, state or commercial – understands the trade-offs between paying more in monthly premiums, or paying more in the aggregate sum of co-pays, deductibles and co-insurance.
Writers in Health Affairs made the following conclusion: "Enrollment in high-deductible health plans (HDHPs) has greatly increased in recent years. Policy makers and other stakeholders need the best available evidence about how these plans may affect health care cost and utilization, but the literature has not been comprehensively synthesized. We performed a systematic review of methodologically rigorous studies that examined the impact of HDHPs on health care utilization and costs."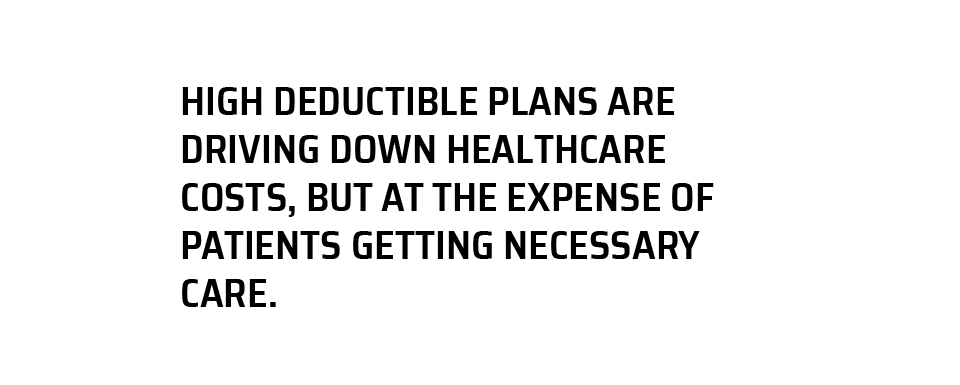 "The plans were associated with a significant reduction in preventive care in seven of twelve studies and a significant reduction in office visits in six of eleven studies—which in turn led to a reduction in both appropriate and inappropriate care. Furthermore, bivariate analyses of data extracted from the included studies suggested that the plans may be associated with a reduction in appropriate preventive care and medication adherence. Current evidence suggests that HDHPs are associated with lower health care costs as a result of a reduction in the use of health services, including appropriate services."
This article makes a really important point: HDPs are driving down healthcare costs, but at the expense of patients getting necessary care.
The problems with HDPs
Here is a summary of HDP problems:
People with chronic illnesses have high out-of-pocket expenses
Office visits, prescriptions and diagnostic tests are all paid out-of-pocket until the deductible is reached
If a patient needs a major procedure, she/he will pay out of pocket until the deductible limit is met
HDPs have created more bad debt for physicians and hospitals from patients unable to pay their bills
For young, healthy patients, HDPs are a reasonable option, as they bet that their annual healthcare expenses will be low.  If they get really sick or are in a major accident, they will lose both medically and financially.  For patients with chronic illnesses such as diabetes, multiple sclerosis or rheumatoid arthritis who require ongoing care and medications, HDPs are generally a poor option.
In summary, HDPs have been modestly effective at reining in total healthcare spending, but unfortunately at the cost of restricting healthcare to those who need it the most and can afford it the least.  We need to find better and more comprehensive solutions to the cost problem in U.S. healthcare – high deductible plans are not the answer.
Have a question for Dr. Parker?
At Arcadia, we're always happy to talk about value based care.  To send a message to Dr. Parker, please submit the short form below.