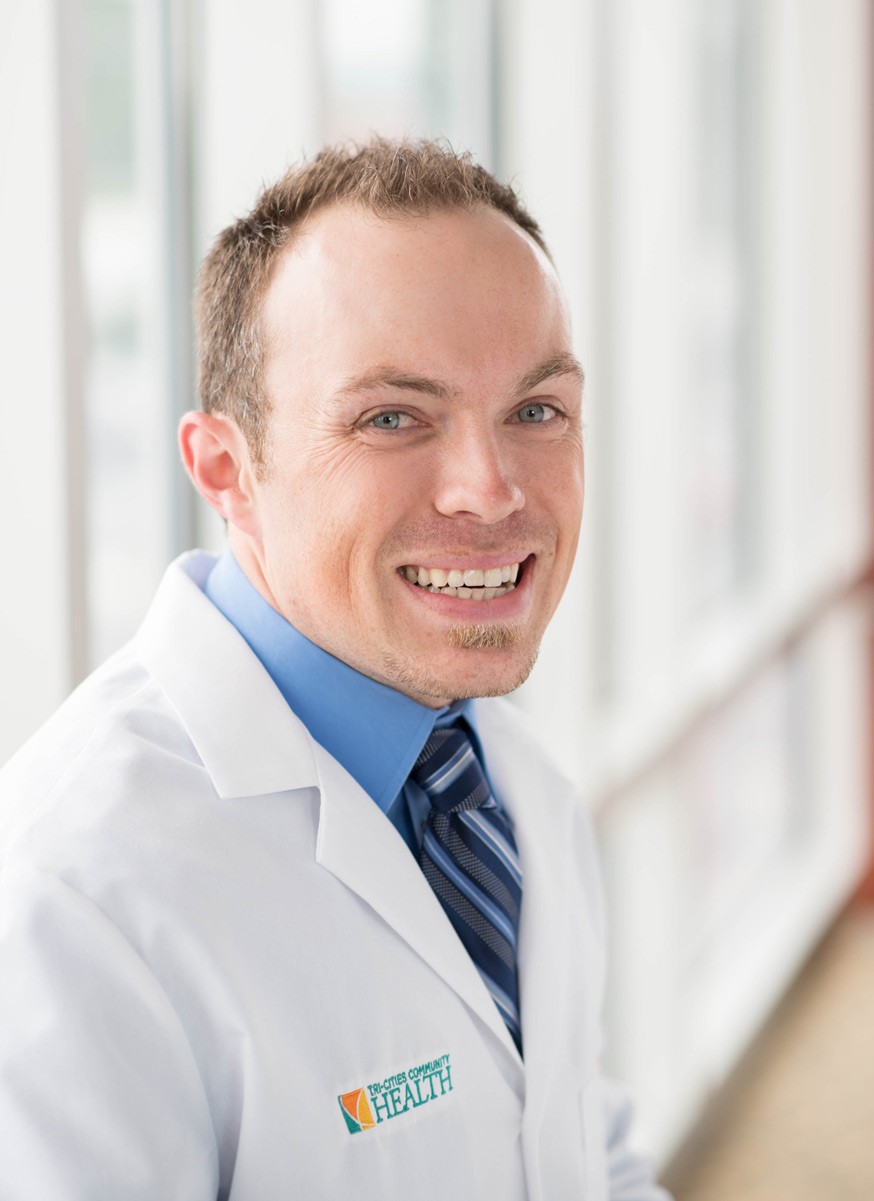 "Value-based care is a team effort – and that team includes the patient. My job is to give information, and then together with the patient we decide how to integrate a course of treatment. We want our patients to be partners in their care."
– Caleb Ledford, ARNP and Assistant Chief Medical Officer at Tri-Cities Community Health
Tri-Cities Community Health (TCCH) provides medical care to the communities at the confluence of the Yakima, Snake, and Columbia Rivers in South Central Washington. Irrigation from these rivers supports a strong local tradition of wine production and agriculture – wheat fields are visible from the main roads, and roadside stands offer just-picked asparagus and cherries. But farming is not the only industry – the region is also known for innovation in nuclear engineering, research, and environmental restoration.
No wonder, then, that TCCH bridges tradition and innovation to care for its patients. Since 1981, TCCH has offered medical care to all patients who need it, whether they have Medicare, Medicaid, commercial insurance, or no insurance. The TCCH team has long been focused on providing patient-centered, high-quality care, consistently achieving patient satisfaction ratings of 90%, or "excellent". And to support their team, TCCH has invested in innovative care models powered by data. TCCH achieved Patient Centered Medical Home (PCMH) 2011 recognition from the National Committee for Quality Assurance, and is currently implementing a data analytics program led by assistant chief medical officer Caleb Ledford, ARNP (Advanced Registered Nurse Practitioner).
Coming full circle: Caleb Ledford, ARNP
Caleb has deep roots in the region. Born and raised in Southwest Washington, he studied economics at nearby Central Washington University before moving across the country to become a nurse practitioner. While earning his Masters in Nursing at Johns Hopkins University, Caleb won the Distinguished Research Award for his work identifying risk factors for sudden cardiovascular death in athletes, and undertook a range of clinical rotations, including in a cardiovascular intensive care unit and in community-based primary care. Returning to Washington, Caleb worked at the renowned Swedish Heart and Vascular Institute in Seattle with Dr. Amish Desai, Interventional Cardiologist and now Medical Director of Cardiology for Legacy Health in Portland, Oregon. He would later move to the Tri-Cities area to work in Cardiothoracic and Vascular Surgery for Kadlec Clinic.
In June of 2014, Caleb joined TCCH. Moving to this community clinic gave him the opportunity to work in a collaborative, team-based care model, and then enabled him to take on new challenges as assistant chief medical officer (CMO).
Championing the use of data at the point of care
One of Caleb's new challenges has been leading an analytics program, where he champions the use of data at the point of care. Care teams at TCCH utilize the Arcadia Analytics web portal to see detailed information about the patients coming in for appointments – which patients are high risk, and which ones have care gaps that need to be addressed during the visit. Thanks to an innovative partnership between Community Health Plan of Washington (CHPW) and its network, providers can see rich detail from their EHR along with comprehensive CHPW claims data – and hone in on care gaps.
With this complete picture of a patient's health care needs, TCCH can reach out to patients who need to be seen, plan in advance to make the most of the face-to-face visit, follow up on any services a patient received elsewhere (for example, at a hospital), and ensure that each patient receives the preventative care he or she needs to stay healthy.
Q&A with Caleb Ledford, ARNP
What brought you back to the Tri-Cities area, and to TCCH?
After graduating from Johns Hopkins, I came back to Washington to work in Seattle, with interventional cardiologist Dr. Amish Desai. Later, Kadlec Clinic reached out to me regarding an opportunity in Cardiothoracic and Vascular Surgery in Richland, Washington. My wife was very excited about the chance to move back to the area, after spending a short year in the Tri-Cities following our undergraduate work at CWU. We have friends in the community and knew it was a great place to live. This region is affordable, it has low crime, and the people are friendly. It's a great place to raise a family, and we jumped at the opportunity. After moving to the Tri-Cities, I continued my work in Cardiovascular care at Kadlec, though soon realized I wanted to move back to primary care in a community health setting. This is when the opportunity at Tri-Cities Community Health presented itself.
TCCH was appealing for several reasons. Johns Hopkins has a strong focus on community health, and that exposure during my graduate program helped awaken my interest in being part of a community-oriented practice. I liked the administrators and other providers I met at TCCH, and the way they fostered a culture that focused on patient satisfaction and patient experience instead of putting a lot of pressure on providers to just meet productivity targets. The patients come first.
It sounds like the culture at TCCH is pretty special – what makes it so rewarding to work there?
I work in our clinic's Richland location, and my favorite thing about our culture is that our providers can engage with their patients without feeling micromanaged – you never feel like someone is right there looking over your shoulder. And because our providers have a good experience, they are able to give our patients a good experience.
We're serious about patient care, and we pay close attention to the needs of our patients. But when we interact with each other, we try to recognize that health care is a challenge that places a lot of demands on us as providers – and so we look for ways to collaborate as a team to reduce that stress.
You've had significant experience in cardiovascular care – from rotations in a cardiovascular ICU, to receiving a research award from the Preventative Cardiovascular Nurses Association, to caring for cardiovascular patients in inpatient settings. What made you move away from that specialty and into primary care?
You know, when I was working in specialty care, people used to tell me I was doing "too much" of the primary care role for the patient. I realized I really wanted to be able to impact a change in a patient's life on a continuous basis – not just fix the issue at hand and send the patient on his or her way. Don't get me wrong – we really need specialists and I love all phases of cardiovascular care. But I also find great value in developing an ongoing relationship with a patient, with their family members, and with their kids. Maybe someday I can tell a patient, "I saw your Dad when he was 13 years old."
It wasn't so much of a change in my thought process, but rather an opportunity to be able to practice in a more complete way.
What has it been like to lead the implementation of a new healthcare IT capability in your clinic? Do you have any advice for other medical leaders?
The experience has been challenging, but beneficial. I saw Arcadia Analytics as an opportunity to bring about change, and to show how using data at the point of care can positively impact patients and providers. Because this project was my first major initiative at TCCH, it was a good opportunity to establish my leadership style on a positive note. It's easier to share the benefits of a new concept to drive change than it is to come in and change something that already exists.
One of the ways we are using Arcadia Analytics is to support accurate risk adjustment. This is important because at TCCH we take on value-based contracts, where we are accountable for both the quality and the cost of the care our patients receive. Because patients with more healthcare needs require more services, we are paid more for their care – but to make sure we are paid accurately, we need to make sure we accurately document patient risk.
At first, leading a risk adjustment initiative felt a little overwhelming. But I have a financial background, so I familiarized myself with all the changes that have impacted healthcare reimbursement. My advice would be to understand the Affordable Care Act, capitation, and reimbursement – and how those concepts apply to your practice. Understanding Hierarchical Condition Categories (HCC) is really important, because you've really got to know how risk is adjusted. Ultimately, you really need to get down to the nuts and bolts of how you are reimbursed to be able to drive change.
Once you know why risk adjustment is important financially, you need to figure out how to explain that to providers. Providers need to hear that accurate risk documentation is important not only for the financial health of our practice, but for patients, to help ensure that their health is managed to its maximum potential. Having all the data can keep a provider from missing something important.
What are some of the ways that you've seen data – good, high-quality data – be used to improve patient care?
As just one example, I have a patient who is managing heart disease. When this patient came in for a visit, I asked them about any changes to their health – specifically, with respect to their existing condition – and the patient said nothing had changed. But then in the patient's profile on Arcadia Analytics, I saw that they had actually been hospitalized and recently had a major procedure!
I actually had to ask follow-up questions about this a couple of times, explaining in a few different ways, before the patient realized I was talking about that procedure and said, "Oh, yeah…" They had not been seeing a specialist for follow-up care, so getting this additional information from Arcadia Analytics was really important!
Having a comprehensive view of information about each patient – even for care rendered elsewhere – means that both providers and patients are less reliant on memory. We can provide care based on the facts. I can set goals and objectives to address all of my patient's needs – and if something is no longer a problem, I can resolve it on the problem list to make sure our care team is not bogged down by old information.
Many organizations are just starting to think about the transition to value-based care, but TCCH has been in that space for many years. How can other provider groups set themselves up for success?
With value-based care, it's not just about whether a patient has had an A1C, labs or a given exam. It's also about that patient's perception of you. Patient satisfaction is an important component of how you are reimbursed for care – so your most valuable asset is the voice of your patient. We want to know how we are being perceived. Patient feedback is an opportunity to look in the mirror and figure out what is going wrong so you can make it right.
At TCCH, we strive to understand, listen to, and focus on patients because both patient satisfaction and care quality are critical. I need to see what my patients are saying so I can address it. It is important to keep in mind that feedback can be skewed, of course, so you need to consider the source. But, listening to patient comments helps me do a better job of managing their expectations.
The other important thing to understand about value-based care is that it is a team effort – and that team includes the patient. My job is to give information, and then together with the patient we decide how to integrate a course of treatment. We want our patients to be partners in their care.