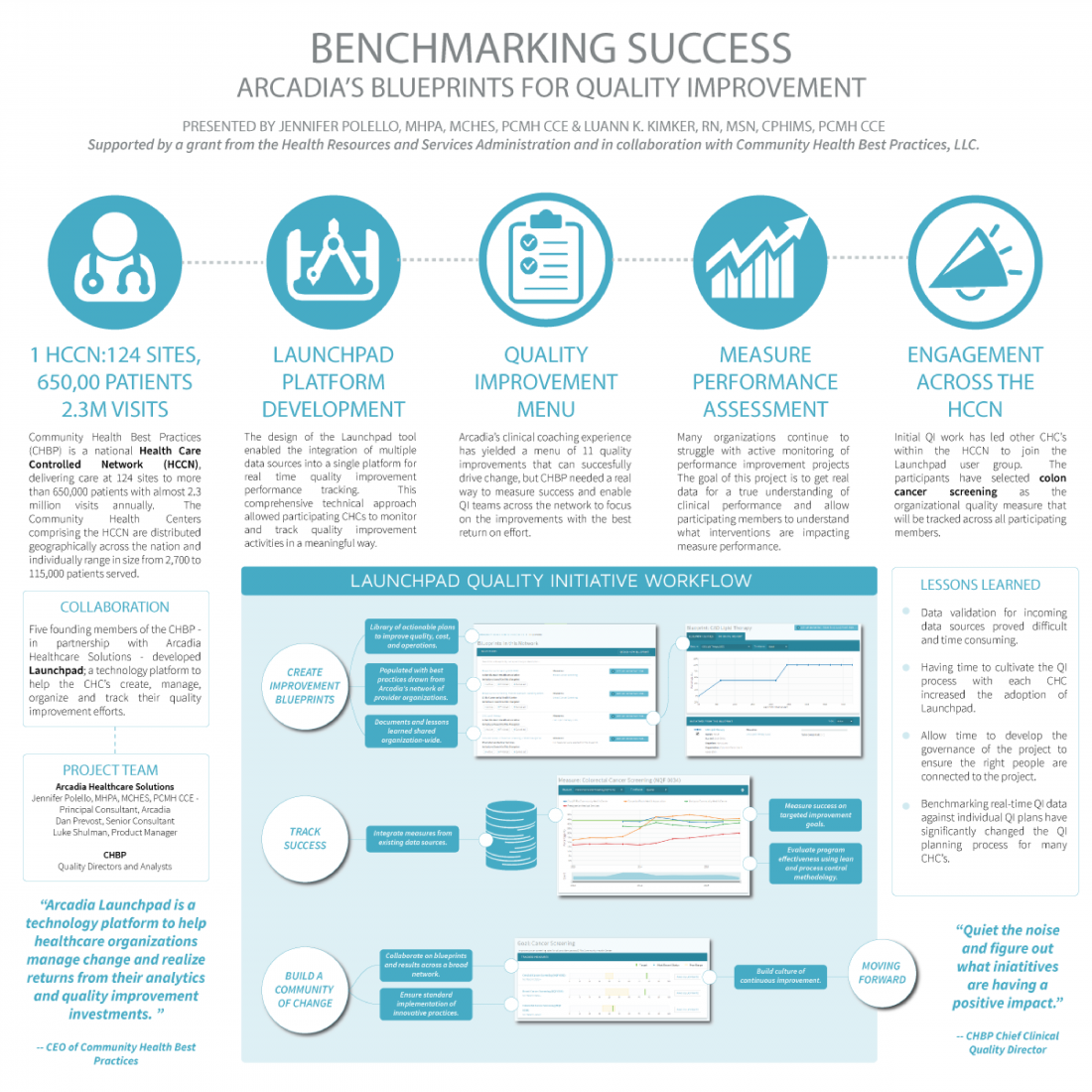 This weekend in Orlando, IHI kicks off their 17th Annual Summit on Improving Patient Care in the Office, Practice, and the Community.   We are looking forward to connecting with other organizations who are invested in improving healthcare, and we are excited about sharing our work with the national health care controlled network Community Health Best Practices (CHBP).
At Arcadia, we are passionate about our #datacures campaign, and our partnership with CHBP is a great example of how effective use of data can cure challenging healthcare problems – like measuring the impact of a quality improvement initiative.
CHBP is comprised of community health centers across the nation who deliver care to more than 650,000 patients at 124 sites, with almost 2.3 million visits annually.   Thanks to a grant from the Health Resources and Services Administration, we were able to collaborate with quality teams at five of the member organizations on the development of Arcadia Launchpad, a platform that supports creating, managing, measuring, and sharing quality improvement blueprints across a network.
Crucially, our use of data enabled CHBP organizations to measure the actual impact of a quality initiative on a given population.   This, in turn, helps each organization determine whether to expand or share the initiative.   We'll be presenting a poster on our project with CHBP at the IHI summit.   If you'd like to learn more about the development of Launchpad, hear our recommendations for successfully investing in QI initiatives, or talk to us about your own story where #datacures, please stop by.
Jennifer Polello, MPHA, MCHES, PCMH CCE and LuAnn K. Kimker RN MSN, CPHIMS, PCMH CCE have worked with organizations across the country on effective clinical quality initiatives.   They will be presenting their work with the health care coordination network Community Health Best Practices at the IHI 17th Annual Summit on Improving Patient Care in the Office, Practice, & the Community in March 2016, and have contributed to the related whitepaper Managing Change and Disruption in Population Health.  For more information on Arcadia Launchpad, please contact us using the form below.