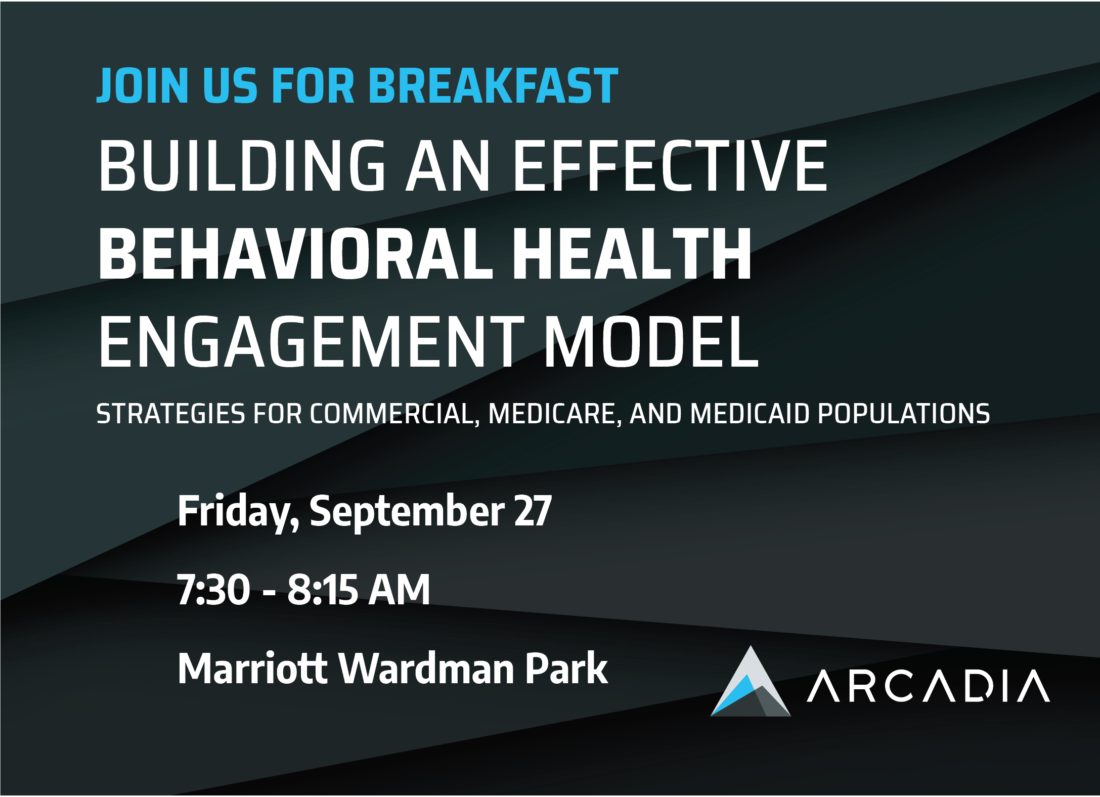 Friday, September 27
7:30 AM – 8:15 AM
Marriott Wardman Park, Washington, DC
NAACOS breakfast and presentation sponsored by population health management leader Arcadia.io.   
Patients with behavioral and mental health conditions are more likely to have higher utilization and medical expense – especially when there are co-morbid medical conditions.  Providing appropriate care is critical, but most primary care providers need support and resources from their ACOs to effectively manage the complex needs of these patients.
Experienced ACO leader Heather Trafton, MBA, PA-C will explain some of the challenges ACOs face, from population identification to patient engagement, and will share effective strategies for building behavioral health engagement models for different types of populations.   Join us for breakfast and learn more about:
Setting appropriate goals and measures for a chronic and complex behavioral health management program
Population identification strategies, including the application of predictive analytics, to find escalating patients before their needs become acute
Approaches, staffing, and trigger opportunities for patient engagement
Engaging and supporting primary care providers
Heather will share examples and outcomes from real-life programs while explaining some of the nuances involved in supporting Commercial, Medicare, and Medicaid populations.
Expert guidance from an experienced ACO leader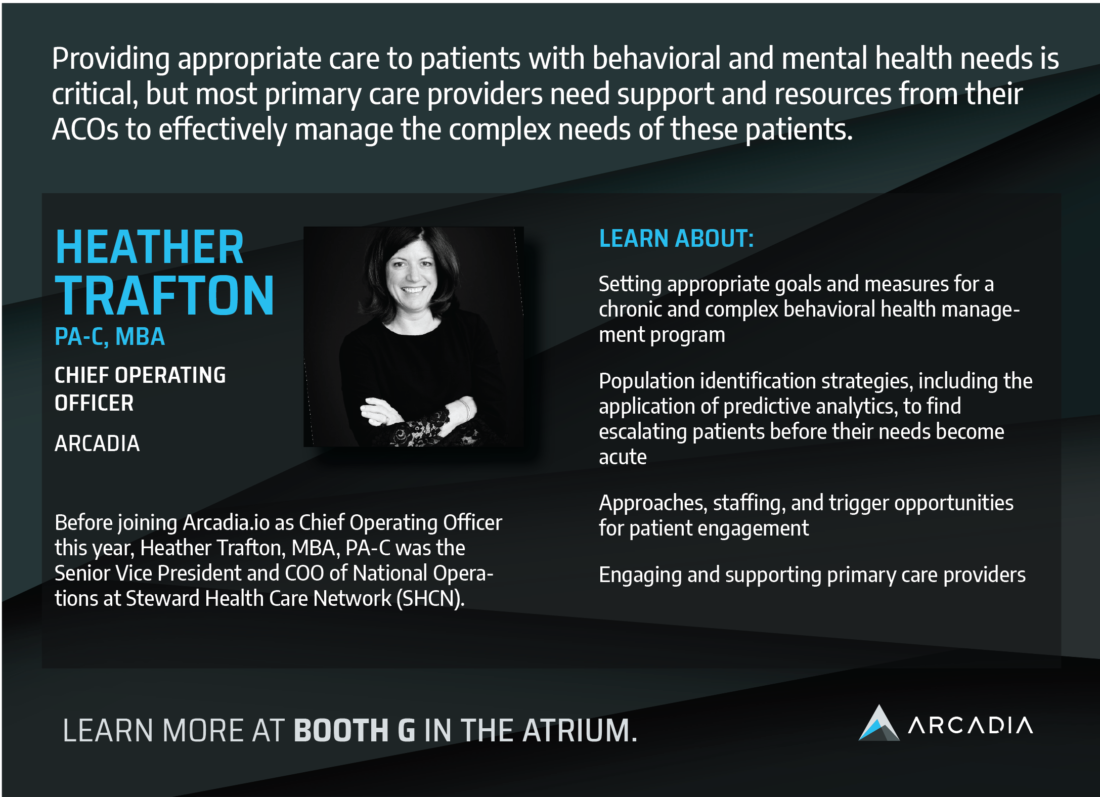 Before joining Arcadia.io as Chief Operating Officer this year, Heather Trafton, MBA, PA-C was the Senior Vice President and COO of National Operations at Steward Health Care Network (SHCN).  SHCN remains one of the largest ACOs in the country, operating in 11 states with 5,500 contracted physicians serving 2.1 million paneled lives.  SCHN also operates a Health Plan for 400K lives covered by four products in two states.
Heather led network-wide performance at SHCN to high value in risk-based contracts, driving operations across six states for both the ACO and Health Plan with a team of 500+ employees.   She was responsible for provider engagement and field operations, clinical programs for both physical and behavioral health, population health programs, performance improvement in quality, risk adjustment and patient experience.
Heather guided operational performance improvement for payer-based risk contracts, driving the critical linkage between budget drivers and organizational efforts to improve quality, reduce risk and reduce unnecessary and preventable resource expenditures for both the ACO and Health Plan.
Can't make breakfast?
We'd still love to connect.  Drop us a line at hello@arcadia.io, stop by Booth G at NAACOS, or get in touch here.