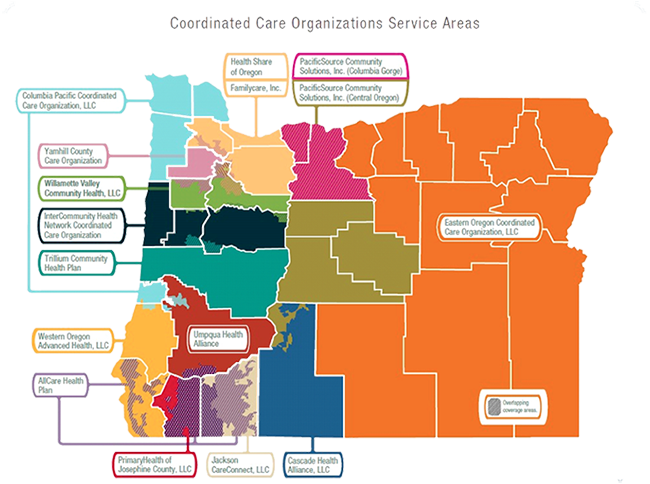 Image credit oregon.gov
Our Arcadia Analytics implementation teams really enjoy working with healthcare organizations in Oregon – not because of the stunning landscapes and excellent locally-grown food (though that doesn't hurt), but because of Oregon's innovative statewide approach to value-based care.   We appreciate and respect the commitment our clients have made to deliver the best possible care to their patients, while also being effective stewards of state funding under a ground-breaking Medicaid program.
Oregon delivers Medicaid services through the Oregon Health Plan and 16 Coordinated Care Organizations (CCOs).  CCOs bring together networks of physical, behavioral, and dental health providers who collaborate to provide care in their communities.   While a CCO provides hospital services, its providers are primarily focused on preventative care and chronic condition management to help patients stay well so that they do not need to utilize inpatient services.  Each CCO is accountable for both its budget and for the quality of care it provides.
While they may sound similar, CCOs are different from Accountable Care Organizations (ACO) – specifically, the Medicare Shared Savings Programs (MSSP) ACOs – in some important ways.  CCO development and those differences are described below.
Origin of the CCO model
As of 2011, almost 600,000 Oregonians were receiving services through Medicaid ranging from medical care to mental health services to in-home nursing support.   The delivery of these services was fragmented, expensive – and ultimately unsustainable as the population grew.
Former Governor John Kitzhaber forged a deal with the Obama Administration in which the federal government would give Oregon $1.9 billion over a five year period to cover its projected deficit and support a transformation of its Medicaid program.  However, Oregon had to commit to slowing Medicaid growth or it would lose this federal funding.   (Sarah Kliff's Washington Post article from 2013 is an excellent read on the governor and his proposal.)
In order to make this deal work, Oregon proposed an innovative plan.  Local organizations would be empowered to spend a global budget as needed to make a difference in their communities – even on services that would not normally be considered part of traditional medical care, like social work.  Integrated care models would deliver prevention-oriented services via a patient-centered care team.
Local organizations would be held financially accountable for their use of resources – the global budget would have a fixed growth rate and shared savings incentives.   Organizations would be held clinically accountable to meet standards for quality of care and patient access to care.  Finally, organizations would be governed by community stakeholders – from providers to community members to administrators who would hold financial risk – to ensure the organizations meet the needs of their communities.
Federal flexibility enabling state innovation
The Social Security Act has a provision (Section 1115) under which the Center for Medicaid and Medicaid Services (CMS) can allow individual states flexibility in financing and program delivery.   The Oregon Health Plan was created under this kind of Section 1115 waiver in 1994, but needed additional authority from CMS to implement the CCO program.
Oregon was requesting flexibility in managing its budget – including spending it on services that might not meet CMS's definition of "medically necessary", and reimbursing non-traditional health care workers.  Additionally, Oregon wanted to establish an alternative outcome-based payment model with shared savings.
Oregon legislatively established CCOs in 2011, and defined their implementation requirements in 2012 prior to requesting an additional waiver from CMS.  In keeping with Oregon's focus on community engagement, their development process engaged many stakeholders and offered significant opportunity for public input.   With formal approval from CMS, the Year 1 measurement period began in 2013.
What makes a CCO different from an ACO?
In many respects, the CCOs described above sound like ACOs.  Both models involve healthcare organizations taking on financial risk while meeting quality standards for care, and both can foster provider-payer collaboration and integrated, team-based approaches to patient-centered care.  But there are some differences:
CCOs are administered by the state: CCOs are administered at the state level, in this case by Oregon. ACOs are administered nationally by CMS.  Only ACOs are explicitly covered in the Affordable Care Act.
CCOs are governed by the community: CCOs governance must include community members along with other stakeholders like providers and administrators who hold financial risk.
CCOs serve Medicaid members: CCOs administer services to Medicaid members and – importantly – members who have dual coverage under both Medicaid and Medicare. ACOs administer services to Medicare members under the Medicare Shared Savings Program (MSSP).
CCOs integrate behavioral health: Behavioral health integration is an explicit goal for a CCO (as is dental health integration).
CCOs have a different financial risk structure: CCOs have a global budget with shared savings. ACOs share savings and losses, depending on their performance compared to a benchmark (projected expenses based on patient risk).
But both ACOs and CCOs need to ensure collaboration and care coordination across different healthcare organizations to succeed – and this collaboration requires a foundation of shared, trusted data about performance and utilization.   One of our clients is a Physician Health Organization in Oregon that participates in a CCO.   This client implemented the Arcadia Analytics platform to aggregate EHR data from its network with claims data from the CCO – and is seeing promising results.
To read more, download our newest case study.