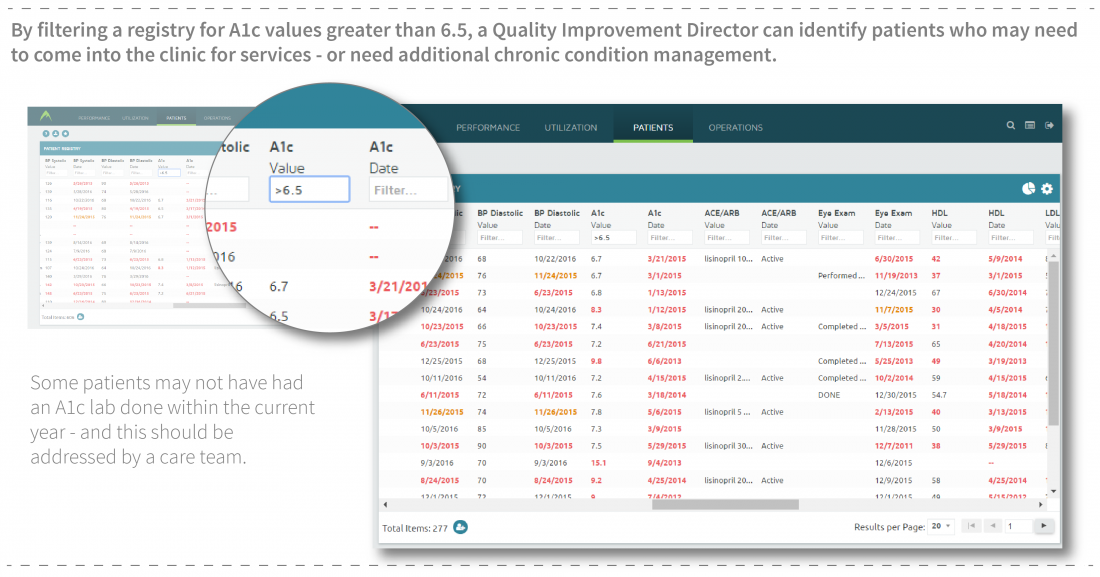 I previously wrote about the benefits of capturing certain populations of patients in a registry and disease management program. In the Medicare population, disease management programs are especially useful for patients with six major conditions:
Today I will discuss the importance of an IT-enabled program to manage diabetes.
Why is diabetes such an important condition to manage?
It is estimated that 29 million people in the United States currently have diabetes, and another 8 million are presently undiagnosed. The burden of suffering is enormous, taking a toll on patients, families, our healthcare system and our economy.
Type I diabetes usually presents rapidly, as the pancreas is no longer making adequate amounts of insulin. These patients can present in childhood, or in later years, and require lifelong insulin therapy. The explosion of patients with Type II diabetes is directly related to the poor American diet, including too many calories from both carbohydrates and fat, and inadequate exercise resulting in obesity. The rapidly rising prevalence of type II diabetes is directly proportional to the obesity epidemic.
The downstream medical complications from diabetes include accelerated coronary and other vascular disease, kidney dysfunction that can result in kidney failure requiring dialysis or transplant, and retinopathy (eye disease) that can threaten sight and result in blindness.
The financial burden on society, according to the American Diabetes Association, is estimated at $322 billion per year for diabetes and prediabetes, with $69 billion of that related to decreased productivity.
The good news is that Type II diabetes is almost completely preventable and reversible, and both forms of diabetes are eminently manageable with good medical care and patient education and self-care.
Identifying patients who need help managing diabetes
Any successful disease management program requires creating a registry with the right patients in it. Though that sounds simple and obvious, it actually takes some work to get it right with a high-functioning IT system.
A Quality Director may want to identify patients with a hemoglobin A1c value greater than 6.5. This lab test is the best way of identifying diabetic patients. An A1c between 5.7 and 6.4 is suggestive of pre-diabetes. The simple blood glucose (or blood sugar) can also be used to identify diabetic or potentially pre-diabetic patients. A fasting value > 125 suggests diabetes and a fasting value between 100 and 125 suggests pre-diabetes. A random blood sugar taken non-fasting greater than 200 also suggests the presence of diabetes.
That Quality Director may be looking for A1c lab results in many different EHRs across the network – a frustrating and inefficient situation. But with access to a data warehouse that aggregates data from all those EHRs, she can easily see all diabetic and pre-diabetic patients across the network, organize them by practice and care team, and effectively plan a disease management program.
I usually advise grouping these diabetic and pre-diabetic patients by individual PCP and by practice. This allows a practice staff person the opportunity to begin outreach to this cohort of patients.
Simple interventions with big results
The actual interventions may sound remarkably simple and elemental, and in a sense, they are. Sometimes just getting patients in to the practice is the largest hurdle. A registry allows for outreach, either by phone, text or mail.
Practices should consider who actually conducts the outreach and delivers in-clinic services. Certified diabetes educators (CDE) often offer the best practical education for diabetic patients with attention to diet, exercise, correct use of insulin or other medications, and attention to related health issues. The primary care physician or nurse practitioner ideally works with a team approach for the diabetic patient. Access to a nutritionist can also be helpful.
The cornerstones of a successful diabetes DM program are:
Documenting weight, BMI, and eye and foot exams
Monitoring the blood sugars and hemoglobin A1c values and kidney function
It is also important that a care team know when to refer a patient to a diabetologist for more in-depth advice, or to ophthalmology and renal specialists as needed to round out complete care.
Measuring progress
Measuring progress in a diabetic registry is easy and difficult at the same time, depending on what you want to measure! True quality of life metrics and the prevalence of complications are difficult to measure. But fortunately, simpler metrics such as weight, BMI, completion of eye exams, office visits and lab tests for kidney function – as well as the exact value of the hemoglobin A1c – are easy to measure.
Good registry management can show progress (or lack thereof) over time for all the diabetic patients in a practice compared with other practices, or against a goal or benchmark for the organization.
Transparent comparison of aggregate A1c values between practices also fosters a healthy competition for network-wide improvement and helps move providers toward accepted standardization of care.
A registry can also highlight which practices are using generic drugs and insulin and which practices are tending to use unnecessarily expensive brand name drugs.
In fact, it is only through the use of an accurate registry that any true understanding of the health of the diabetes cohort is possible. Any health care system committed to improving the health of its population must engage with a diabetic registry and ensure it is populated with comprehensive data from across the network.