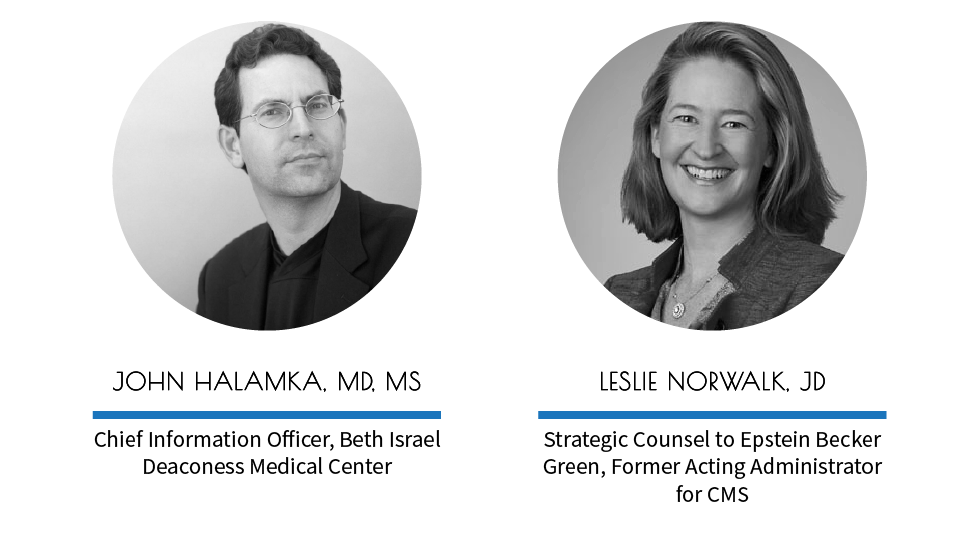 We're excited to announce our keynote speakers for our annual industry conference, Aggregate2018: John Halamka, MD, MS and Leslie Norwalk, JD.  Both are members of the Arcadia Advisor Network.
John Halamka, MD, MS
CHIEF INFORMATION OFFICER, BETH ISRAEL DEACONESS MEDICAL CENTER
John D. Halamka, MD, MS, is the International Healthcare Innovation Professor at Harvard Medical School, Chief Information Officer of the Beth Israel Deaconess System, and a practicing emergency physician.
He strives to improve healthcare quality, safety, and efficiency for patients, providers, and payers throughout the world using information technology.   He has written 5 books, several hundred articles, and the popular Geekdoctor blog.
He is also an organic farmer in Sherborn, Massachusetts, overseeing 15 acres of agriculture, animals, and cider/mead making.
Leslie Norwalk, JD
STRATEGIC COUNSEL TO EPSTEIN BECKER GREEN, FORMER ACTING ADMINISTRATOR FOR THE CENTERS FOR MEDICARE AND MEDICAID SERVICES
Leslie V. Norwalk is Strategic Counsel to Epstein Becker Green, EBG Advisors, and National Health Advisors. She serves as an advisor to three private equity firms: Warburg Pincus, Peloton Equity, and Enhanced Equity Fund. Ms. Norwalk currently sits on the boards of directors of NuVasive, Press Ganey, Endologix, Abode Healthcare, GWU Medical Faculty Associates, HealthPlan One, and the STARUS Medical Group. She is also a member of APCO Worldwide's International Advisory Council.
Ms. Norwalk served the Bush Administration as the Acting Administrator for the Centers for Medicare & Medicaid Services (CMS). She managed the day-to-day operations of Medicare, Medicaid, State Child Health Insurance Programs, Survey and Certification of health care facilities, and other federal health care initiatives. For four years prior to that, she was the agency's Deputy Administrator, responsible for the implementation of the hundreds of changes made under the Medicare Modernization Act, including the Medicare Prescription Drug Benefit.
CMS has the second-largest budget outlay of the federal government, directly responsible for $1 out of every $3 spent on health care in the United States. The organization insures approximately a third of the population of the United States (more than 100 million beneficiaries), including the elderly, disabled, and some of the lowest income individuals in the country. CMS processes over one billion claims each year and contracts with approximately one million providers.
Prior to serving the Bush Administration, she practiced law in the Washington, D.C., office of Epstein Becker Green, where she advised clients on a variety of health policy matters. She also served in the first Bush administration in the White House Office of Presidential Personnel and the Office of the U.S.Trade Representative.
Ms. Norwalk, a native of Dayton, OH, earned a juris doctor degree from the George Mason University School of Law, where she was a Dean's Scholar and an editor of the George Mason Law Review. She earned a bachelor's degree, cum laude, in economics and international relations from Wellesley College.