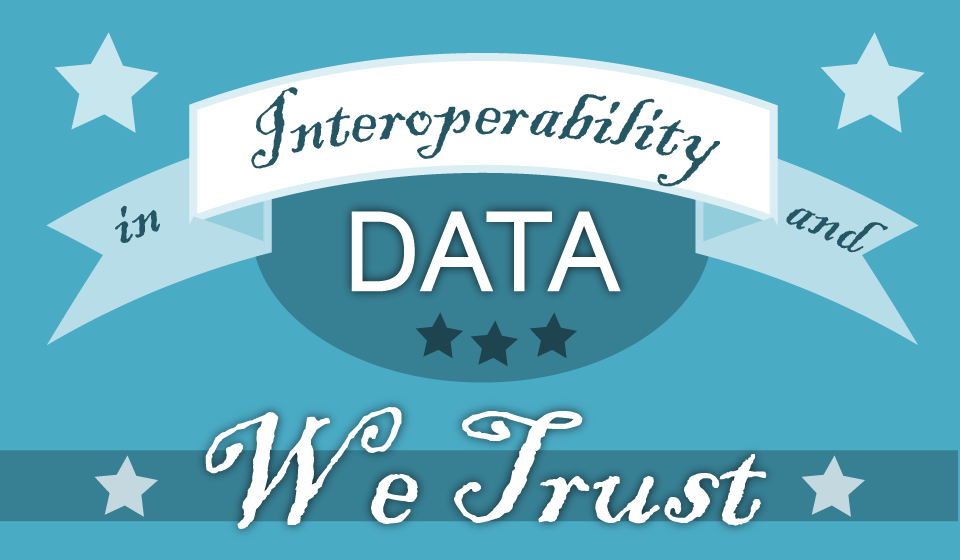 Way back before the invention of the "information highway," if I wanted to invest money into the stock market I had to do something archaic – I had to look up the stock in the newspaper to get the current price, and then I had to call my stockbroker on the phone.  Yes – newspaper and phone!
Once my stockbroker received my phone call – which could've required multiple tries – he had to tell me the current price, because it probably changed from yesterday's newspaper. And then once we agreed on the trade, he had to enter the order into his trading system, which was linked to a trade floor and/or an exchange…definitely a lot of manual "interoperability" and "trust" involved.  If I didn't trust my broker, I couldn't do the deal. And (semantically speaking) the stockbroker and I had to be able to exchange and understand each other while on the phone…"Hey, Jimmy, gimme 50 shares of Micky Ds before tomorrow's closing bell! And what is Snapple going for these days? And don't be shimming me."
Then, in the early 1990s, a company (later acquired by Ameritrade) started offering us online trading – a concept that has grown substantially and led to innovation in the financial industry.  I'm glossing over some details, but I think you get the picture. In order to buy and sell stocks we've gone from calling a human, understanding what each other is saying, having to trust one  another, manually entering data into some special system to…well, now…whipping out our cellphones and trading stocks between checking our Twitter feeds and browsing the Dow Jones, NASDAQ and S&P 500 in almost real-time.
So what does this have to do with health interoperability?  Well, health interoperability is hard, but it hinges on demand and trust.
Let's focus on trust for now: how do we get to a mutual level of trust between providers, payers, and other healthcare entities?
I don't know about you, but I'd be shocked to approach an ATM to withdraw money only to find out that the machine couldn't properly communicate with my accounts at another bank. And if I checked my balance and it said I had 20% less funds than I knew I had, I'd stop trusting this system. (Let's refrain from the topic of that ATM fee for the transaction here – I'll get back to that another time.) Or imagine the frustration we would experience if, instead of plugging dates and destinations into a website like Kayak or Expedia, we still had to search for flights airline by airline, or worse, by calling a travel agent on the phone? "Hey, Sal, I love your new hold music, can you get me a flight to Vegas for the weekend? Oh, you'll look into it and call me back tomorrow? Thanks!"
Besides sharing mechanics and semantics, all of these examples require trust. The banks must trust that sharing data does not mean stolen funds or customers. In most cases, some "transparent" third-party builds the pipes that connect all of this together, enabling us to trust that everything will work and that the data will be accurate.
Within the healthcare space, Arcadia acts as that neutral third party. We build trust with payers and providers, and we create an atmosphere of trust so that healthcare organizations can negotiate safe, secure data sharing. The end result? Providers get the right data at the right time to help their patients get and stay healthier.
Let's break this down using the HIMSS definition. Interoperability generally means "the extent to which systems and devices can exchange data, and interpret the shared data." That concept is broken into three or four building blocks:
Foundational interoperability – can we exchange data? (This is purely exchange – it doesn't mean the receiver can understand or even use the data.)
Structural interoperability – in what format do we exchange data? (Red-colored letter sized envelopes or large manila legal size?)
Semantic interoperability – can the receiver at point B understand what the sender at point A meant? (Did you get my red envelope with my secret message? Oh, sorry…you can't speak Cantonese?)
Process interoperability – can sender A and receiver B start to operate seamlessly knowing that they can share, understand and trust the exchange of data?
To get to that "stuff working" level of process interoperability, there must be a foundation of trust.  We can build a system of systems that are technically interoperable, but if the users do not trust the data, we're dead in the water. And I'm referring to "trust" as in "believing that the data is accurate" – security-related trust is an entirely different topic, worth exploring another time.
"I'm not upset that you lied to me, I'm upset that from now on I can't believe you." – Nietzsche

Today, providers are being held more and more accountable for outcomes. Providers are eager to leverage data to improve the health of populations – it enables a financial reward in many cases. But there is an overarching issue with trust in the validity, accuracy, and completeness of data. In fact, a recent KPMG survey showed 70 percent of healthcare organizations expressed very low confidence in their data integrity.  That's not good, particularly given the rise of value-based healthcare. Do you want to negotiate a risk-based contract on data that you can't trust? Particularly if it's under-reporting something like HEDIS rates?
Having an interoperable system is a critical component, but having "good" data is essential in establishing trust among providers and between providers and patients or payers. Well-designed, fully interoperable systems let the data flow easily and accurately, allowing the senders and receivers to trust the foundational, structural and semantic aspects of the exchange, and ultimately, the data they receive.
Don't trust everything you see – even salt looks like sugar.
Simply put: if providers don't trust the legitimacy of the data, they're not going to use it. Establishing trust based on data quality is challenging, but this is where Arcadia thrives. Our EHR Data Connect platform helps providers get a comprehensive view of their patient population by extracting information from a variety of systems and datasets – more than 30 different EHRs. We then combine the EHR data with claims data to create a full picture of the patient and population that is easily understood by the provider. Without such a deep dive into the data, providers are missing a critical piece of making informed decisions that positively impact quality and outcomes.
Arcadia goes another step by focusing on the quality as well as the comprehensiveness of data.  Our process in connecting one point to another includes more quality assurance review than many folks spend on an entire integration project. And we go well beyond trusting structural components (HL7) as the truth. We dig deeper because we know that you can't just trust the current structural components to surface all of your data, and that every numerator hit counts towards those measures.
To improve care outcomes and drive financial performance, healthcare needs data that is trusted by all stakeholders. The free flow of data from disparate sources enables insight into both populations and individual patients – and that's great! But when providers and payers trust each other, trust the data in front of them, and work together, they can move towards a better healthcare system.
Jonathan Cook is the Chief Technology Officer at Arcadia Healthcare Solutions.