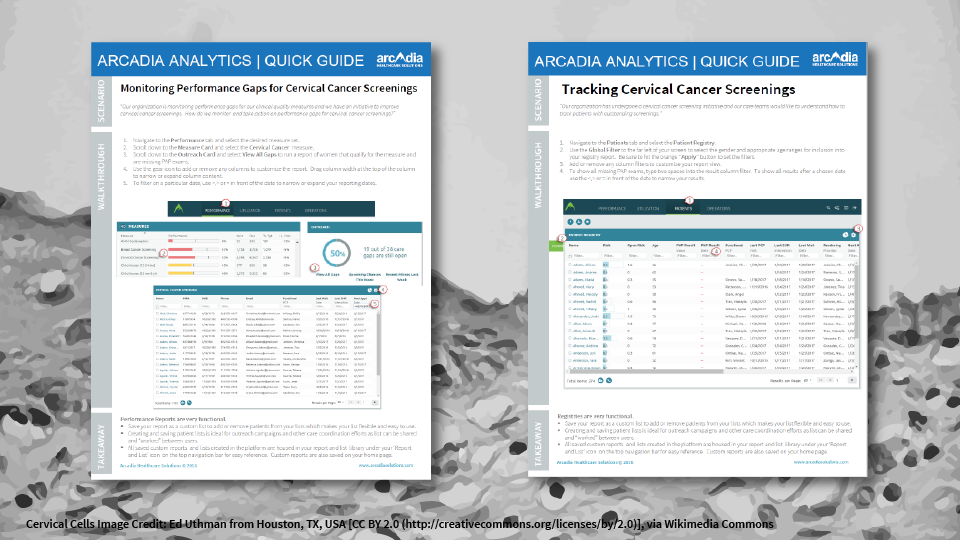 As Cervical Cancer Awareness Month draws to a close, Arcadia's Training Team shares some Arcadia Analytics Quick Guides to help you find patients who need to be screened for cervical cancer.
In 2017, nearly 12,000 women in the United States will be diagnosed with cervical cancer, and that diagnosis will be fatal for 4,000 of those women.  A recent study looking at data from 2000-2012 found mortality rates of 10.1 per 100,000 black women and 4.7 per 100,000 white women.  Those mortality rates – and the racial disparity – are especially concerning given that cervical cancer is highly preventable.
Pap smears can be used to screen for abnormal cells. During a Pap smear, a provider takes a small sample of cervical cells for further examination; Pap smears are generally painless and administered during a woman's routine gynecological exam.
HPV vaccines can protect against some strains of the human papillomavirus (HPV). Not all strains of HPV cause cancer (just as not all strains of HPV cause genital warts); the HPV vaccine targets the strains that most commonly cause cervical cancer.  The vaccine is recommended for both young men and young women; because it does not protect against all forms of the HPV virus, vaccinated women should still get regular cervical cancer screenings.
Lack of access to care may be a significant factor in cervical cancer diagnosis and mortality rates.  For patients who do have access to primary and gynecological care, providers should focus on identifying women who need cervical cancer screenings.   These patients can be targeted for outreach campaigns.
Our Arcadia Analytics Quick Guides explain how to use Arcadia Analytics to:
Monitor Performance Gaps for Cervical Cancer Screenings: Identify women who are missing Pap exams.
Track Cervical Cancer Screenings: Identify patients with outstanding screenings or missing results.
Our training team is happy to work with individual practices on cervical cancer screening initiatives – you can contact us at AsktheTrainer@arcadia.io.
Download the Quick Guides by completing the short form below.