We traced the origin of every data element for a practice in Eastern Massachusetts. This is the average patient record across the integrated dataset, with unique elements highlighted based on their data source and type of information. View full graphic here.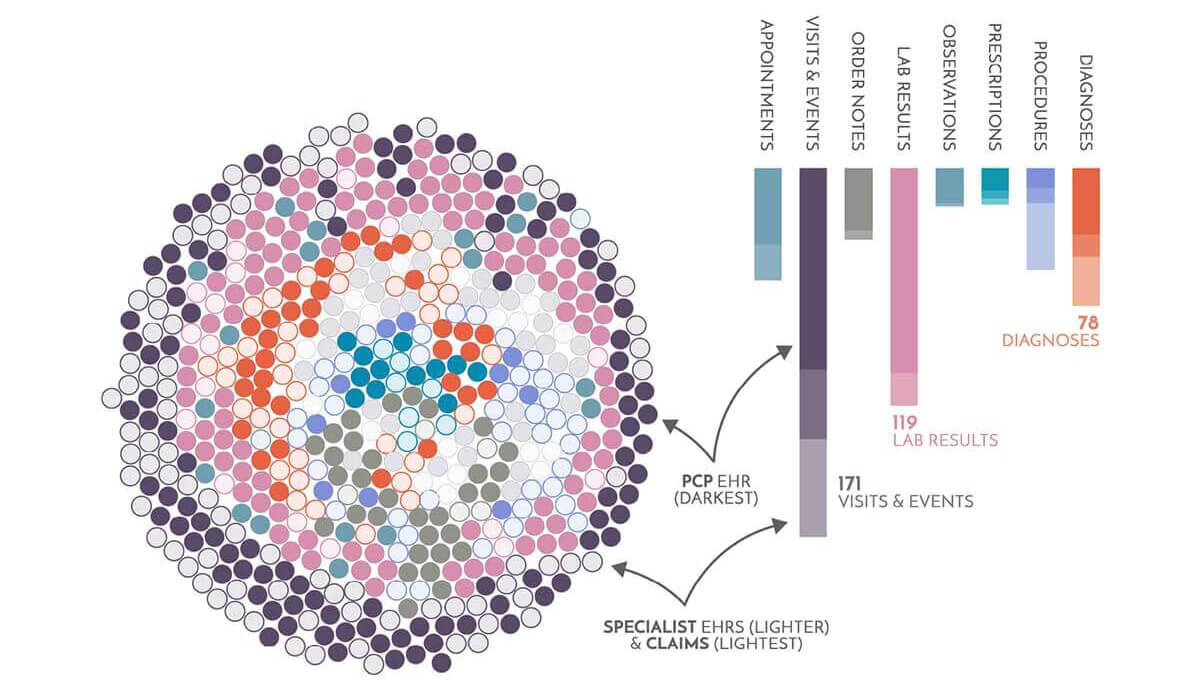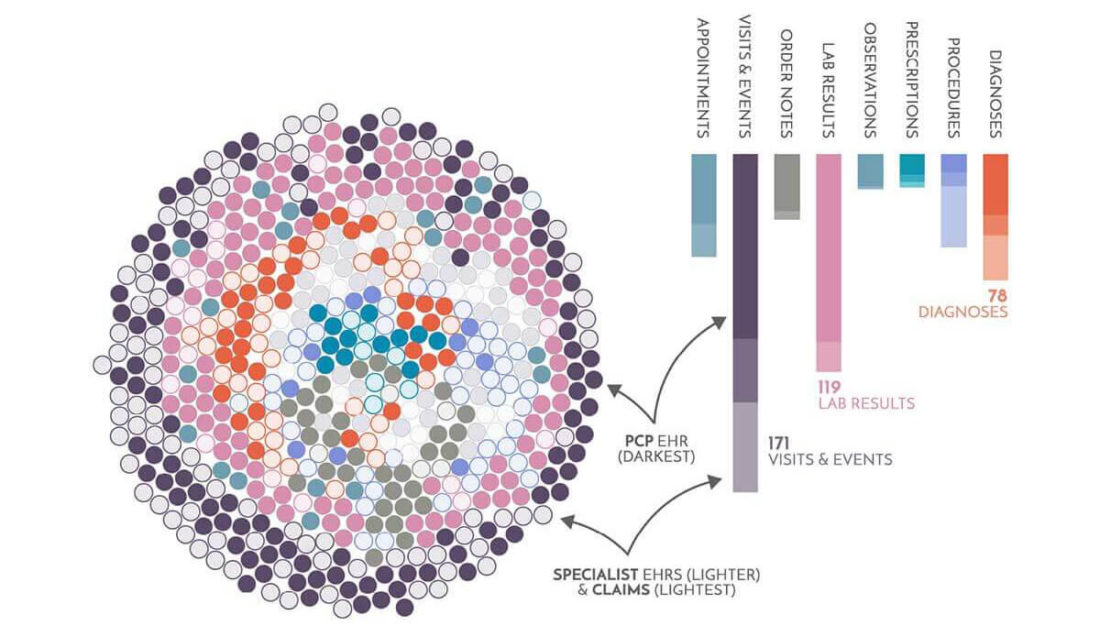 Interoperability saves lives — Brendan Smith-Elion on the importance of quality data in healthcare
Early in my career, I saw clinical interoperability go wrong. An inappropriate configuration setting may have caused a patient death.
Here's what happened. A single character in a single configuration interface file was negative where it should have been positive. To the provider, it looked like the patient was on a heparin drip, while in reality no one had started the infusion. Based on this, the provider thought everything was fine. By the time the mistake was realized, it was too late.
Since then, I've been acutely aware of the impact of bad interoperability. In healthcare, it's not just about data. It's about the endpoint — the clinician and everyone that's counting on them.
You need to think about how decisions are made, the context in which they're made, and the criticality of those decisions. Pushing data in front of the provider is not sufficient. You have to have an opinion on that data.
It's not only about adhering to the specification, but understanding the context in which that data was captured and aligning it with the use cases that you're trying to enable. It's about making sure the patient is treated in a more proactive manner, that you're doing preventative medicine instead of reactive medicine.
And to do that, you need to have the full picture of the patient. When you do it well, the cost of care drops, providers spend less time on low-impact work, and outcomes improve. Good data in a unified place is essential to making that happen.
— Brendan Smith-Elion, VP, Product Management at Arcadia
DATA SPOTLIGHT
Population health insights for your existing EHR, powered by Arcadia Analytics
Aggregate and curate the highest quality, most complete and up-to-date patient data foundation. Arcadia Desktop makes actionable insights from that dataset available via a lightweight, EHR-agnostic overlay. Get started here.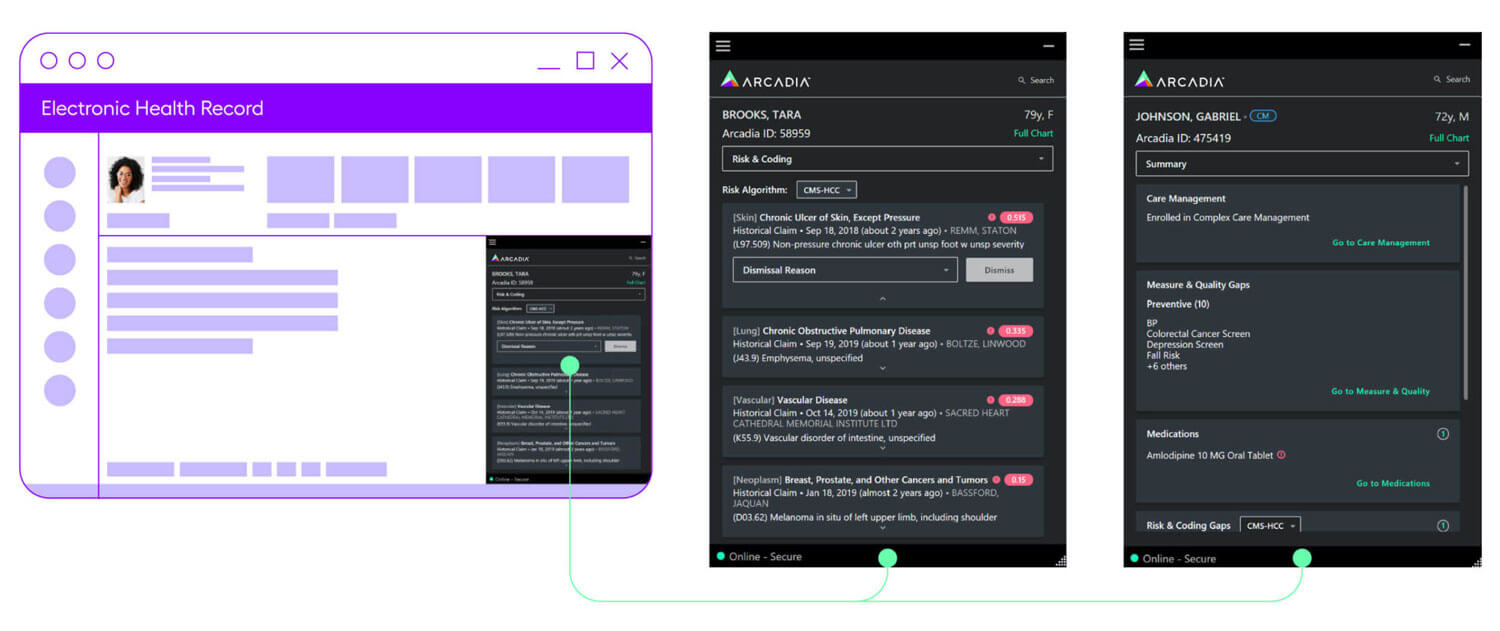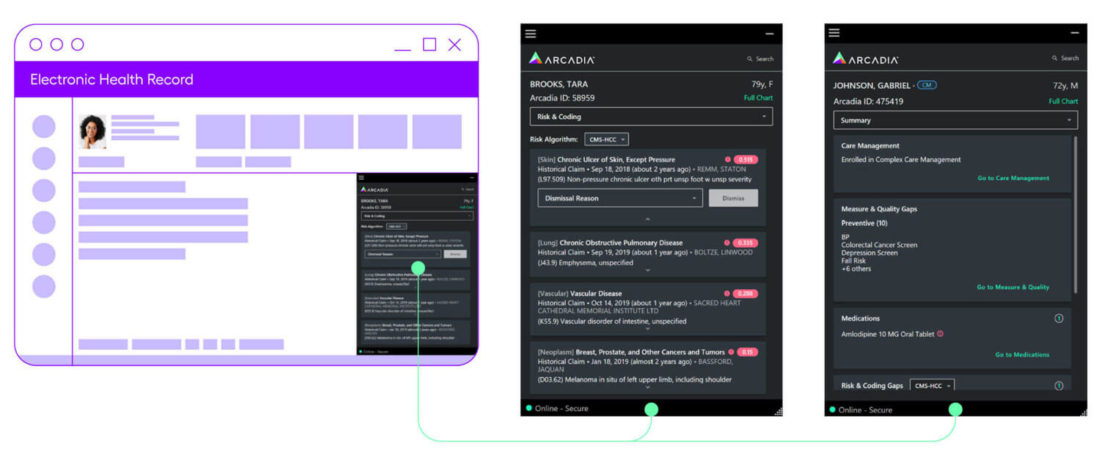 NEWS YOU CAN USE
Let's put data to work to solve emerging challenges in healthcare
HEALTHCARE INNOVATION – Medical errors are one of the leading causes of death, according to the British Medical Journal. This doesn't get enough attention because it doesn't typically show up on reported mortality statistics. Better coding, dynamic data flow, and standardized interoperable systems are all solutions to this problem.
GLOBAL CLOUD PLATFORMS – 92% of physicians believe interoperability can improve patent experiences. In a Google Cloud commissioned survey of more than 300 physicians across the U.S., the results are nearly unanimous. Providers realize the need for investment in interoperable healthcare systems.
FIERCE HEALTHCARE – Is Oracle's $28B investment a step in the right direction for unified patient records? "Though I applaud the goal, I believe we are a long distance away from achieving a truly practical and unified EHR for the American public," says Arcadia's Dr. Rich Parker.
SIGN UP
Webinar replay — We didn't start the FHIR: interoperability for whole-person care
Every month, we get a pulse on the most important topics in healthcare and data.
Data on a single patient can flow from point A to point B. But what does it mean to achieve interoperability at a population level? Your organization needs the ability to enable providers to act on whole-person insights at the point of care and drive outcomes at scale. That requires a massive rethinking of the problem. Watch the replay to learn more, then subscribe to Vitals to join future discussions live.
Can't wait for the next newsletter?
Get the Data Bytes newsletter 15 days earlier by subscribing below — or catch it here two weeks later, the choice is yours!