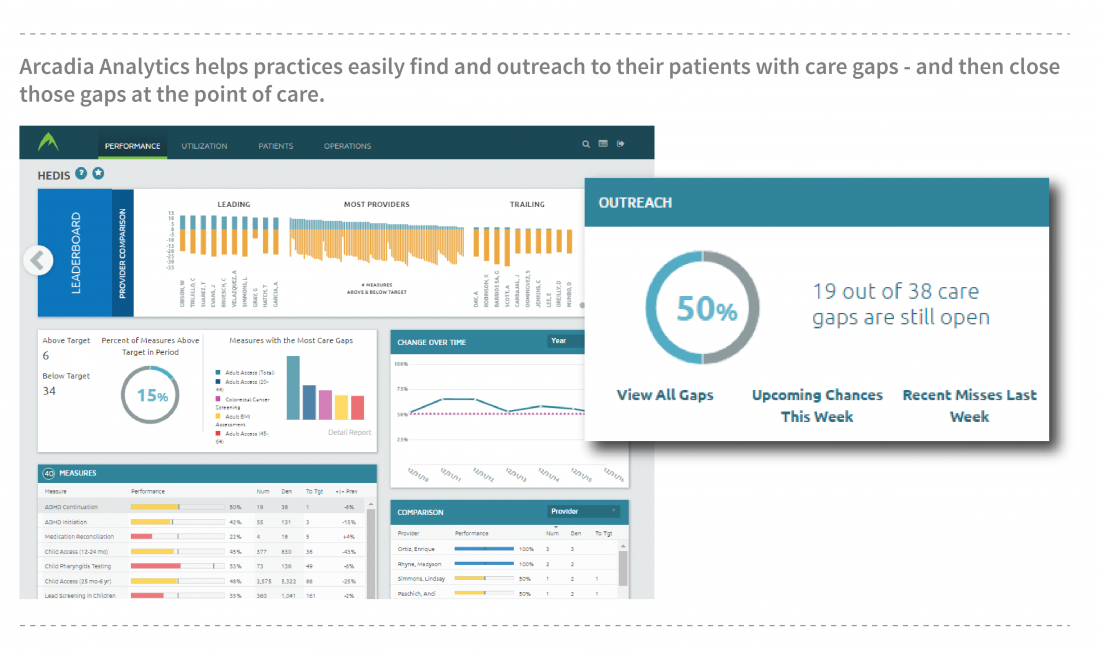 Earning Patient Centered Medical Home (PCMH) recognition is an important achievement for a practice.  It shows that the practice is providing care according to nationally-recognized best practices and standards – and starting in 2017, PCMH recognition will help practices earn Clinical Practice Improvement Activity credit toward meeting new MIPS requirements from the Center for Medicare & Medicaid Services.
We're excited to announce that Arcadia Analytics v4.10 has been prevalidated by the National Committee on Quality Assurance (NCQA).  Arcadia Analytics customers will now automatically get 14.5 points toward PCMH certification.   Moreover, our customers can use Arcadia Analytics to support submission for 28 additional factors during the NCQA PCMH recognition process, which helps practices catalyze change immediately and then save up to a month of documentation effort during the submission process.
Being able to provide NCQA-approved supporting documentation simply, easily, and quickly saves days of documentation gathering, preparation, and uncertainty about which documentation to send, and how much.  Better yet, this documentation format has already been reviewed and approved by NCQA – so practices know they are providing the right data in the right format the first time around.
PCMH: an opportunity for transformation
Done correctly, PCMH is more than just a set of initials – it represents a transformation of primary care delivery.  Elements of the PCMH model help organizations support population health and individual patients as customers who need to get better services from their practices – which can help with patient satisfaction and engagement.
Healthcare organizations implementing the PCMH model move to a team-based approach to patient care, coordinating and communicating about a patient's needs across primary care and specialties.  Many organizations make investments in predictive analytics and data warehousing, which enable them to ensure patients get appropriate care – and helps identify areas where more patient engagement is required.   PCMH provides a roadmap to actually using those investments.
Ultimately, PCHM is a care model that can effectively take information and turn it into action.  As "PCMH" – or under any other name – this capability is critical for success in any risk-based payment concept, including MACRA. Evidence compiled by the NCQA, the leading accreditation body for PCMH, demonstrate that the PCMH model influences an increased quality of care, patient engagement, and savings capture.
NCQA PCMH Prevalidation
Arcadia has years of experience helping our clients attain PCMH certification, and we built our platform capabilities based on our firsthand experience of their needs.  We were excited about the opportunity to participate in the NCQA PCMH Prevalidation Program to demonstrate our platform's capabilities.  Knowing that achieving PCMH recognition can require substantial organizational investment, we appreciate that NCQA allows a practice to receive autocredit points simply by using a prevalidated HIT solution.
Arcadia Analytics v4.10 was prevalidated by NCQA under this program.  Our customers will get 14.5 autocredit points simply by using our platform, assuming they meet all other requirements.  This puts them almost halfway to Level 1 PCMH recognition.  Moreover, our platform can be used to support submission for 28 other factors during the PCMH recognition process – which can save an organization days or weeks of documentation preparation and ensure documentation is submitted correctly.
The NCQA PCMH Prevalidation process recognizes a number of best practice capabilities a healthcare system should have, including using data for population management and care coordination.
Using Data for Population Management
Any practice engaging in risk-based contracting needs to be able to use data effectively to manage its patient population along multiple dimensions.  Arcadia Analytics provides user-centric tools to help practices measure and improve quality, identify high-risk members, and track utilization over time.
Arcadia received the maximum number of automatically credited points in the category "Use Data for Population Health Management", which means that Arcadia Analytics customers automatically get full credit for these capabilities.
Identifying patients who need care is one thing; ensuring it is effectively delivered is another.  Arcadia Analytics supports practices with care coordination and was also recognized here under the NCQA PCMH Prevalidation process.
PCMH Matters…
Achieving PCMH is a minimum requirement for to success in an at-risk arrangement – not because of the recognition itself, but because it means an organization is effectively equipped to function as a cohesive system – using data to drive actions that improve the quality of care while reducing medical expense.
…but PCMH Matters More Under MACRA and MIPS
In 2017, the Center for Medicare & Medicaid Services (CMS) will implement programs under the Medicare Access & CHIP Reauthorization Act of 2015 (MACRA).  Most providers will be impacted by the Merit-Based Incentive Payment System (MIPS).   MIPS will measure providers on quality, resource use, clinical practice improvement, and meaningful use of certified EHR technology.
Under the proposed rule for MIPS, practices that are PCMH recognized will get full credit for the clinical practice improvement category, worth 15% of the total score in Year 1.
Out of 270 analytics vendors, only 9 offer products prevalidated by NCQA for PCMH
Given the money at stake, having an analytics platform that supports PCMH recognition is an important investment to support participation in risk-based contracting. But of the 270 analytics vendors exhibiting at HIMSS last year, only 9 offer a product that has been prevalidated under the NQCA PCMH Prevalidation process – and the points received by Arcadia Analytics puts it in the top tier.