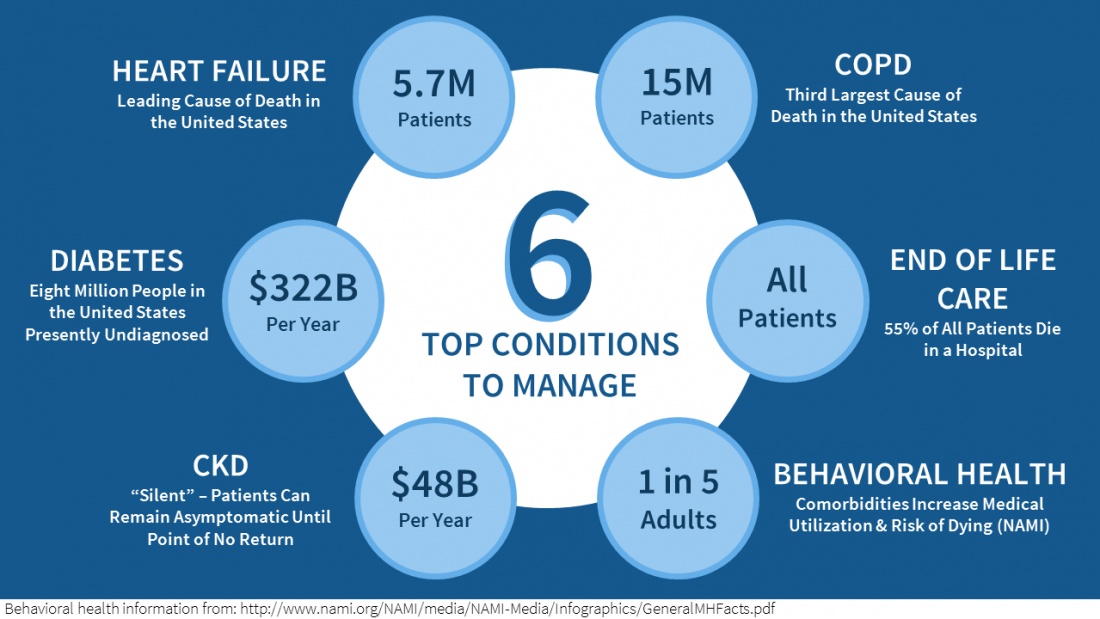 Disease management programs coordinate activities around delivering comprehensive care to patients with specific conditions. Effective use of information technology is essential for identifying patients who should be entered into a disease management program.  It also helps keep track of number of patients in the disease management registry, their overall healthcare utilization and spending, and ultimately their clinical outcomes as compared with standard benchmarks.
Disease management programs, used as part of a larger value-based care strategy, improve the quality of care of a population at a low cost.  In the Medicare population, disease management programs are especially useful for patients with six major conditions covered in this series:
In this series, Arcadia chief medical officer Richard Parker, MD discusses the importance of using robust information technology capabilities in building disease management programs.
Heart failure
Heart disease is the leading cause of death in the United States. There are over 5.7 million heart failure patients costing over $35 billion per year.  The Heart Failure Society of America Practice Guideline recommends, "Patients recently hospitalized for heart failure and other patients at high risk for heart failure decompensation should be considered for comprehensive disease management."
Disease management programs for managing patients with the risk factors for heart failure as well as programs dedicated to managing patients with heart failure can be very successful.
Diabetes
Approximately 29 million people in the United States currently have diabetes, and another 8 million are presently undiagnosed.  The burden of suffering for diabetes is enormous and the economic burden is growing – with an estimated cost per year of $322 billion for diabetes and prediabetes, $69 billion of which is related to decreased productivity.
Type II diabetes is almost completely preventable and reversible, and both forms of diabetes are eminently manageable with good medical care and patient education and self-care.
Chronic kidney disease
In the United States, kidney related causes lead to 87,000 deaths every year and the cost of chronic kidney disease is $48 billion per year.  One of the problems with chronic kidney disease is that the disease is "silent" and patients can remain asymptomatic until the kidney function has deteriorated to a point of no return (defined as the need for dialysis).
The good news is that chronic kidney disease can be diagnosed with a simple blood test of the creatinine and can be managed effectively by care teams with close monitoring of their patients.
Chronic obstructive pulmonary disease (COPD)
COPD affects over 15 million Americans.  It is the third highest cause of death, responsible for killing over 120,000 patients every year.  Almost all cases of COPD are caused by cigarette smoking.  Because of its high prevalence, chronicity affecting patients for many years, and high morbidity and mortality, COPD is an excellent disease for a high-functioning disease management program to manage.
End of life/palliative care
The vast majority of patients would prefer to die peacefully at home, surrounded by family, with their comfort and dignity intact.  Approximately 55% of all patients dying in the United States, however, end their lives in a hospital.
In a successful end of life/palliative care disease management program, the goal is for care teams to take initiative to discuss the patient's end of life wishes.  These discussions are slowly being recognized as a needed step towards achieving better outcomes (dying at home or in a long-term care facility with hospice care).
Behavioral health
There are multiple issues surrounding behavioral health care management.  Behavioral health has not been integrated with physical health effectively.  There is a shortage of expert care and comorbidities greatly increase the growing economic burden.
The expense of providing timely behavioral health care to patients is more than made up for in decreased morbidity and overall healthcare utilization.  As our healthcare system transitions from a fee-for-service system to fee-for-value models, the incentives grow for healthcare organizations to provide timely and comprehensive behavioral health care.