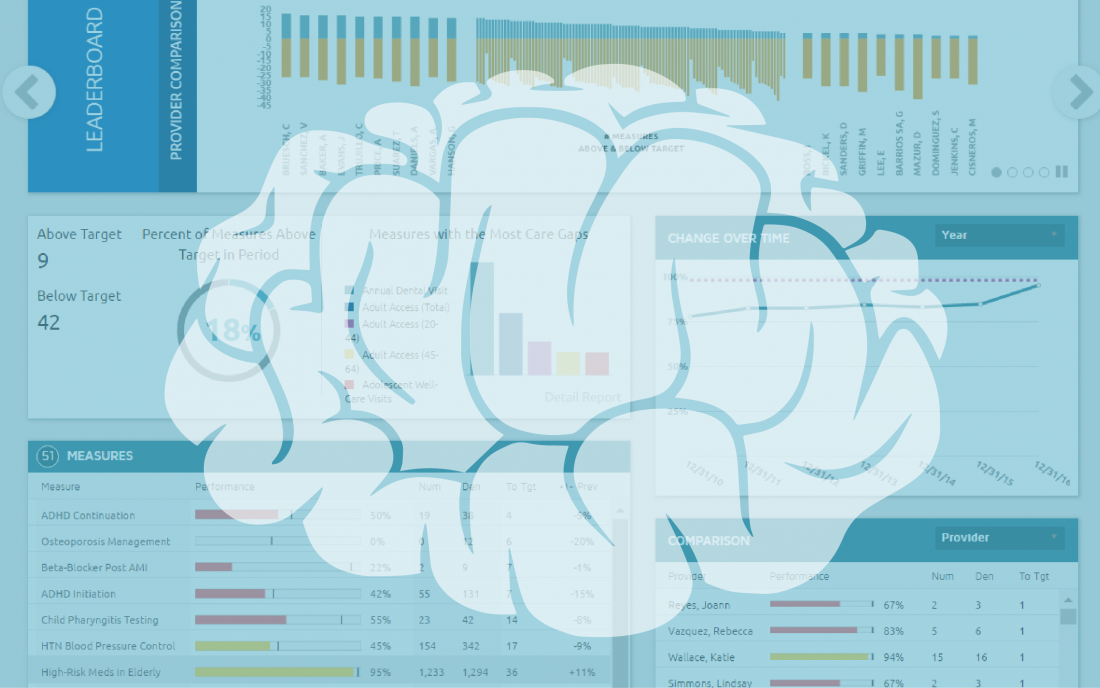 A comprehensive population health effort requires that healthcare systems have insight into the specific conditions of their patients—related to both physical and behavioral health. As with other illnesses, proactive diagnosis and support for patients with behavioral health needs can help prevent more serious and expensive conditions from developing. Behavioral health patients in particular may have multiple comorbidities, may require long-term support, and can be expensive to treat – but integrating behavioral health quality measures can help.
Overcoming Barriers to Adopting Quality Metrics
One barrier to developing quality metrics for behavioral health care is the lack of sufficient evidence on appropriate care for patients with mental health needs. Equally challenging are the lack of data capabilities of many behavioral health providers.
Despite these challenges, the adoption of standardized quality metrics is important for several reasons. First, patients are better served when they receive evidence-based, high-quality care. This means that patients with the same condition history will receive the same treatment, no matter if they seek treatment in Boston or Biloxi. Second, for healthcare systems moving toward value-based care, demonstration of high-quality care is foundational for financial success.
Which Quality Measures to Implement?
A healthcare system that is integrating behavioral health quality measures needs to determine which quality standards to use. Rather than go through the arduous process of developing quality standards internally, many healthcare systems choose to adopt the quality metrics established by national organizations such as The National Committee for Quality Assurance (NCQA), which has been central to creating quality improvement metrics over the past 26 years. Using NCQA standards as a starting place, healthcare systems can prioritize quality metrics based on their local or regional priorities and population.
Quality Care Metrics in Practice
Recognizing the importance of tracking quality, some healthcare systems have taken steps to monitor care quality for patients with mental health needs, integrating behavioral health quality measures into a broader clinical quality program. By pulling in, aggregating, and analyzing data from behavioral health data sources, healthcare systems can accurately calculate and track these measures.  And by using an analytics platform to make this information available at the point of care, they can help identify actionable opportunities to provide higher quality care to patients.
Quality Measures Are Only as Good as the Underlying Data
The only way to track these important metrics is through reliable and complete patient data. A provider needs access to a patient's history for services rendered both at that provider's office and outside the network. For example, if a patient with behavioral health needs presented in the Emergency Room for treatment, this record may not appear in their provider's Electronic Health Record (EHR) system, but will appear on insurance claims. And, if a patient with behavioral health needs is on a drug like Lithium that carries a risk of compromised kidney function, it is important that the behavioral health provider knows whether the patient is having regular lab work to monitor kidney health. Without a complete patient history, it is much more difficult for providers to treat patients effectively and to provide high-quality and appropriate care.
By bringing behavioral health and physical health information together into a single, secure repository, healthcare providers can efficiently identify patients who have complex needs using trusted information.
Looking to the Future
As organizations continue to focus on the treatment and management of high-risk patients, access to reliable data is vital. As national quality standards for behavioral health are further refined and improved, care teams will rely heavily on complete patient data to inform care decisions and track quality improvements. While building an integrated data asset and a quality program around behavioral health will require real effort, organizations that make that investment will be able to harness the power of aggregated data to not only improve patient care, but also meet key financial metrics.