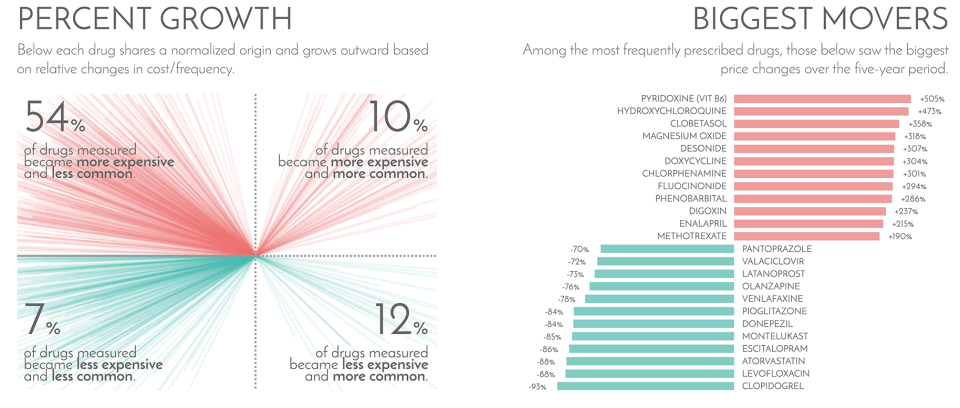 Accountable Care Organizations (ACOs) and other large health care entities now carry substantial responsibility to control healthcare costs as well as to constantly improve the quality of care.  Controlling pharmacy costs has become a strategic priority.  All in, the cost of drugs now takes up about 15% of the overall U.S. healthcare budget of $3.0 trillion.  Even more worrisome is the fact that the cost of drugs has been rising faster than any other sector of the healthcare economy, including hospitalizations and procedures.  In fact, in the commercial market, the cost of drugs has now exceeded the cost of all hospitalizations in many large cohorts of patients.
 Prescription drug spending accelerated 12.2 percent in 2014, growing to $297 billion – a significant increase over the 2.4% growth we saw in 2013. The rapid growth in 2014 was due to increased spending for new specialty medications, including drugs for hepatitis C.  Only 4% of patients use specialty drugs, but those drugs account for 25% of the total pharmacy budget.
Why Are Pharmacy Costs Rising So Quickly?
So what is fueling this rise of costs?  The main drivers are newer, very expensive drugs used to treat specific diseases, and widespread, heavy marketing to both patients and doctors.
New, very expensive drugs for specific diseases
In the past few years, very expensive drugs have been developed to treat cancer and some autoimmune and neurological conditions such as rheumatoid arthritis, psoriasis and multiple sclerosis. The annual total cost per patient for some biologic drugs has been at least $24,000 (for Enbrel, Remicade and Humira). And, the average cost of oncology drugs has doubled over the past decade from $5,000 to $10,000 per month.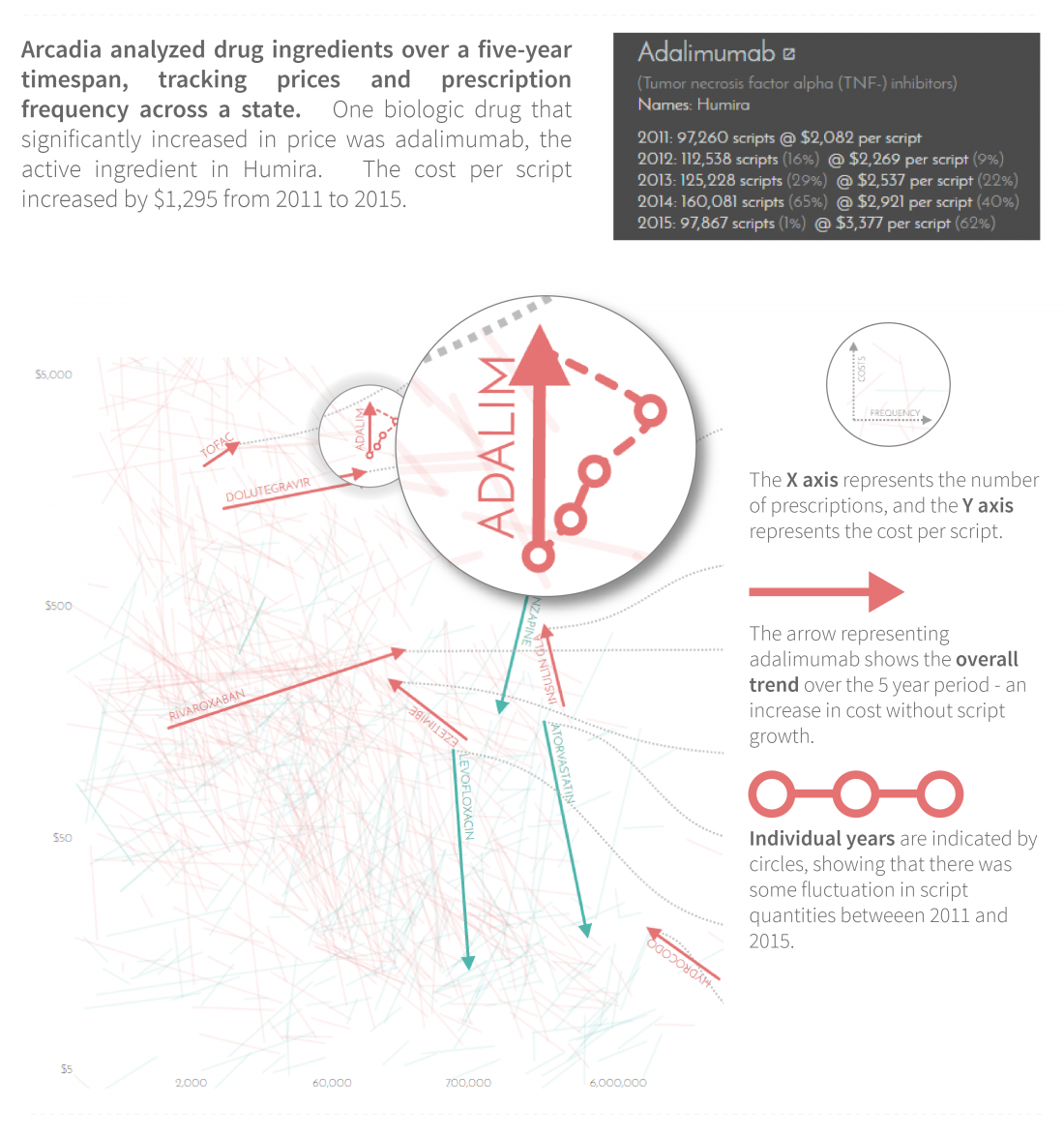 Direct-to-consumer advertising
Another factor driving up costs is the almost solely American phenomenon of direct-to-consumer advertising by drug companies.  This practice was first legalized in 1985, but has really picked up speed in the past few years.  Any casual watcher of TV cannot help but notice the proliferation of ads for cancer treatments and drugs for erectile dysfunction, depression, psoriasis, diabetes, and hepatitis C.  It should be noted that New Zealand is the only other country in the world that allows direct-to-consumer advertising.
Direct-to-physician advertising
Another cost driver is the heavy marketing of brand name drugs to doctors as well as to patients.  Even though many states have mandated retail pharmacy substitution of brand to generic, many brand drugs are prescribed without solid clinical reasons.
A good example of this phenomenon is the advertisement of "the purple pill" known as Nexium. In 2014, Nexium was the third-most-prescribed drug, with more than 18 million prescriptions written. The vast majority of people with stomach acid related symptoms would do just fine with an older, simpler, cheaper, and safer class of drugs called H2-blockers, including Zantac and Pepcid.  And even many of the patients taking Zantac or Pepcid would do just fine with old fashioned antacids and dietary changes!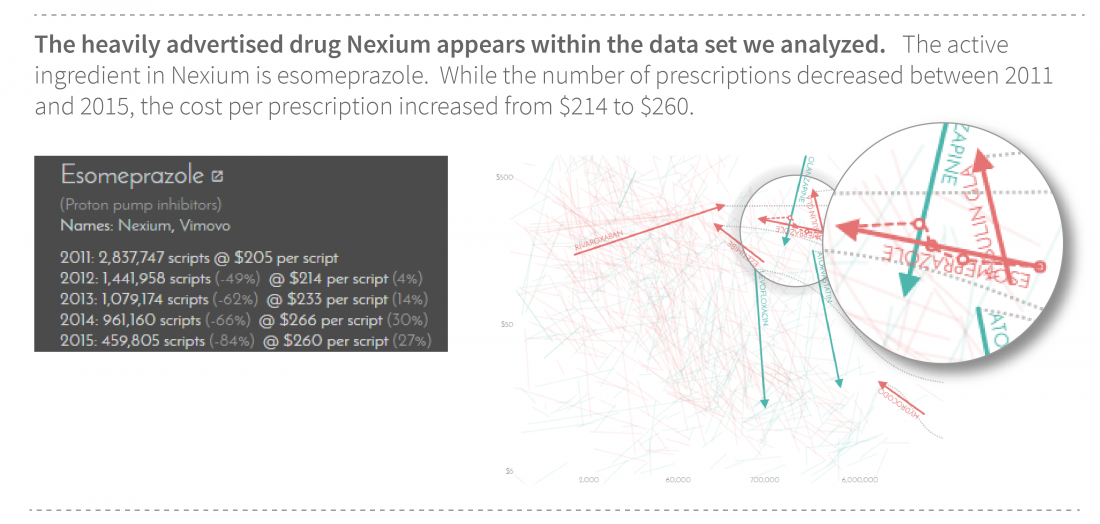 What Can an ACO Do?
An ACO dedicated to global payment contracts has a powerful incentive to get these costs under control as much as is possible.  Some of the costs are inescapable, such as the high cost of treatment for hepatitis C where there are no viable alternatives.  But, for many other more common diseases like diabetes, hypertension, stomach acid dyspepsia, and depression, doctors have choices.  The older, generic drugs are almost always just as good as the newer, more expensive brand name drugs.  This is where analytics can be helpful.
A cost containment strategy powered by analytics
First of all, powerful analytics can help sort the patterns of provider prescribing by drug class, by practice, and by individual provider.  Second, analytics can illuminate variation between individual providers and groups of providers.  This variation analysis serves as the foundation for motivating change by providers based on some agreed-upon "best practice" prescribing patterns.  For example, an ACO might decide the primary care physicians should shoot for a generic prescribing overall rate of 92%.  Incentives can be fashioned to reward doctors and practices who hit or exceed that goal.  Other goals can be more discrete, such as a specific goal for shifting from brand name statins or antidepressants to generics.
I am not at all suggesting that any patient who truly needs a brand name drug or expensive round of chemotherapy should not receive it.  I am only sharing my observation that most patients who receive brand name drugs or very expensive courses of treatments may have viable less expensive alternative treatments that are just as good.
Collaboration between clinical pharmacists and data analysts
Most successful ACO pharmacy programs require clinical pharmacists to collaborate with data analysts to design the best programs for their patients.  Clinical pharmacists best understand the effects and side effects of medications, and are very well suited to having direct conversations with patients about improving medication compliance or removing unneeded drugs from the med list.
Looking Toward the Future
The advent of vaccines, antibiotics and some other drugs have brought incalculable relief from suffering to countless millions of patients around the world.  But we are now in a situation where the cost of these advances is beginning to threaten the foundation of the medical system that we all hold so dear.
Chief medical officers, medical directors and other clinical leaders who collaborate with pharmacists and data analysts can help drive a rationalization of our prescribing patterns – bringing drug costs under control.