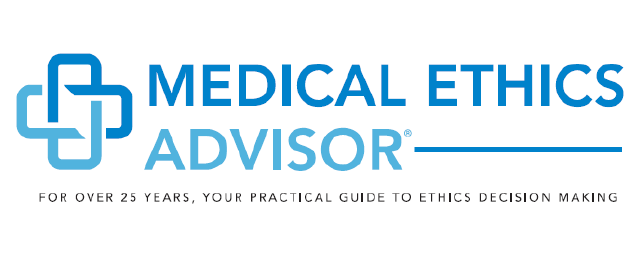 The article "Data on 2000 patients gives visual of final year of life" by Stacy Kusterbeck originally appeared in Medical Ethics Advisor (Vol. 32, No. 9. for September 2016).  
Nick Stepro, senior director of product management at Burlington, MA-based Arcadia Healthcare Solutions, used data on over 2000 patients from EHRs and insurance claims to create a visual graphic of the last year of life.
The graphic shows that most patients died either at home or at the hospital. "We are often overtreated and in a sterile hospital environment when we could spend our last days more peacefully with the right care in a different setting," says Stepro.
While not the primary goal of the analysis, the graphic revealed massive cost differences when patients died in hospitals as opposed to home.  These costs are not necessarily tied to a better quality of life in one's final days.
"This graphic does not tell a new story to the thousands of nurses and physicians that deal with this on a daily basis. It confirms what they know," says Stepro—namely, that there can be huge differences in cost and quality of life depending on decisions made by the patient.
Stepro says he's continually surprised at how difficult it is to know when, where, and how individuals die.  "The documentation is simply not there in any standardized, reliable way," he says, "which limits our ability to analyze death and provide guidance."
Given the nature of healthcare data, differentiating between home deaths, hospital deaths and hospice deaths can be very complex.
"We know, for example, that many more people die in hospice than is represented in this graph," says Stepro. "But given the data provided, it is difficult to separate out those individuals from those that died at home."
'Eleventh Hour' Discussions
 Daniel B. Hinshaw, MD, FACS, director of the Palliative Care Program at VA Ann Arbor (MI) Health Care System. says it's still unusual to introduce advance care planning discussions at the time of diagnosis of a life-threatening illness.
"Most physicians think of such discussions as primarily addressing specific interventions at the actual end of life," he explains. Physicians don't always take the opportunity to start a dialogue about the treatment plan for the life-threatening illness. "This takes into consideration the patient's/family's goals of care and values from the very beginning," says Hinshaw.
Clinicians usually assume that patients will want "everything" done in terms of aggressive disease-modifying treatment, he says. "This assumption leads down a path that becomes increasingly difficult to reverse or modify as the disease progresses," warns Hinshaw.
Thus, patients with serious life-threatening illnesses often have an ICU admission prior to death—even if the patient later dies at home. "Discussions about hospice-type care typically occur at the eleventh hour," says Hinshaw.
Even if the patient chooses hospice, the length of service provided by hospice in the home is often of very short duration. "With the increased use of hospice home care, there has not been the corresponding decrease in hospital – including ICU – care in the last weeks and months of life that was expected," says Hinshaw.
Hinshaw urges bioethicists to advocate for a broader definition of advance care planning.  This includes in depth goals of care discussions between patients and their health care providers at the time of diagnosis of a serious life-threatening illness.
"This initial discussion should also represent the beginning of a conversation that is revisited frequently during the course of treatment," adds Hinshaw.