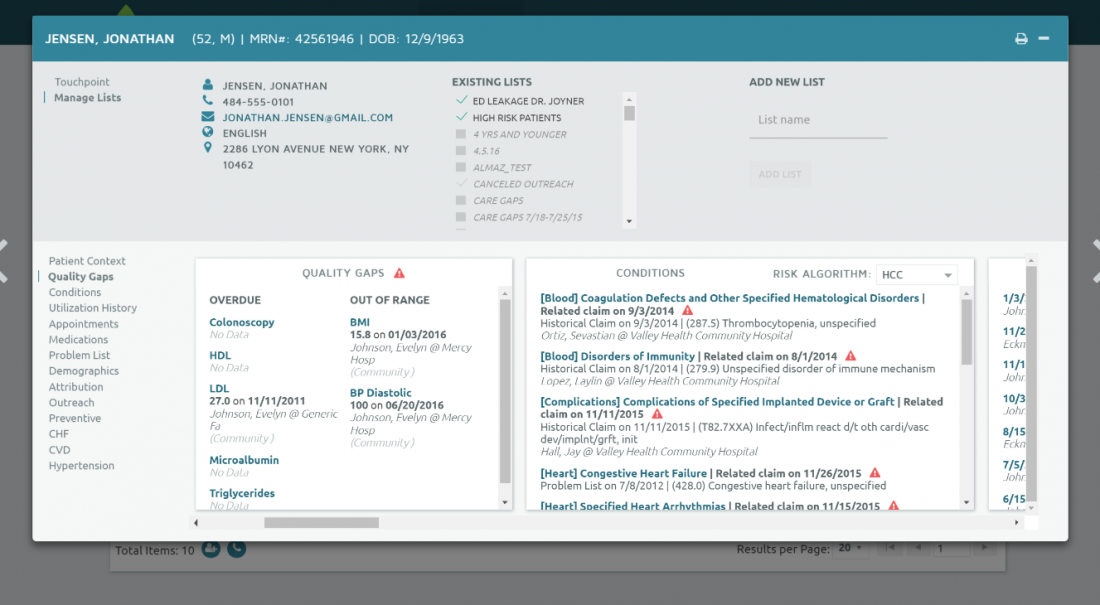 BURLINGTON, Massachusetts (September 21, 2016) — Arcadia Healthcare Solutions, a leading electronic health record (EHR) data aggregation and analytics technology company, announced today its Arcadia Analytics V4.10 platform has achieved Patient-Centered Medical Home (PCMH) 2014 prevalidation status from the National Committee for Quality Assurance (NCQA), qualifying its analytics platform as a product that will help providers increase efficiency around achieving PCMH status.
Arcadia has long focused on integrating the most comprehensive, accurate clinical dataset from disparate EHRs and claims and building intuitive, user-friendly tools to quickly drill down to patient cohorts requiring action. The new care management and patient outreach functionality adds fast, intuitive workflows to take those actions directly within the Arcadia platform. The Arcadia Analytics Care Management module empowers users to engage with patients at scale, capture notes, collaborate with the care team, and push information seamlessly back into the EHR. The Patient Outreach functionality allows healthcare organizations to increase patient engagement, improve risk adjustment, close quality gaps, and manage chronically ill patients from one place, using the most comprehensive clinical and claims dataset available to them.
The platform is prevalidated by NCQA to receive 14.5 points automatic credit toward NCQA's PCMH 2014 scoring across the "Team-Based Care," "Population Health Management," and "Performance Measurement and Quality Improvement" categories. Arcadia is now among a small list of prevalidated vendors, which ensures that customers using its analytics platform may now be eligible for reduced documentation when submitting for their NCQA PCMH recognition.
"Earning prevalidation status from NCQA for our population health and care management functionality is a great testament to the company's data aggregation and analytics capabilities built in collaboration with our clients over the past five years," said Sean Carroll, chief executive officer of Arcadia. "It's an honor for Arcadia to be included among such an exclusive group of analytics and population health vendors that have successfully achieved PCMH prevalidation status. This is just another differentiator for Arcadia as we continue to grow and win against our competition, bring on new clients, and build out our internal teams to drive measurable return on investment."
PCMH is an innovative model of healthcare delivery aiming to improve primary care. With a set of standards that clearly define specific criteria, the program helps providers organize care around patients, work in teams and coordinate and track care over time. "By providing software that helps physician practices build the patient-focused, coordinated care infrastructure expected of NCQA patient-centered medical homes, Arcadia is helping practices be part of modern healthcare's most important transformations," said NCQA President Margaret E. O'Kane. "Medical homes are the way of the future, and the Arcadia Analytics platform is helping practices get there."
The NCQA PCMH prevalidation program evaluates EHR systems, population health management tools, advanced registries, and other related technology solutions, and identifies products that will help providers increase efficiency around or even alleviate certain administrative aspects of achieving PCMH status. A product must meet factor-level requirements within NCQA's PCMH 2014 standards, and once it's deemed "prevalidated," the solution is awarded automatic credits that can then be transferred to provider practices. These credits eliminate the need for practices to separately document for the associated factors when they file for PCMH status.
Supporting the health of more than 20 million patients, and the performance and operations of 3,000 provider practices nationwide, Arcadia's analytics technology and transformation services enable its customers to aggregate and harmonize clinical data from more than 30 different EHR vendors and multiple health insurance claims systems.
About Arcadia Healthcare Solutions
Arcadia Healthcare Solutions (https://arcadia.io) is an EHR data aggregation and analytics technology company delivering managed care to ambulatory networks taking on value-based risk. Arcadia specializes in the integration of data from 30+ EHR platforms, enriching them with claims and operational data, and using that data to drive improvements in patient care quality, practice efficiency, and financial performance.  Trusted by independent provider groups, health plans, and integrated delivery networks nationwide, with expertise in both fee-for-service optimization and value-based performance environments, Arcadia supports providers with the benchmark data, insights, and outsourced services to excel in the evolving landscape of American healthcare. Founded in 2002, Arcadia is headquartered outside Boston in Burlington, MA, with offices in Seattle and outside Chicago in Rockford, IL.
About the National Committee for Quality Assurance (NCQA)
NCQA is a private, non-profit organization dedicated to improving health care quality. NCQA accredits and certifies a wide range of health care organizations. It also recognizes clinicians and practices in key areas of performance. NCQA's Web site (www.ncqa.org) contains information to help consumers, employers and others make more informed health care choices.