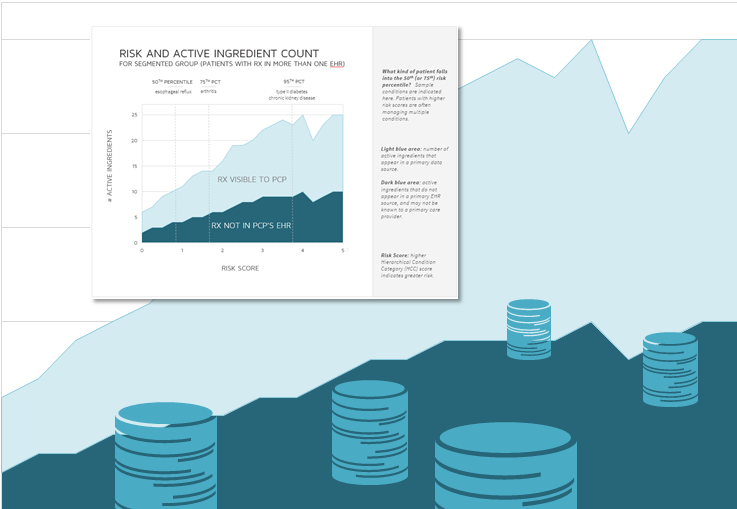 An unexpected emergency room visit
The Patient: Jim Cotton
The nurses at Springfield Medical Associates adored Jim Cotton. You could count on finding him in the waiting room every other Tuesday at 4:00 PM, ready for his appointment with a couple of (slightly) amusing jokes.  Jim was lighthearted, kind, and courteous.  The staff appreciated him, and in turn Jim raptly listened to their every instruction (even if he might not remember all the details later). 
At 68, Jim's life was spent in and out of waiting rooms.  After a hemorrhagic stroke last spring, Jim went from having a single primary care physician (PCP) to having a PCP, a cardiologist, a neurologist and a psychiatrist. A man who had been healthy most of his life was started on 4 different medications to treat the stroke aftermath.
Jim spent yesterday in great discomfort.  With family and friends living hours away, he finally drove himself to the ER yesterday evening. 
The Physician: Dr. Beth Blackwell
The attending physician, Dr. Beth Blackwell, found a 68-year-old man presenting with abdominal pain and bloody stool.  Barely coherent, her patient – Jim –  could recount only a partial history.  Dr. Blackwell ordered an abdominal CT and CBC panel.  The results confirmed her suspicion: hematochezia, gastrointestinal bleed. 
Jim's blood platelets were catastrophically low – 9,000/µL and vitals continued to drop.  Dr. Blackwell stabilized her patient with IV fluids, a transfusion and Kcentra.  
Meanwhile, the ER nurse called all four of Jim's providers to obtain a complete history and find out about his current medications.  She read off her findings to Dr. Blackwell: Warfarin, Sertaline, Simvastatin, and Plavix.  And there it was: Warfarin and Plavix – two blood thinners – were simultaneously prescribed by two different physicians.
Jim's son arrived at the emergency room, demanding to know "How did this happen?"
What went wrong?
Jim's story may be fictional; unfortunately, many clinicians have experienced an iteration of this story in real life.  But why?
Health Barriers for Elderly Patients
The elderly population is faced with a distinct set of barriers to health.  Most obvious are the physical limitations some patients may experience: dementia, depression, chronic disease, and poor ambulation.  On their own, these issues can severely limit a patient's health and well-being. And combined with social isolation, poor care coordination, and lack of access to care, these issues can lead to devastating health outcomes.
In Jim's case, we can see that a multitude of factors contributed to land him in the emergency room: ineffectual care coordination, chronic disease, social isolation, and low health literacy. This intersection of physical and environmental barriers to health that makes the elderly cohort distinctly vulnerable and challenging to treat.
Elderly Patients and Adverse Drug Reactions
The elderly population is particularly at risk for adverse drug reactions, such as the one suffered by Mr. Cotton.  Adverse drug reactions (ADRs), the harmful interaction between medicinal compounds, are inextricably correlated to the number of medications.  Overwhelming evidence has shown the risk for ADRs rises as the number of prescription medications increases.1   This poses significant risk for adults aged 65 and up, a population who on average takes four or more medications2 and is four times more likely to be hospitalized from ADRs.3
Drug interactions are more deleterious for elderly patients, who experience heightened side effects compared to their younger counterparts.  This may be attributed to decreased liver and kidney function.4   Medication interactions have shown to result in "falls, delirium, and declines in cognitive and physical functioning."5  Sadly, a single fall in an elderly patient can precipitate a cascade of negative health outcomes.
The danger in data islands
Days before Jim's visit to the ER, he had an encounter with his cardiologist.  During this visit, the cardiologist had prescribed Plavix to prevent blood clots.  For convenience, Jim dropped off the prescription at a nearby pharmacy.  The pharmacist, like the cardiologist, was unaware Jim was already on a regimen of blood thinners, and filled the prescription.  The only person who knew all the medications Jim was on was Jim.
Electronic medical records, drug-interaction screening tools and computerized physician order systems are recognized as critical tools for the prevention of harmful drug interactions.  However, these technologies have one large blind spot: fragmented, disparate data.  Ultimately, these tools are only as effective as their access to complete data.
Who's getting hurt?
We investigated 18 months of prescription data for a 577,000-member population in western United States.  We found that nearly 15% of all prescriptions were not documented in the primary physician's EHR, impacting 13% of the population. This highly suggests the segmentation of prescription data in data islands, that is, secondary sources that do not transfer clinical data to the patient's primary physician.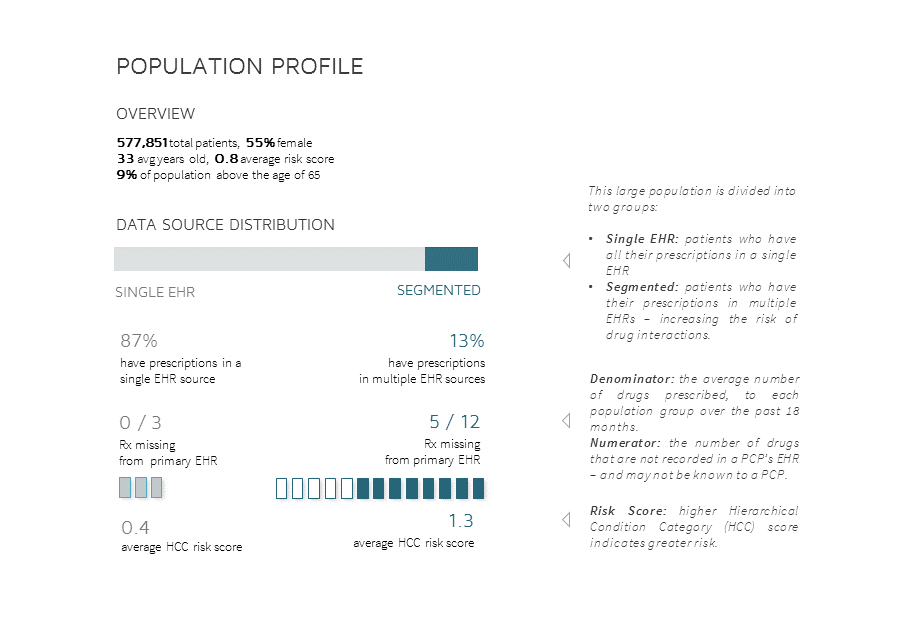 Our analysis was based on distinct instances of prescription Concept Unique Identifier (CUI) data.  We abstracted drugs to their primary ingredients in order to allow for a conservative estimate of missing medications. As a result, the degree of segmentation of pharmacy data into data islands is likely far greater than reported here.
75,150 people from the sample population were prescribed a medication that was not communicated to the physician who most frequently treats the patient. This cohort, referred to as the Segmented Panel, have medications documented in multiple EHR sources.  Fortunately, the remaining population has all medications documented in a single source EHR. The Single EHR Panel represents 87% of the whole population.
On average, the Segmented Panel (13% of the population) was prescribed four times as many medications as the Single EHR Panel, and nearly half of the prescribed medications are not documented in the primary physician's EHR.  This gap occurs in our story, where the Plavix that Jim was prescribed was not disclosed to his PCP.
Prescription Data Islands Impact Higher Risk Patients
Our analysis of each panel's Hierarchical Condition Category (HCC) risk score shows a higher average risk score for patients in the Segmented Panel (risk score = 1.3). Further, within the Segmented Panel higher-risk patients were shown to be on more medications and to have more medications stored in data islands.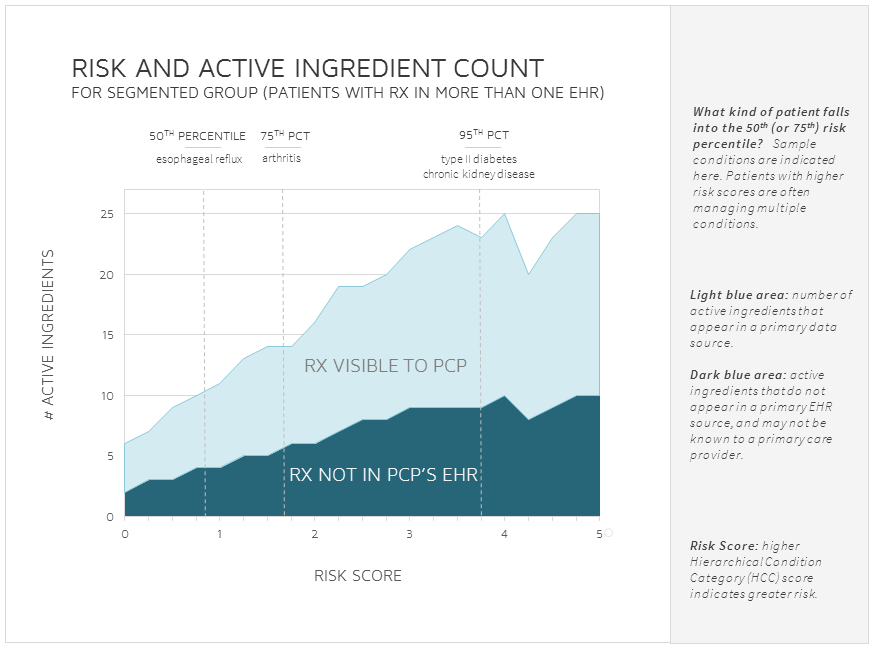 This is particularly concerning for vulnerable populations, such as the high-risk elderly, as this environment creates an opportunity for over-prescription and the associated risks for adverse drug events. Although it is likely the Segmented Panel has an increased risk for adverse drug events, additional in-depth analysis is required to truly assess the relationship.
The need for a full medication history
Without a full medication history, these patients' physicians could inadvertently prescribe harmful medications or over-prescribe medications.  Further, this population was on a higher number of medications relative to the general population; research has shown that as a patient's medication list gets longer, their risk for drug-to-drug interactions increases.   Finally, patients with significant chronic and co-morbid illness had a greater proportion of medications segmented in data islands.
High-risk patients have complex medical problems, which can be challenging and hazardous to treat without a complete medical history.  Access to a full medication history enables providers to successfully manage these patients.
How can we fix this?
The risks are real, and can be especially significant for elderly patients.  But healthcare systems can build bridges to connect data islands, bringing that information into aggregated data assets.
Aggregated data assets combine EHR-sourced clinical data with claims data to provide a rich and comprehensive view of patient health.  The ability to access a patient's full medical history enables providers to accurately assess patient risk and make clinically sound recommendations.
A unified, up-to-date medication list
With aggregated data, providers can see a unified medication list, like the one below.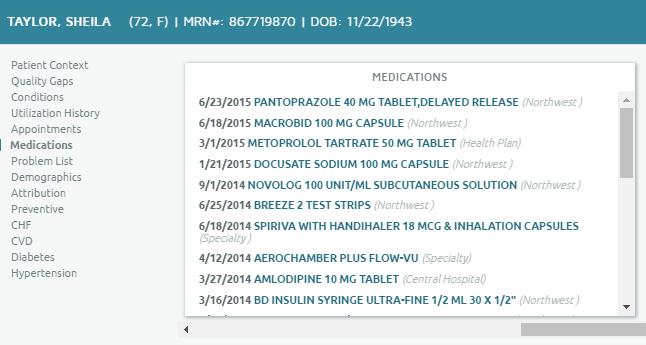 This list not only provides a complete picture of medication history, but also shows the facility associated with the prescription.   This traceability can help promote care coordination across healthcare professionals.
If Jim's primary care physician had been able to see all of his prescriptions and other clinical information – without relying on Jim to remember the details – Jim might have avoided that trip to the emergency room.
Kelly O'Brien, MPH is an implementation analyst at Arcadia.   Her work on eldercare and pharmacy issues was supported by data analysis from Omar Nema, technical data analyst at Arcadia.  They both help Arcadia Analytics clients aggregate and drive insight from data sources across their systems.
Resources
Carbonin, P, Bernabei, R, Sgadari, A. Is Age an Independent Risk Factor of Adverse Drug Reactions in Hospitalized Medical Patients?. Journal of the American Geriatrics Society. 1991;39(11):1093–1099. Available at: http://www.ncbi.nlm.nih.gov/pubmed/1753048. Accessed March 20, 2016.
Osborn, R, Moulds, D, Squires, D, Doty, MM, Anderson, C. International Survey Of Older Adults Finds Shortcomings In Access, Coordination, And Patient-Centered Care. Health Affairs. 2014;33(12):2247–2255. Available at: http://content.healthaffairs.org/content/early/2014/11/13/hlthaff.2014.0947.abstract.
Beijer, H, de Blaey, C. Hospitalisations caused by adverse drug reactions (ADR): a meta-analysis of observational studies. Pharm World Sci. 2002;24(2):46–54. Available at: http://www.ncbi.nlm.nih.gov/pubmed/12061133.
Merck Manual
Davidoff et al., 2015