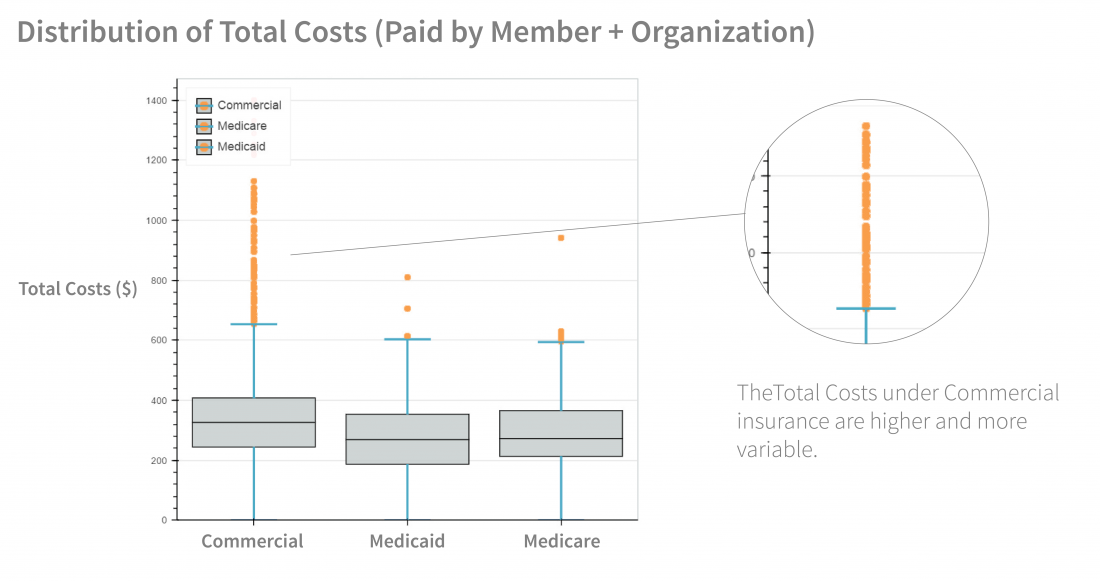 In his article "How to Manage Pharmacy Costs in an ACO", Arcadia chief medical officer Rich Parker, MD argued that healthcare organizations need to control rising drug costs as a strategic priority.   Health plans pay for thousands of drugs each year – including some that have been in the news lately like EpiPen, an epinephrine injection used to treat allergic emergencies (anaphylaxis).  I analyzed Epipen prescription data to further understand the impact of rising costs to health plans as well as to consumers.
My previous article reviewed the differences in total costs, out-of-pocket costs, and insurance costs for a health system with a mostly commercial population and a health plan with a mostly Medicare and Medicaid population.   Here, I explore variability in costs.
As a reminder, I analyzed two sets of Epipen drug cost data:
Health Plan: Data from a health plan with 7,355 distinct members who have been prescribed EpiPens, mainly covered by Medicare and Medicaid.
Health System: Data from a health system that takes on risk, with 5,276 distinct patients who have been prescribed EpiPens. About 14% of those patients have an HMO plan, and about 80% have a plan that offers a higher level of coverage for in-network, authorized services.   The remaining 6% have other coverage.
What's driving EpiPen cost variability?
Finding: total costs for commercial insurance are higher and more variable
Looking at the cost trends, one thing that jumps out is the EpiPen cost variability.   I looked at total cost for both the health plan and the health system – and their members – by product: commercial, Medicare, and Medicaid. The box plot below provides some insight.
Healthcare organizations and members with commercial products have the highest median total EpiPen costs, with higher cost variability.  (Variability is based on the number of outliers, shown as red dots.)  Further examining these outliers could be a good starting point in controlling drug costs.
(Box plots are really useful for showing the distribution of data, but because they are not commonly used they can be confusing at first glance.  Luckily, Nathan Yau at Flowing Data has published a great explanation on how to interpret box plots like the one below.)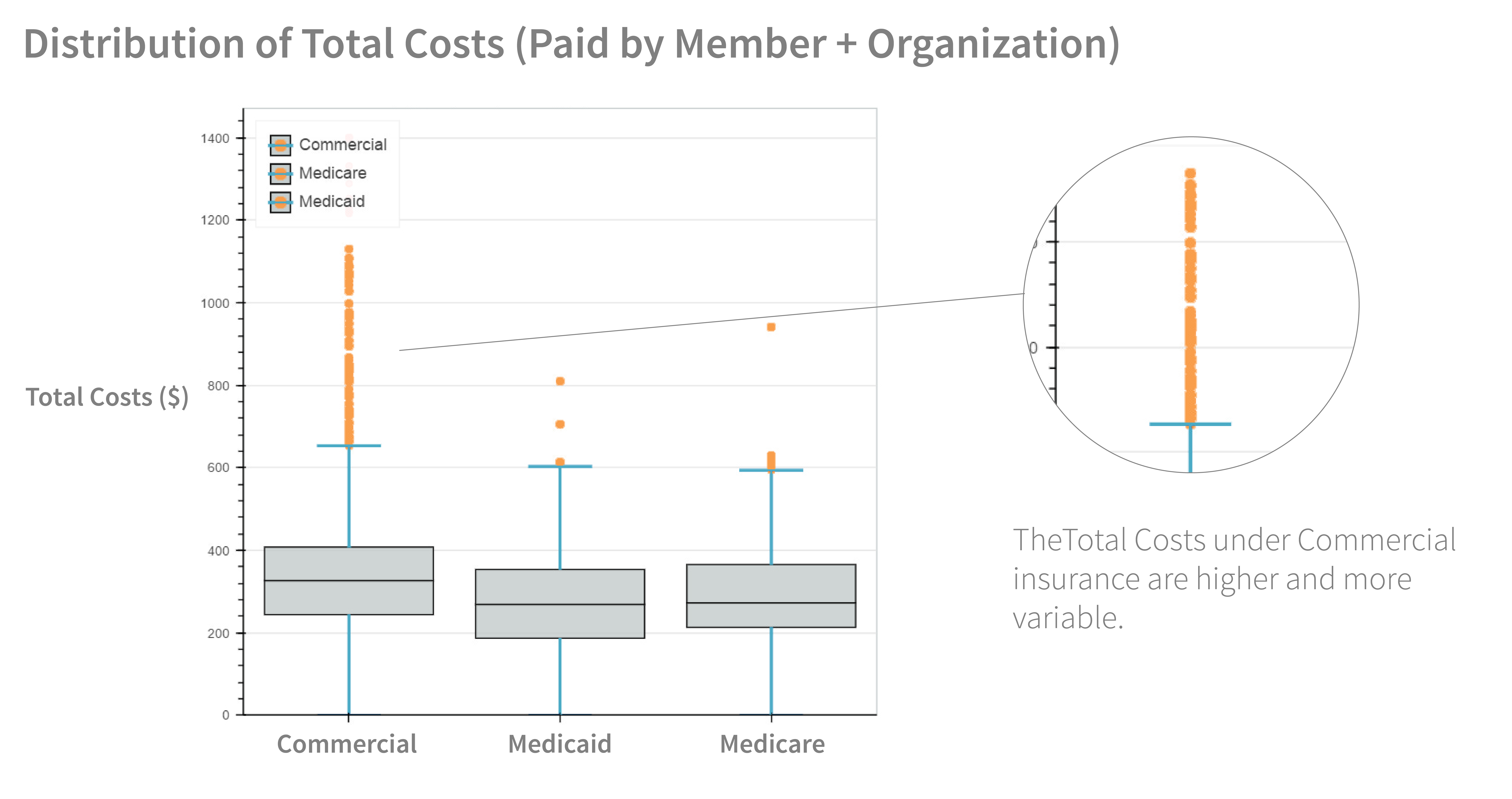 Finding: significantly more users under age 21
The histogram below shows the age distribution of our EpiPen user population (for both the health plan and the health system). Patients below 21 years of age make up a large percentage of the total population. The skewing of age distribution towards below 21 might mean that parents might be more price inelastic (less willing to change their purchasing behavior due to cost increases).  Because EpiPens deliver a life-saving drug, parents might be willing to accept the higher costs or figure out other ways to buy EpiPens.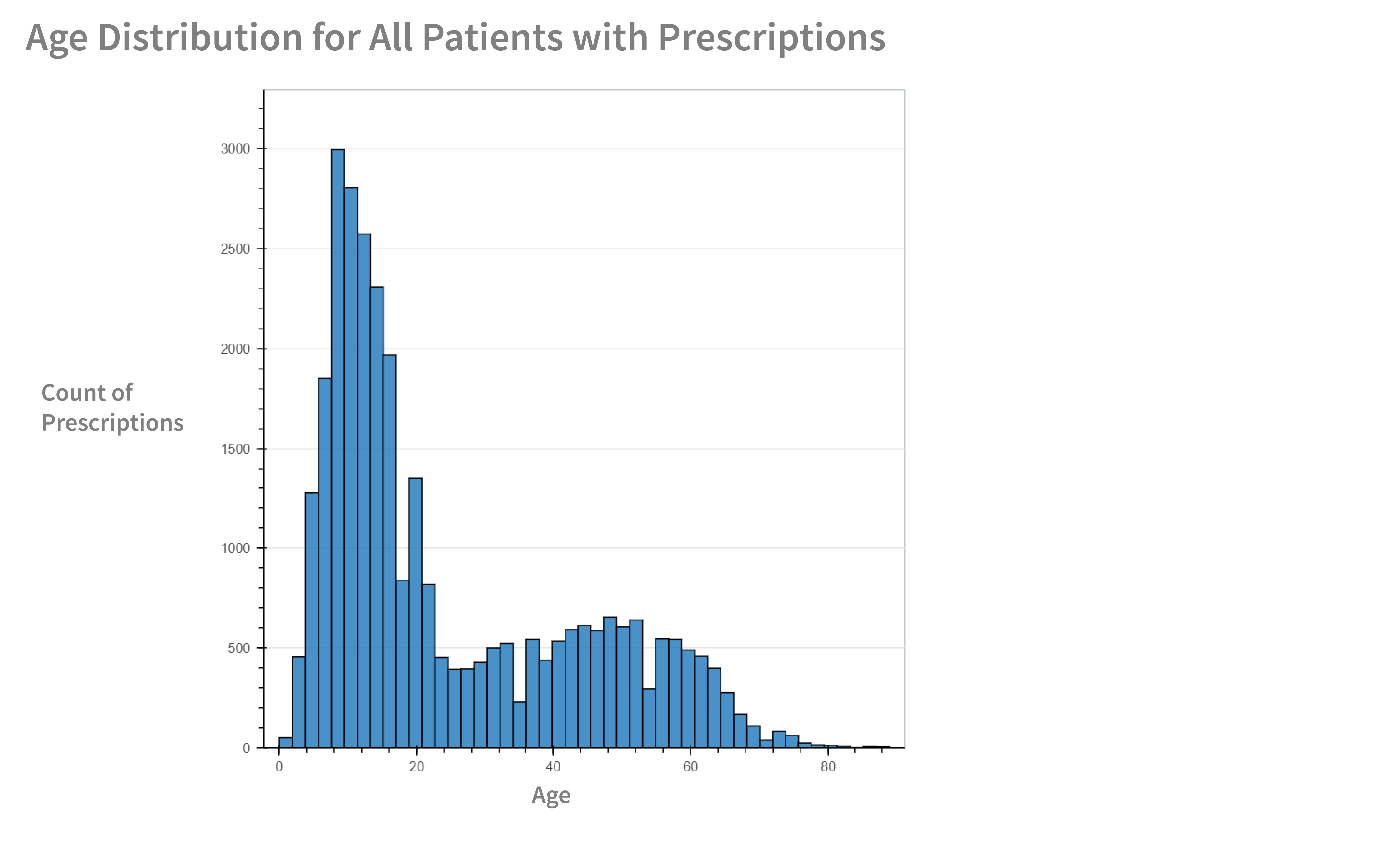 Finding: increased costs may not lead to increased duration between refills for population with commercial coverage
One popular hypothesis is that EpiPen users may be trying to lessen the impact of cost increase by increasing the duration between refills, also known as interfill days. (We calculate interfill days as the duration (in days) between two consecutive fill dates, starting from the most recent fill date.)
The bar chart below shows the average interfill days for members with different types of products. For the commercial population, the higher cost and higher interfill days hypothesis might not be true. Members with commercial coverage had the lowest average interfill days, meaning these members buy EpiPens more often compared to members who have Medicaid or Medicare coverage.
The average interfill rate for members with commercial coverage is about 10 days less than the interfill rate for members with Medicare coverage and about 40 days less than the interfill rate for members with Medicaid coverage. Given the skewed age distribution, lower average interfill days, and higher average total cost, EpiPen demand might be price inelastic for the population with commercial coverage.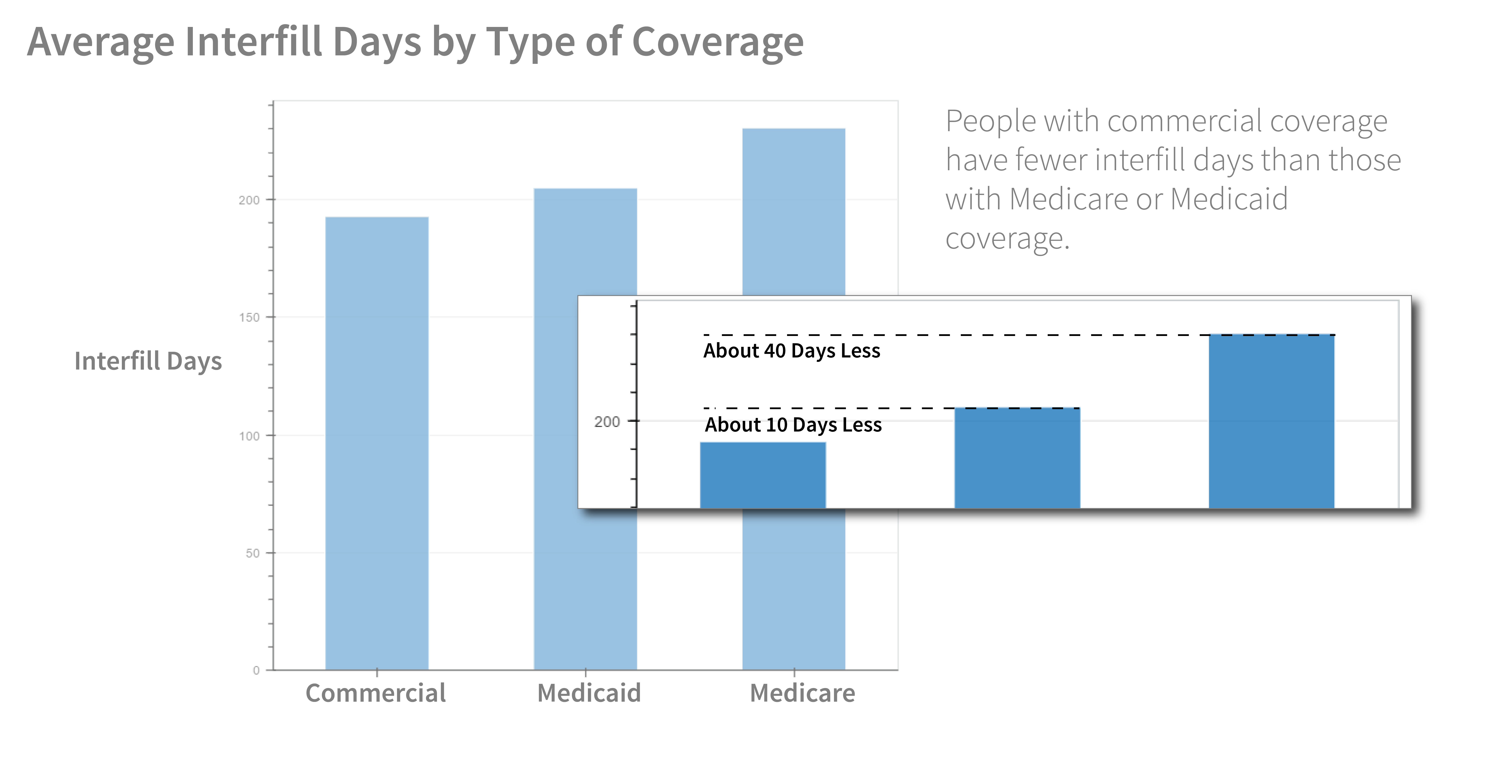 Finding: purchases are seasonal
The scatter plot below shows the interfill days trend for members with all products from 2010 through 2016. A clear cyclical pattern denotes a seasonal effect.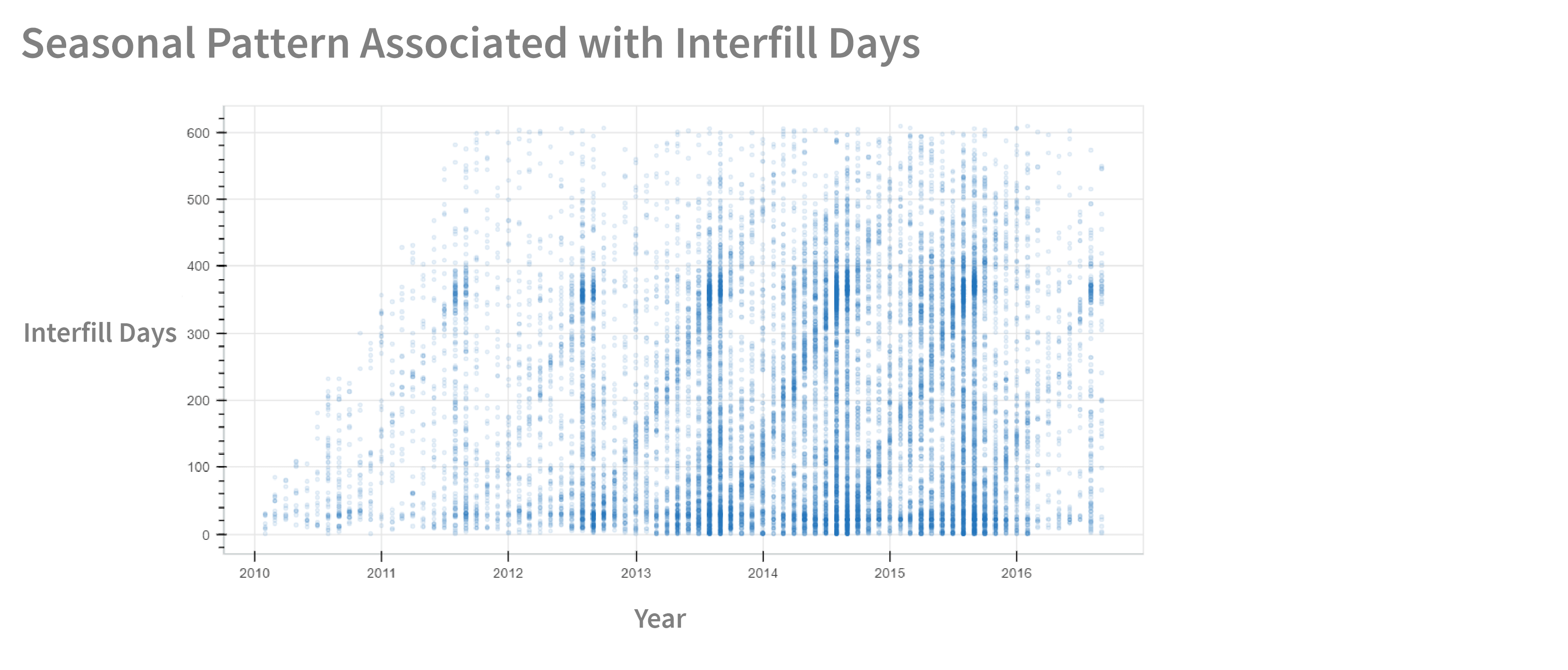 I performed a time series analysis to further understand the pattern and uncover any potential buying behavior insights.  The graph below isolates the impact of seasonality and trend at each time point, separated from the underlying noise.  A seasonal time series consists of a trend component, a seasonal component, and an irregular component. The plot below shows these components; here is how to read each one.
Data: This row is the original time-series plot of observed EpiPen interfill days data.
Seasonal: This row shows the estimated seasonal component of the data using loess.  (Unfamiliar with loess?  Nathan Yau at Flowing Data comes to the rescue again with a good explanation of LOESS, or "locally weighted scatterplot smoothing".)  By determining the underlying seasonal component, I can establish the seasonal effect on the EpiPen buying pattern.
Trend: This row shows the underlying trend component over time, barring any seasonal effects. This row gives us the true trend of the EpiPen inter-fill days.   You can see it first decrease and then increase over time.
Remainder: This row shows a deviation from what we would expect to see based on seasonal and trend components. When there is a vertical tick mark that extends above the midline, the value is higher than we would expect to see – and vice versa.

The grey bar in each row gives us relative importance of each component in explaining the variation in the data.  Let's consider the grey bar in the data panel as one unit of variation.
The grey bar in the seasonal panel is relatively much larger than bars in any other panels. This means the  variation attributed to seasonality is only a small part of the variation in the data series.
The grey bar in the trend panel however is only slightly larger than the ones in data or remainder panel, indicating that the trend signal is large relative to the variation in the data. This means that Epipen interfill data exhibits a trend.
But what does this all mean?  We can see in the scatter plot that there are some higher density areas around August and September, which could correlate with the start of the new school year. Parents might be buying EpiPens for the year.   As the year progresses, we see some dense areas near May, which could be due to the summer camp season.  Parents might want to buy enough doses to cover their children for summer camps and vacations.
What should a healthcare organization consider with regard to managing EpiPen costs?
Our analysis provides insight into recent concerns about cost increases for EpiPens, a topic that has had heavy media coverage. Most media coverage has focused on the impact to patients, but for patients with insurance the healthcare system is actually footing the majority of the bill.
Looking at the variations in cost data with graphs like our box-plot can help healthcare organizations identify outliers for further analysis – a good starting point in controlling costs.   Healthcare organizations might look at where members are purchasing EpiPens and help them find more cost-effective options – a communications campaign that might be particularly effective if targeted to parents before the start of the school year and before the start of summer camps.
The interfill days scatter plot and time series analysis show the impact of high drug costs on consumer buying behavior, suggesting that users might hold on to the same dosage of drug for longer periods of time.  There may be an opportunity to use data to find members with long interfill days and help them locate lower-cost sellers of EpiPens.   On the other hand, it is possible that many of these members are adults who are better at avoiding allergens and do not use their EpiPens as frequently – so further exploration would be needed.