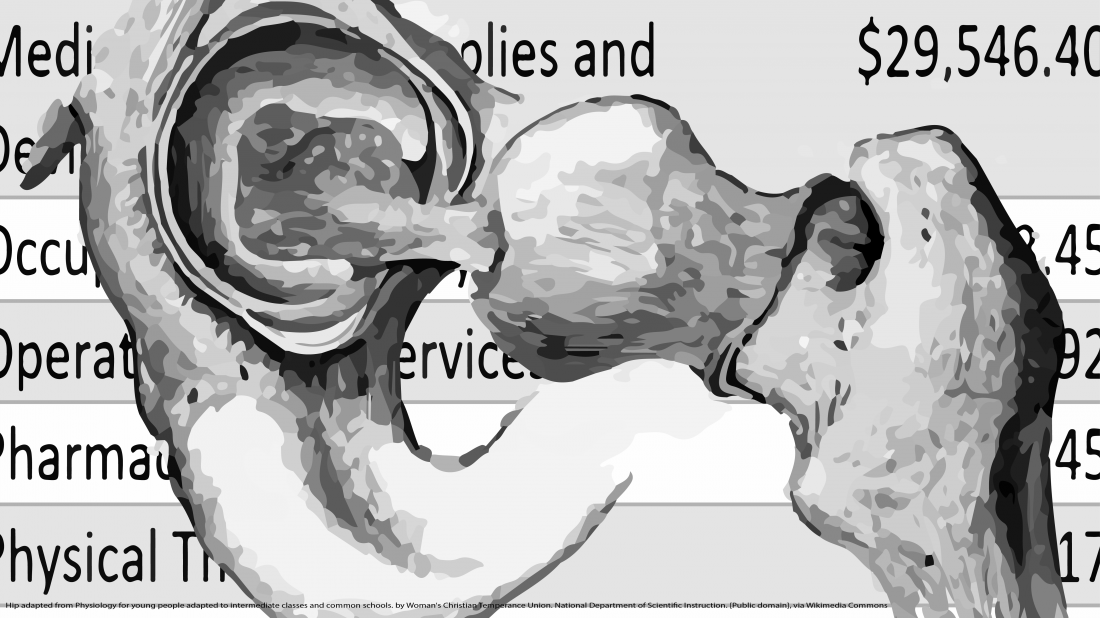 Value = Quality / Cost
Let's agree that this simple little equation – Value = Quality/Cost –(V=Q/C) – is a useful tool to understand the value of pretty much anything, including healthcare.  If you consider buying a car, you quickly have an intuitive understanding of the relative quality and costs of different cars, hence you understand the value.  If you want to buy a cup of coffee, again you intuitively understand the V=Q/C relationship.  You know the taste or quality of the coffee at Dunkin' Donuts, McDonald's and Starbucks, and you certainly know the price, hence you can compute its value to you.
Now let's try this out with healthcare.  I submit that you know neither the quality or the cost of almost anything you need to purchase as a patient.  Do you know the relative qualities of all the cardiologists or obstetricians in your area?  Of course you don't.  Can you find out on-line?  No you can't.  The only hope you have for understanding the difference in quality between providers is to speak with a provider who might be willing to tell you.
Now let's move to the cost side of the equation.  Do you know in advance the cost of a procedure you might need?  Of course you don't.  And it is almost impossible to find out.  The costs vary hugely depending on which provider organization you belong to and what contract they have.  The cost will also vary depending on which insurance plan covers you.  So back to the beginning.  If we agree that V=Q/C and you know neither the numerator or the denominator, you can only start to guess at the value.  Let's take a real world example.
The true story of my colleague's mother's hip replacement
Last October, my colleague's mother needed an elective hip replacement.  She is 60 years old and has standard commercial insurance. She entered the hospital on day 1 at 7:00 am and left the hospital the following morning at 10:00 am – a 27-hour hospital stay.  The total cost for the one day and 1-night hospitalization was $36,482.  Let's play the game.  V=Q/C.  Now we know the bottom of the fraction, the cost.  How about the quality?  She recovered well and was walking within 24 hours.  She had no post-operative adverse events.  So we can agree the quality of care was very good.  But what about the Value?  To understand the value equation, let's break down the costs a little bit further.
Please review the chart below which are the billed amounts for her procedure and hospital stay, from the Explanation of Benefits (EOB).  The actual paid amounts were contractually reduced by about 50%.  The process of contractual reductions is also apparently arbitrary and inscrutable to the average observer.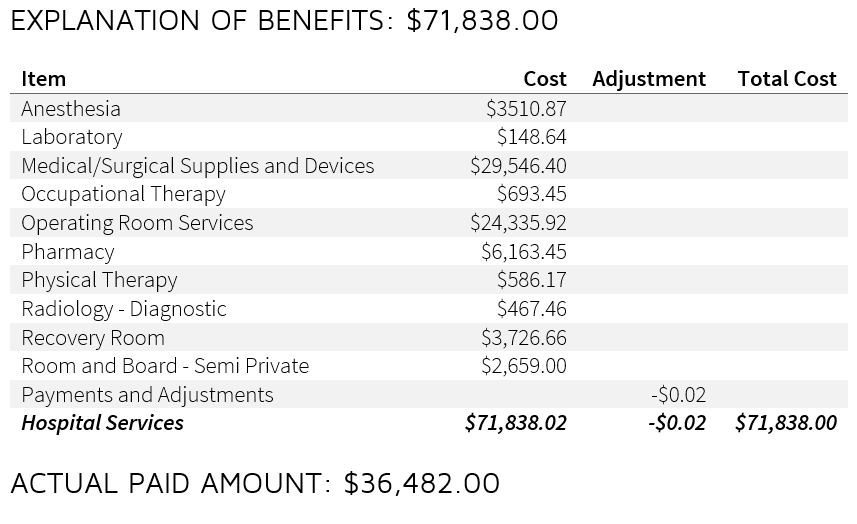 I find the above chart absolutely riveting!  First note the anesthesia bill of $3510.87.  Let's assume a standard hip replacement takes 1 ½ hours.  Can we calculate the V=Q/C for anesthesia?  That would make the anesthesiologist's time worth $2,340.58 per hour before the contractual reduction.  Not bad!  Lab tests appear to be a bargain at only $148.64.
Next is a whopping $29,546.40 for Medical/Surgical Devices and Supplies.  That is really code for the cost of the actual artificial hip prosthesis which makes up most of that expense category.  Did you know that hip prostheses are made of platinum and gold?  Only kidding.  Actually, the prosthetic joint can be made of polyethylene (plastic), steel, cobalt chrome alloy, ceramic or titanium and it is estimated to cost no more than $1,000 to manufacture.  What did the other $28,000 pay for? I don't know the answer to that.  Who does?
Let me skip to Operating Room Services coming in at $24,335.92.  Again not a bad rate of pay for a relatively short operation.  Who determined that price?  Who agreed to that price?  Is that a fair price?  I am guessing that only about one out of a million readers of this piece could honestly answer any of those questions.
Next let's note the pharmacy costs of $6,163.45.  How expensive are a few doses of anesthetic anyway?  I guess the answer is really expensive.  Let's apply the V=Q/C equation.  Can you assess the value of these drugs used for a hip replacement?  Of course you can't!  Now $586.17 for physical therapy is probably the runaway bargain on this list.  Pre-op physical therapy is the key to a successful post-op hip replacement recovery.  At least we have one good deal on the list!
The combined recovery room and semi-private room and board top out at $6,385.66.  Again, not a bad rate of pay for the hospital caring for our patient for just over 27 hours.  In fairness, keep in mind the 46% contractual reduction of the rates I have cited above from the original bill.
In conclusion, the total cost of her care was $36,482.00.  My research shows that the price for an elective hip replacement in the United States can range from a low of $11,000 to a high of $70,000.
A moment of levity can be found in the sentence at the bottom of the bill stating that the total amount was adjusted by $0.02 cents.  Two cents!!  Are you kidding me?  Who adjusts a $71,000 bill by 2 cents?  If you have picked up on a scintilla of mockery in my tone, you are correct.  I simply tripped over (no pun intended) this bill during a casual chat with a colleague.  These types of bills and payments occur every hour of every day of every year, and they contribute mightily to the cost crisis in healthcare in the United States.
Moving forward: getting serious about cost and overutilization
Until we get serious about the twin problems of cost and overutilization of drugs, procedures and other services, we will not begin to fix the cost problem in American healthcare that is now consuming in excess of $3 trillion per year and gobbles up 18% of the GDP.  Given that we collectively pay for over 300,000 elective hip replacements and 600,000 knee replacements per year, we should better understand the value equation.  Sadly, this type of price gouging occurs in almost every corner of our medical system.  Our politicians, healthcare providers and ultimately our patients – which is all of us – should get with the program and start understanding this cost problem rather than pretending it doesn't exist or doesn't matter!