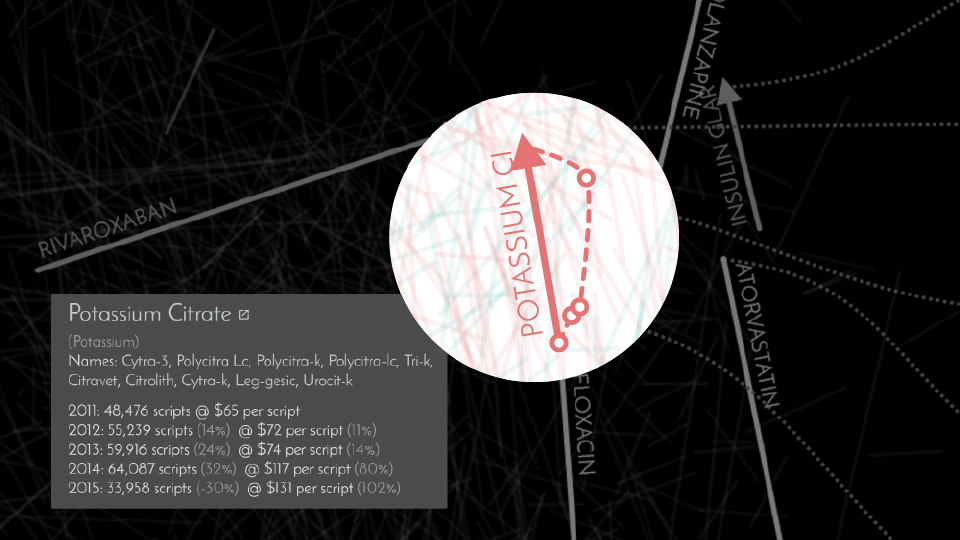 In a recent blog post, many of you enjoyed my description of the arcana of an EOB (Explanation of Benefits) for a $71,000 hip replacement.  Today I want to share a personal story with you about variation in drug prices that I think again highlights the irrationality of pricing in the U.S healthcare system.
At the risk of sharing too much PHI, I have experienced kidney stones.  Turns out there is (for me) a medication which is a particular formulation of potassium that helps prevent the formation of new kidney stones.  This drug is called potassium citrate, and also goes by the name of Uro-cit.
For several years, I have blithely payed $400 every three months out of my health savings account (HSA) for the drug.  It just seemed to irk me that something as basic as potassium should cost that much.  So last week I went on-line and found out that in Eastern Massachusetts, where I live, the cost for the same amount of the same potassium citrate ranges from a low of $200 for a 3-month supply to a high of $976!!
I called the pharmacy with the lowest price and they would not verify the cost for me until they had an actual prescription in their hands.  Being a doctor often comes in handy, and in this case, I simply wrote a prescription for myself and faxed it over.  The pharmacist then confirmed that the price would indeed be $200 for a 3-month supply.
Because the pharmacy is about 30 miles from my home, I inquired about mail away.  The pharmacy website explained that some insurers could not or would not cooperate with the mail away option.  Their pharmacist suggested that I call my insurer to check on that.
So when I called my insurer, they referred me to the PBM (pharmacy benefit manager) to find out if home delivery was an option.  I was amazed when the individual I spoke with told me the $400 price for me was irrelevant, because it was helping drive down my family deductible!  I explained that I had no intention of paying anyone $400 for a drug when I was told I could pay $200.  Begrudgingly, she accepted my logic and told me I could switch out of their PBM for that drug if I insisted.  I insisted!
This very minor tale of variation in drug prices for a simple drug exemplifies a basic problem in the U.S. healthcare system, namely – huge unjustified variation in price.  Many patients, also called consumers by some, will not understand that such variation exists, or necessarily know how to look for and take advantage of that variation.  Free market theory suggests that the consumer will figure out the best price, but that is often not true in healthcare where prices are obscured and covered by confusing layers of insurance coverage, co-pays and deductibles.  Perhaps part of a solution moving forward is to move towards some kind of "forced transparency" that allows patients to more easily understand the variation in their drug prices.
Curious about the graphic at the top of this page?  Explore five years of changes in prescription cost and frequency in our data visualization Prescription Drug Movements.