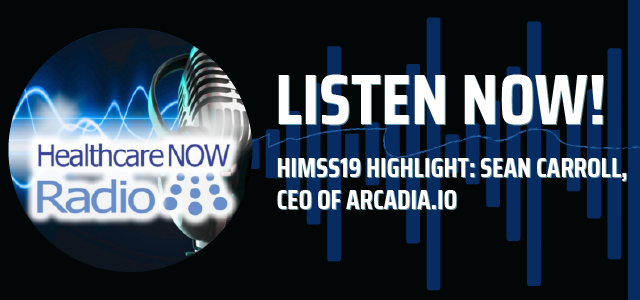 Their conversation ranged from Arcadia's 2019 Best in KLAS award for Value Based Care Managed Services…
"Any time you can get broad scale confirmation that you're very tightly aligned with the expectations of your customers, it just gives you that much more power to move to the next set of decisions to support them further, because this is all pioneer-level work.  It's risky, it's difficult, and making those next set of moves on their behalf is made easier by the acknowledgment that we're very well aligned with what they want and need." – Sean Carroll
… to a sense that the market is maturing with respect to Value Based Care…
"But even within that first mover grouping, we're seeing organizations having much more clarity about their priorities, what it is they want to focus on in their value based care strategies.  We're seeing them come to the table with what we think are the foundational essentials.  They're coming with well-developed, well-vetted strategies.  They're coming with a governance structure.  They're coming with a leadership network within that structure.  They're coming with recognition that the sooner they understand populations deeply, the more successful they will be as they move into risk contracts and other reimbursement models that are germane to value based care concepts.  Were excited about the maturity we are seeing." – Sean Carroll
… to the many Arcadia customers sharing their insights in HIMSS general education sessions…
"We think it's so important to evangelize through the customer what it really takes to be successful in this transformation.  It's not just great data and good software…It's not just the knowing, it's the doing."  – Sean Carroll
… to the lessons that can be learned from early pioneers about financial sustainability and the importance of identifying the right initiatives at each stage, from entering contract negotiations to maximizing performance…
"The world is enamored with the the concept of analytics generally speaking, including in healthcare.  It's important to hone in on what analytics means to you as an organization, and where are the financial targets."
… and finally, the importance of keeping the patient at the center.  "We can't lose the patient in this," said Sean.  "It's one of the things we focus on – and I think all good healthcare companies do.  Even if they're not delivering direct solutions that impact a patient, they've got to be able to see the chain link to the patient and see it's good for them, it's right for them."
To listen to the full interview, please visit HealthcareNOW Radio.
More about Carol Flagg
Carol Flagg is the Managing Partner of Answers Media Network, where she leads the company's content marketing and social media initiatives. She has over 25 years experience in traditional and digital media. She attends HIMSS each year and produces HIMSS Highlights.  Carol also hosts What's My Tagline? which airs on HealthcareNOW Radio. She reports on health information technology news and ongoing Federal initiatives supporting the shift to value-based care.