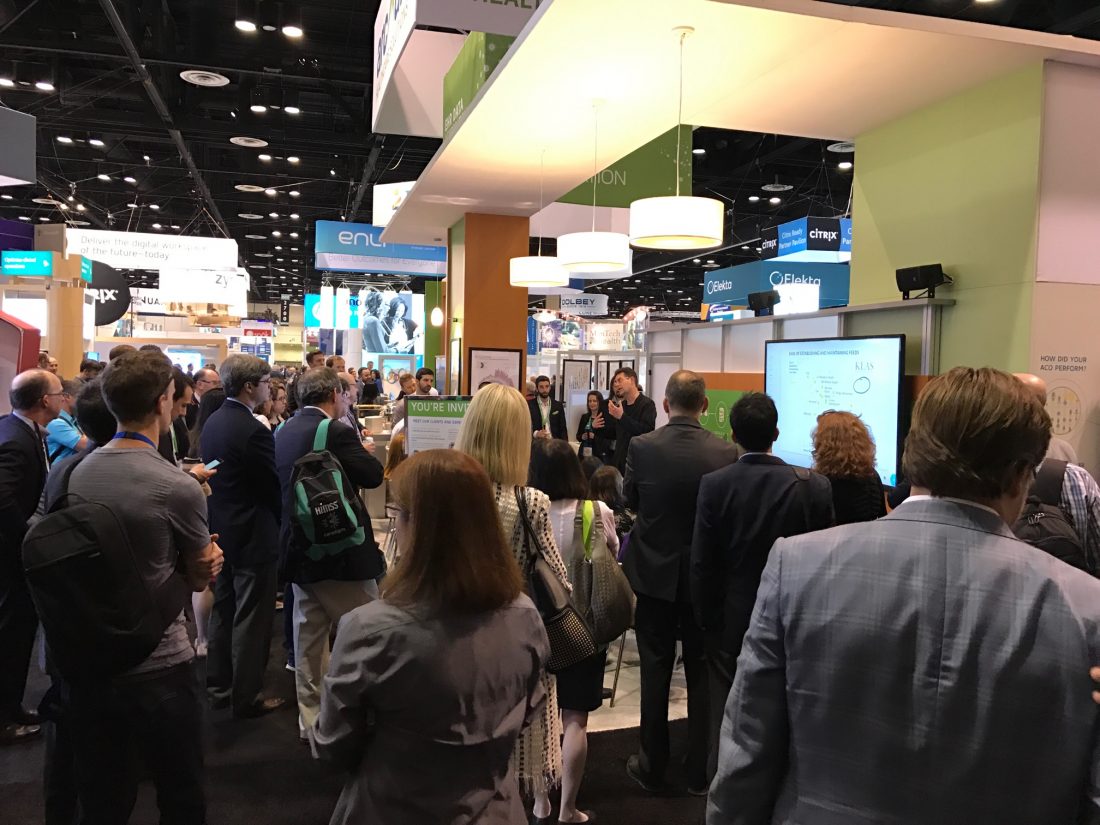 "In the next several years," asked John Halamka, MD, MS, "where does healthcare go from fee for service to value based care?  We're all patients – where do we as patients want to go?"  Dr. Halamka shared his thoughts on this question in a keynote address on digital health at Arcadia Aggregate2017, our first user conference and industry event.  We were excited to be able to introduce him to our customers as the newest member of the Arcadia Advisor Network, the group of industry experts that works in collaboration with our leadership team.
Dr. Halamka is the chief information officer (CIO) at Beth Israel Deaconess System, chairman of the New England Healthcare Exchange Network (NEHEN), and a practicing emergency physician. He is also the International Healthcare Innovation professor at Harvard Medical School.
In his widely-read blog Life as a Healthcare CIO, Dr. Halamka shared his thoughts on care management following a recent meeting of the Arcadia Advisor network.
Dr. Halamka joined the Arcadia team at HIMSS17
After meeting the attendees of our user conference in January, Dr. Halamka joined us at HIMSS in February.  Dr. Halamka hosted a question-and-answer session at our booth, speaking with an overflowing crowd for almost an hour about various topics in healthcare and technology and then joining our cocktail reception.
Get to know Dr. Halamka
Dr. Halamka completed his undergraduate studies at Stanford University, where he received a degree in medical microbiology and a degree in public policy with a focus on technology issues. He entered medical school at the University of California, San Francisco and simultaneously pursued graduate work in bioengineering at the University of California, Berkeley focusing on technology issues in medicine. He completed his residency at Harbor–UCLA Medical Center in the Department of Emergency Medicine.
In his role at BIDMC, Dr. Halamka is responsible for all clinical, financial, administrative, and academic information technology, serving 3,000 doctors, 12,000 employees, and 1,000,000 patients. As chairman of NEHEN, Dr. Halamka oversees clinical and administrative data exchange among the payers, providers, and patients in Massachusetts.   As a Harvard professor, he has served the George W. Bush administration, the Obama administration, and national governments throughout the world planning their healthcare IT strategy.
Dr. Halamka has authored five books on technology-related issues, hundreds of articles and thousands of posts on the popular Geekdoctor blog.
He runs Unity Farm in Sherborn, MA and serves as caretaker for 150 animals, 30 acres of agricultural production and a cidery/winery.